I'm a big Fitbit fan. I've owned several versions of the wireless activity tracker, all in just the past year. I've convinced at least five friends to buy a Fitbit and compete with me for daily step-total bragging rights. And the new Fitbit Force ($130) is an excellent wrist-worn tracker.
Still, Fitbit's devices, mobile apps and website need to evolve in 2014. Competition in the wearable activity tracker space is, pardon the pun, healthy. Nike, Jawbone and Withings all make compelling activity trackers. And though I doubt Apple will come out with an iWatch fitness-tracking smartwatch in 2014, it seems like only a matter of time before the Cupertino masterminds unleash an activity tracker of some sort.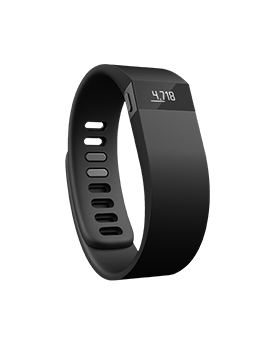 (Credit: Fitbit)
Here's what Fitbit needs to succeed in 2014.
1. A larger ecoystem. Companies like Apple, Google and Amazon understand that the deeper you buy into their ecosystems, the harder it is to leave. At the moment, Fitbit makes only activity trackers and the Wi-Fi enabled Aria scale ($130). I think there's potential for other Fitbit devices, too. For instance, how about a Fitbit water bottle that tracks how much you consume and then syncs wirelessly with your Fitbit Dashboard? Believe it or not, "smart" water bottles such as the Sportline HydraCoach ($30 on Amazon.com) already exist, and others, with Kickstarter and Indiegogo campaigns, are in the works.
(In response to this suggestion and the others that follow, a Fitbit spokesperson said the private company couldn't disclose future products or projects.)
2. Deeper integration with other apps and services. The Fitbit Dashboard on Fitbit's website provides an at-a-glance overview of steps, calories burned and so forth. If you have a Fitbit Aria scale, your weight is automatically tracked, too, and displayed in the Dashboard.
But where the Dashboard lags is in tracking the food you eat. The MyFitnessPal website and app, which I use from time to time to track what I eat, automatically incorporates your Fitbit exercise data if you link the two services. Conversely, Fitbit will integrate summaries of the meals you track on MyFitnessPal. But I'd prefer to get all my Fitbit data and all my MyFitnessPlan food info, not just meal summaries, in my Fitbit Dashboard for a more complete picture.
3. Continual heart rate monitoring. When I exercise, I wear an Alpha Mio watch ($199) in addition to my Fitbit Force. The Alpha Mio is among the few heart rate monitors that doesn't require a chest strap or for you to place a finger on the device to get a reading. I'd love to have that kind of heart rate monitoring in a future Fitbit Force, even if it means the Force has to be bigger.
4. Better Android support. Though I like how the Fitbit app looks on a Google Nexus 7, support for wireless syncing with the tablet, as well as Google's Nexus 5 smartphone and Nexus 10 tablet, is in beta. To participate in the beta, you must sign up.
As of this writing, only seven Android devices support wireless Fitbit syncing. However, this is more about the need for smartphones and tablets to have Bluetooth low energy (BLE), which is part of the Bluetooth 4.0 spec, in order to sync with a Fitbit device. Support for BLE is growing but still not widespread.
Fitbit's spokesperson responded: "Developing for Android takes more time because the market is so fragmented. Fitbit supports Bluetooth syncing to the greatest number of Android devices in their category. These include Samsung Galaxy S3 and S4, Note II and Note 10.1 and the team is working to offer more connectability on Android."
5. An iOS app optimized for iPads. The Fitbit Android app looks good on the Google Nexus 7 tablet. In portrait mode, you can see 10 different data fields without scrolling. On an iPad, the Fitbit app, designed for iPhone/iPod touch screens, you can see only five. Not a huge deal. But an iPad-friendly app update seems like a no-brainer.
On balance, I'm happy with Fitbit products. But frankly, I'm a bit worried about what might happen to the company when Apple releases its long-rumored iWatch. Then the activity tracker market will truly be locked into a "survival of the fittest" competition.