Endomondo Sports Tracker, one of the better mobile fitness apps I've used, just got more social. So if you're looking for a little positive peer pressure to up your fitness game, this is a good time to check out the Endomondo iOS, Android, BlackBerry and Windows Phone 7 apps.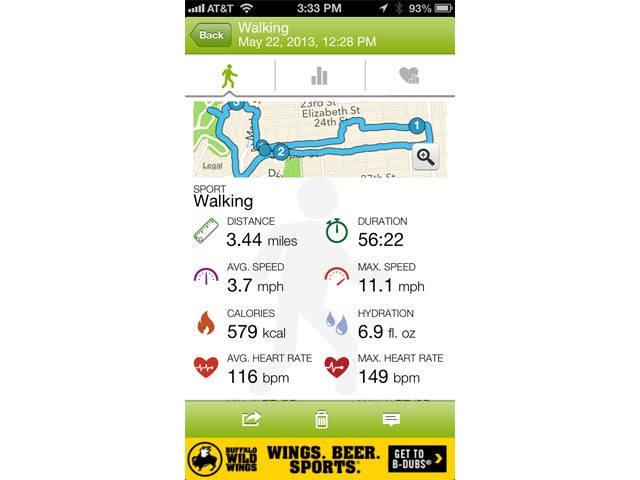 Developer Endomondo just revised its apps last week with enhanced Facebook posting. You can now add photos, tag friends you worked out with and add status updates that show up in your Facebook Timeline (and your Endomondo online news feed). Most, if not all, fitness apps have social-sharing features, but Endomondo kicked it up a notch.
Social media aside, Endomondo is a good choice for runners, walkers, basketball players and other athletes. A large on-screen "Start" button is a plus; surprisingly, not all fitness apps make it easy to start tracking a workout.
Another positive: The free apps let you sync a heart-rate monitor using your phone's Bluetooth. (I synced a Mio Alpha heart-rate monitor/watch with the app.) Endomondo also provides stats on your average and maximum heart rate.
Endomondo's premium service gives you a graph that shows how much time you spent in five heart-rate zones—which, for serious athletes, may be worth the upgrade.
The premium service is reasonably priced, too, at $3 per month or $15 yearly. (RunKeeper charges $5 per month and $20 a year, and MapMyRun costs $30 a year.)
A few beefs: The iOS app has no music controls--a big drawback for people who listen to music during workouts. You can still switch to your iPhone's Music app, fire up a playlist and switch back to Endomondo. But why should you have to?
The Endomondo ecosystem is also a bit confusing. The app is available for free with ads and fewer features, or you can purchase the Pro version for $5 and get additional features including a pedometer and low-power mode. In addition, there's the aforementioned premium subscription service, which adds yet more features and includes the Pro app.
One more quibble: Endomondo apps (free and paid) have an automatic-pause feature. If you stop to, say, chat with a friend you run into on the street, then resume jogging, Endomondo is supposed to pause and resume as you do. In my experience, the app paused but didn't always resume.
Gripes aside, if you're a fitness freak and Facebook fan, you should take the free Endomondo app for a trial run. It's not perfect by any means, but even the free version has lots of valuable features.