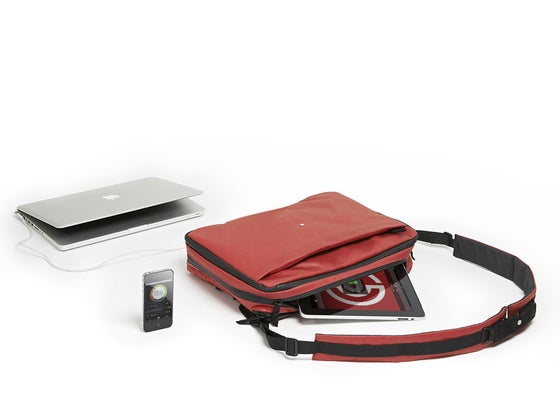 Being touted as the world's first smart-bag (I cannot confirm these claims as I don't know what constitutes a smart-bag and whether this is in fact the world's first) is the Phorce, a Kickstarter project that has already raised $150,000 in funding in its first 12 days.
I've always felt practical innovations (aka ones that make sense and people will actually use) were the best ones, and this one makes sense to me, as it will to many travelers and gadget heads who need to keep their phones and laptops charged on the road.
I like the form factor and the ergonomics of the bag, but not really the design at this point. I'd like to see some brown and black leather options, now the bag looks a little flimsy and cheap in relation to the colors and material they are using. Maybe that is just from the photos and the video, as this is a Kickstarter project, I'm sure we are just looking at prototypes.
This information is from a Phorce press release that was sent to me.
"Phorce charges smartphones, tablets, iPods, cameras, speakers, headphones, and anything that is powered using a USB connection. The bag includes 3 USB connections, 2 high speed ports and 1 super high-speed port. Additionally, the Phorce for Mac can power a MacBook for up to 7 extra hours.
The bag comes with an Android and iOS based application that can connect a smart phone to the Phorce bag via Bluetooth. This app gauges the bag's remaining power through an on-screen graphics display. Additionally, this feature sends a notification to the phone if the bag is left behind."
www.kickstarter.com/projects/phorce/phorce-the-worlds-first-smart-bag