Wearable tech, I'm just not that into you. I don't want a T-shirt with a built-in Wi-Fi signal detector. Nor would I want a hoodie with built-in earbud cords. And don't even get me started on those Google glasses with a built-in screen.
There is one exception: the activity/exercise monitor from FitBit that I clip to my belt, and which comes with free iOS, Android and Windows Phone apps. It keeps me informed of how many steps I've taken during a day, notifies me via email and smartphone notification when I'm close to completing a goal, and lets me chart my progress (or sometimes, lack thereof) over the course of one week, one month, three months, or one year.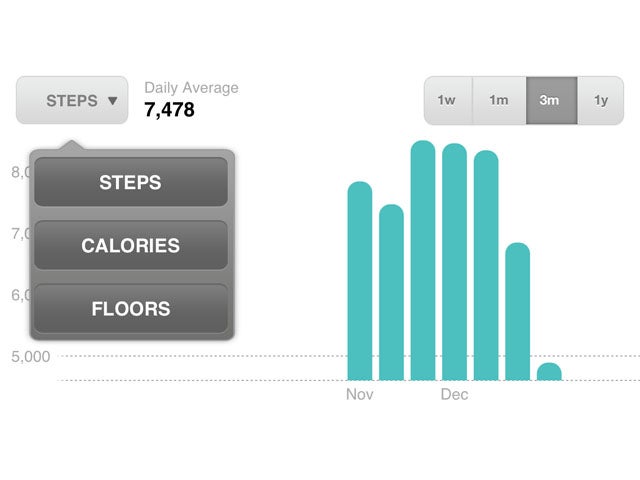 In other words, it's an ideal post-holiday, New-Year's-resolution gift for yourself.
FitBit makes two different monitoring devices, the Zip (list price: $60), which tracks steps, distance, and calories burned; and One ($100), which does all of that plus tracks floors climbed as well as your sleep cycles. Both devices beam your data via Bluetooth to a wireless USB dongle attached to a Mac or PC; from there, the data is synced to FitBit's website and apps. (I have a slightly older version of the One, which, oddly enough, now sells for more on Amazon.com than the current model does.)
The FitBit apps are simple, easy-to-use and uncomplicated. They offer the ability to record food and water consumed and your sleep patterns, but I haven't felt the urge to try any of that.
What I like about my FitBit device is its subtlety. To date, no one has noticed I'm wearing it, and I wear it all the time now. Other products that track your movements, such as Nike+ Fuelband ($149) and Jawbone UP ($130), also work with free iOS apps, but are designed to be worn around your wrist. I know people who love both products, but I'm more comfortable wearing a belt clip.
There's a downside, of course: a belt clip is much easier to lose than a bracelet. I had a harrowing moment last week when, after filling air in my tires at a gas station, I drove home, went into my office and noticed my FitBit was missing. I imagined it squashed by another car at the gas station. Fortunately, I found the clip on the driver's seat in my car. But you get the idea. One workaround: You can simply keep the FitBit in your pocket, although the company says the data it collects is slightly less accurate.
If you're looking for heart rate monitoring and other more complicated measurements, look elsewhere. But if you just want to step up your exercise—as many are prone to do this time of year—a FitBit device and its apps will do the job.