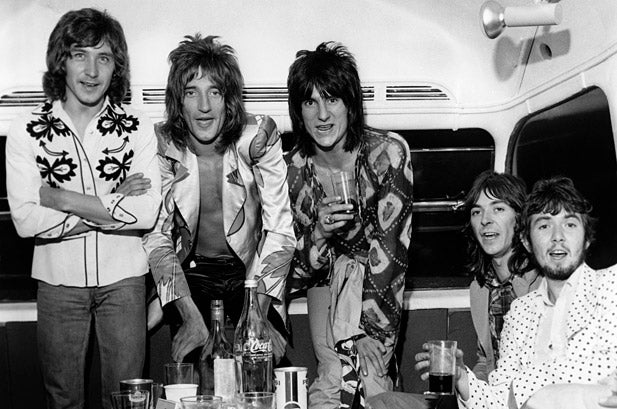 Was there life before The Rolling Stones for guitarist Ronnie Wood? Oh yes there was, bass and lead guitarist for two of the most innovative and entertaining bands of the late 60s and early 70s, The Jeff Beck Group and Faces. The Jeff Beck's Group's 1968 debut album Truth is considered by many ground-zero of the formation of Heavy Metal music, and one of the most groundbreaking albums of the golden age of rock and roll. Led Zeppelin copped their whole sound from Beck, as well as nearly identical covers of songs like You Shook Me, much to Beck's chagrin at the time. (He and Jimmy Page were good friends and work associates from The Yardbirds and Beck was supposedly very peeved Zep ripped one of Beck's covers as well as their sound)
Alas, such is the way of innovators and originals, they are quickly pushed aside for more monetarily-inclined individuals who can popularize and profit from their inventions. Jeff Beck was never able to quite reach the heights be should have based on his talent and ideas. Ronnie Wood was luckier (and probably easier to work with).
When, on New Year's Eve 1968, Steve Marriott, lead singer and lead guitar for the psych brit-pop band Small Faces stormed off stage and quit the group, the legendary Faces were born, as Ronnie Wood and Rod Stewart both jumped ship from Jeff Beck's Group (while he was recovering from a motorcycle accident) to join the rhythm section of Small Faces to form the new band.
After the implosion of Faces in 1973, Ronnie was hired as lead guitarist for The Rolling Stones, after guitarist Mick Taylor quit in 1974, and history was made. While Wood is best known for his tenor in The Stones, his best and most influential work, and The Stones for that matter, all occurred prior to this union. Those facts should in no way deter collectors and people with too much money to burn to buy up some very cool memorabilia from Ronnie and his time with the band.
Among the items sold at auction were a 1955 Fender Stratocaster guitar played on stage by Wood for $60,800, a white leather coat worn by Wood for $8,960, and a lithograph of Eric Clapton drawn by Wood with his and Clapton's signatures that brought $5,120.
This auction happened just prior to the February release of the memoir of Wood's ex-wife Jo, in which she promises to reveal some insider stories of her life as the wife of a Rolling Stone.
Ronnie and Jo Wood were married for 23 years before separating in 2008 when Ronnie Wood left her for a young cocktail waitress
Jeff Beck Group - Shapes of Things - 1968
Faces - Stay With Me - 1971