A couple of months ago, BlackBerry-maker Research In Motion (RIM) told its developer base that it would soon be instituting application ratings to "improve discovery and safety" in its BlackBerry App World software shop. Those ratings, which have since been rolled out, are broken down into four categories: General; Teen; Mature; and Adult.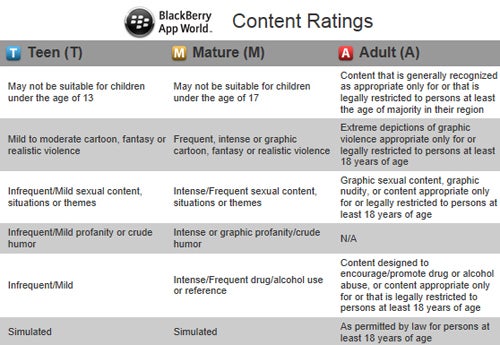 It's no surprise that RIM decided to add ratings to App World, along with new ways to filter app searches by rating and on-device controls that allow users to block certain content from showing up in searches. (Google offers a similar rating system for its Android Market.) What's particularly interesting is RIM's stand on the acceptance of sexual, violent and/or drug-related content: the BlackBerry-maker seems to be fine with all of it.
This stance is in marked contrast to Apple's anti-porn in iTunes standpoint, which former CEO Steve Jobs cemented with the following quote from 2010:
"[W]e…believe we have a moral responsibility to keep porn off the iPhone. Folks who want porn can buy and [sic] Android phone."
On its developer website, Apple even goes as far as saying its "app approval process is in place to ensure that applications are reliable, perform as expected, and are free of explicit and offensive material."
RIM, apparently, doesn't feel the same moral responsibility. And it now seems that those porn-seeking folks could also buy a BlackBerry—or, you know, simply fire up a browser and surf on over to any one of the million or so suspect sites on the Web. But that's beside the point.
I admittedly haven't seen any offensively graphic, or even soft-core, pornography or ultra-violent apps listed in App World. Yet. But RIM's description of "mature" apps seems to suggest that such content, along with apps that glorify drug use, could potentially be posted in the future. RIM could even start distributing gambling apps where legal.
Here's a quick look at the BlackBerry App World descriptions for "adult" apps based on the software's level of "violence," "sexual content," "alcohol, tobacco, drug use," and "gambling:"
Adult: Content that is generally recognized as appropriate only for or that is legally restricted to persons at least the age of majority in their region

Violence: Extreme depictions of graphic violence appropriate only for or legally restricted to persons at least 18 years of age

Sexual Content: Graphic sexual content, graphic nudity, or content appropriate only for or legally restricted to persons at least 18 years of age

Alcohol, tobacco, drug use: Content designed to encourage/promote drug or alcohol abuse, or content appropriate only for or that is legally restricted to persons at least 18 years of age

Gambling: As permitted by law for persons at least 18 years of age
Honestly, I think it's a good thing that RIM doesn't censor any of the applications that developers submit to App World—you simply cannot censor the Web, so why censor apps? Though I do think this could be an issue in the future. I'm fairly sure that more sensitive and/or conservative BlackBerry users might frown upon such content even though RIM is offering ways to block potentially offensive apps from showing up in searches and from being downloaded.
Regardless of your position on the issue, you can pop on over to the next page for a quick look at some of the more "risqué" apps available in App World. If you're outraged that RIM would approve these apps or you're easily offended, simply leave this post now because some of this content could be considered NSFW (not suitable for work). You've been warned.