Dell XPS 12 a Classy, Convertible Windows 8 Ultrabook
The Dell XPS 12 Ultrabook transforms from a 12.5-inch Windows 8 tablet to a full-fledged ultrabook with a touchscreen within seconds. But is it more than just a flashy toy? CIO.com looks at whether the Dell XPS 12 is suitable for business users.
The Dell XPS 12 Ultrabook belongs to a new breed of touchscreen ultrabooks specially designed to work with Windows 8. The 12.5-inch ultrabook adopts the design of the popular Dell XPS 13 Ultrabook but adds a clever screen that rotates around to convert the device from a full-fledged ultrabook to a tablet and back.
I received an XPS 12 unit from Dell Singapore prior to the launch of Windows 8 and had the opportunity to test it over a couple of days to evaluate its suitability as a business ultrabook.
Dell XPS 12 Specifications
Like practically every other ultrabook released with the general availability of Windows 8, the Dell XPS 12 uses an ultra-low-voltage processor in the form of a third-generation Intel Core i5-3317U or a Core i7-3517U. Memory configuration is relatively standard and ranges from 4GB to 8GB, while storage is either a 128GB or 256GB of solid state drive (SSD).
Feature: 7 More Windows 8 Ultrabooks
As with the popular XPS 13, Dell used a liberal amount of aluminum in the construction of the XPS 12. The machined aluminum panel rim that holds the gorgeous full HD (1920x1020) 12.5-inch LED touch panel is completely rigid, and Dell has expanded the use of carbon fiber from just the underside to include its top cover in a presumed bid to reduce its weight. A magnesium palm rest rounds off the exterior chassis of the device and has a cutout for a large glass touchpad.
As for connectivity, the XPS 12 comes with two USB 3.0 ports, one of which can be used to recharge USB devices, and a mini-display port. The various ports are intuitively located along the right side of the ultrabook, as is the socket for the AC adapter plug. In addition, you will also find an OS-independent, five-level LED gauge that will show the charge level of the internal battery.
Along the left side, you'll find the power toggle, rotation button and volume control buttons; all proved to be highly accessible when used in tablet mode. A combination headphone/microphone port is also found here.
The Dell XPS 12 in Action
In laptop mode, the XPS 12 feels very much like the XPS 13, albeit with a touch screen. "Converting" the XPS 12 into a tablet entails flipping the display panel through a 180-degree rotation within the rotatable hinge. Lowering the lid with the touchscreen display facing upwards completes the metamorphosis. Despite the moving parts, build quality and alignment are impeccable.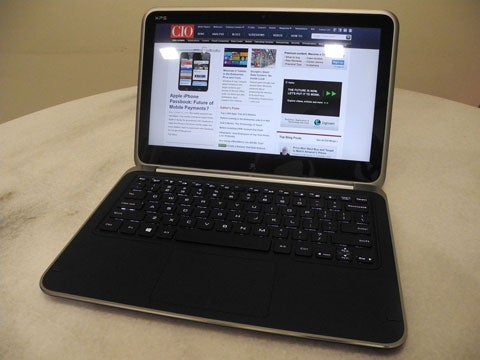 It is worth noting that the touch display turns in one direction only; magnets positioned along the side latch on to hold it in place. The hinge felt robust and feels like it can take a fair amount of abuse. The screen itself is fronted by an edge-to-edge Gorilla glass, though the actual display doesn't extend to the edge of the panel.
In practice, this works, since flipping the display panel won't cause you to accidentally activate the touch screen. As a testament to Dell's attention to details, a couple of rubber bumps on the palm rest offers some protection to the screen should the XPS 12 be stowed in its laptop configuration.
Feature: The New PC Era: 8 Hot Laptop-Tablet Hybrids
Another positive was the full-sized spill-resistant chiclet keyboard, which was a joy to use. The row of function keys along the top was also lined with a number of useful shortcuts. Among other tasks, this includes the ability to enable or disable wireless capability or toggle the keyboard backlight on or off.
There were a couple minor annoyances with the Dell XPS 12. There's no way to quickly determine if the wireless radio is on or off. In addition, the air vents along the bottom got a bit warm after some Web browsing, though I don't expect any issues under typical usage.
The Dell XPS 12 As a Business Ultrabook
In my opinion, the well-rounded specifications of the Dell XPS 12 culminate in a great laptop experience from which business users will benefit. The screen is a gorgeous IPS panel with support for touch, and it's lit to an impressive maximum brightness of 400 nits. Encryption in the form of BitLocker Data Encryption with TPM is supported, though Windows 8 Pro (or Windows 8 Enterprise) is required in order to access the feature.
On the other hand, the Dell XPS 12 does lack a number of capabilities that would be useful in the workplace. Specifically, there's no fingerprint scanner or VGA port for connecting to legacy projectors and displays.
The ultrabook doesn't come with a built-in Ethernet port either, which necessitates the use of a USB-to-Ethernet adapter should the IT department need to do any maintenance or upgrade over the network. Thankfully, having two USB 3.0 port allows for this and can offer easy expansion by means of an USB 3.0 external dock.
Ultimately, the determining factor for the Dell XPS 12 can be pegged to its easy conversion to tablet mode. Weighing 3.39 pounds (or 1.54 kg), the ultrabook felt a tad heavy when nestled against the crook of the elbow in tablet mode, though I found it to be manageable.
The touchscreen made surfing the Web a pleasure, allowing me to quickly zoom in and out of a Web page using touch gestures. I also tried doing some simple data entry on Web-based forms using the touchscreen and found it highly usable. As it is, then, companies with their own CRM or ERP applications may want to consider deploying the Dell XPS 12 for their workers.
There is little doubt in my mind that the Dell XPS 12 is an exceptional ultrabook that is capable of seamlessly switching between the role of a laptop and a tablet. It performs well as an ultrabook and makes for a compelling tablet with its relatively light weight and high-definition screen. Finally, you can expect the classy device to be a head-turner and conversation starter wherever you go.
Depending on configuration options, the Dell XPS 12 ranges from $1,199 to $1,699.
Paul Mah is a freelance writer and blogger who lives in Singapore. Paul has worked a number of years in various capacities within the IT industry. Paul also enjoys tinkering with tech gadgets, smartphones and networking devices. You can reach Paul at paul@mah.sg and follow him on Twitter at @paulmah.
Follow everything from CIO.com on Twitter @CIOonline, on Facebook, and on Google +.
Popular On CIO.com
CIO.com's sortable, searchable directory of technology conferences makes it easy to find events coming...
From alternatives to Microsoft Office to full-blown ERP systems, open source software can provide free...
iPhone may have the retina display, but Google's phone is Pixel perfect.