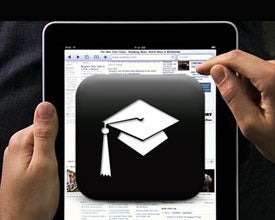 When San Diego public school officials decided to distribute 26,000 iPads to students this year, they were lucky: They already had a big pile of money.
Apple's iPad Aims to Revolutionize Education
The city's voters had approved a $2 billion bond issue in 2008 $500 million of which was designated for a five-year digital transformation program designed to update the districts curriculum. San Diego schools started distributing inexpensive netbooks to students in 2009; the next year Apple unveiled the iPad. And school officials soon changed direction, believing that tablets were a better educational tool.
We were writing a five-year plan, says Darryl LaGace, who was the districts director of instructional technology when the bond passed. He told officials: I fully expect what we write out in year one wont look like what were doing in year three, four, five.
The result is that San Diego was financially well-prepared to join the wave of schools around the nation that are placing iPads in the classroom. Districts in Chicago, Texas, and Massachusetts have all earned headlines as they move to iPad-based education.
But that move comes during time of recession-squeezed budgets, and iPads, after all, arent eligible for Apples educational discount programs. Heres a report on how some schools are finding fundsand how tablets are making deep inroads in certain districts, and even replacing textbooks.
Finding grants, digging deep
Chicagos efforts to distribute iPads to classrooms came during a dramatic budget battleas widely reported, the citys teachers went on strike at the beginning of the school year.
Through grants, the district has been able to provide about 6000 iPads which are used by about 20,000 students, says Franklin Shuftan, a spokesman for Chicago public schools. We estimate that through the use of discretionary funds, individual schools have on their own purchased another approximately 14,000 iPads which are used by approximately 30,000 students.
Its unlikely the Chicago district will be able to change approaches anytime soon, Shuftan adds. The district is facing significant financial challenges and, as a result, we do not plan on any large-scale purchase of iPads this year, but we continue to actively seek additional grant funds to increase the number of iPads available to students.
Grants are also helping some California school districts with high proportions of low-income students. The Barona Band of Mission Indians, long a source of grant funding to such schools, says it paid to distribute 115 iPads to 16 schools in the state this yearup from 38 iPads in six schools a year ago.
Barona understands that technology is important in our everyday [lives] as adults, so its more important for students who are our future leaders, says Sheilla Alvarez, government affairs director for the tribe.
And forward-thinking educators will also make sure to apply for funding for accessorieslike casesto help the iPads they buy last longer. Yes, the $5000 Barona Education Grant can be used to purchase iPad accessories to protect the investment, Alvarez says.
But grants can be few and far between. More widespread distribution depends on a reworking of school budgets.
Trading desktop computers for tablets
In McAllen, Texas, the school district has already distributed 6500 iPads, out of a planned 25,000-unit distribution. The district freed up money by scrapping its previous plans to put three desktop computers in every classroom.
Youre investing in technology anyway, says Dr. James Ponce, McAllens superintendent. We dont foresee having the desktop in the classroom anymore.
Carmen Garcia, McAllens director of instructional technology, adds that iPads appear to be cheaper over time than the desktops that theyre replacing. We dont have to keep purchasing upgrades to Microsoft Officewe can access those tools for free or through the cloud, she says.
In San Diego, officials say the cost of replacing its first generation of iPads will eventually be borne by the districts existing technology budget. We figure the replacement cost will be about $11.5 million per year, LaGace says. Interestingly enough, in 2007 and 2008, the district was spending about $12.5 million on technology out of general funds.
That money purchases a lot more iPads than desktop computers, LaGace notes. Weve been able to reach every kid more affordably, he says.
Getting rid of textbooks
Patrick Larkin was principal at Burlington High School in Massachusetts last year when it distributed 1200 iPads to students and teachers. The school justified the cost by committing to a transformation in how it educates students.
One of the big things was that we decided wed stop doing any textbook adoptions. If we were going to buy a new ninth-grade English textbookthats a lot of money to spend on a textbook, Larkin says. Teachers werent using every aspect of the textbook anyway. Instead of spending that money on textbooks, we could spend it to help teachers create and curate their own content.
McAllen's Garcia agrees. Like Burlington, the Texas school district has gotten rid of computer labs and allowed iPads to replace both textbooks and the disposable workbooks, saving the district a tremendous amount of money and resources. (An example of the savings: Houghton Mifflin Harcourts Algebra 1 app for iPad costs $16; the companys textbook for the same subject goes for $85 at Textbooks R Us.) And like Burlington, McAllen has saved money by encouraging educators to curate their curricula using cheap and free materials online to supplement their lessons.
That has an educational payoff, too, Garcia says, as students figure out new ways to engage their lessons. Now the kids are making their own content. Were beginning to develop our own content, she adds.
Searching for a $300 device
In many districts, the iPad reaching students this year is the iPad 2a generation old, yes. But at $400 apiece, its a price savings of 20 percent off the basic model of the new iPad, and brings the tablets cost closer to the $250-to-$300 sweet spot many educators say they look for in a digital device.
San Diegos LaGace says that the lower price of the iPad 2, starting this year, provided the final spark to begin buying. This is clearly a better deal than handing out five textbooks at $125 apiece, he notes.
Such assessments make it likely that schools and educators will be a prime audience for the new iPad mini, recently unveiled at a base price of $329higher than many educators were hoping for. The iPads $500 price tag limits purchases, says James Stenerson, who oversees instructional technology at Pace University in New York. If [the iPad] came down to $300, we would buy more, sure. But thats out of our control.
Despite its base price, expect educators to take a close look at the iPad mini. I think the lower price point will appeal to many schools, Burlington's Larkin says. It will also help Apple in their competitive battle with Googles Chromebooks, which have a similar price point.
Shifting the costs
Schools may eventually shift those costs to students and their families. Thats already starting to happen at some graduate and undergraduate institutions. For example, Stanford University School of Medicine provided iPads to students the last two years; this fall, however, incoming students were given a $600 voucher to buy a digital device of their choice. Many students, it turned out, already had an iPad.
Were seeing more and more of our students come in with their own devices, says Michael Halaas, the schools director of instructional technology. Over time, I think itll be that people bring in their own devices instead of the institution providing them.
He added: We want to embrace the bring-your-own device model.
That may also someday be the case for public school districts, Burlingtons Larkin says. Honestly, I think our long-term goal is to be a bring-your-own-device school.
However, in districts and schools that have a substantial number of poor studentsstudents who receive free or reduced-price lunches subsidized by the federal governmentthe bring-your-own model is unlikely to take hold. In McAllen, officials view iPad distribution as a poverty-fighting program that brings technology into the homes of people who couldnt afford it. We will continue to pursue a program that provides ubiquitous access to technology, Garcia says.
But if the bring-your-own model arrives elsewhere, its unlikely that the iPad will remain the dominant mobile device entering classrooms. Students and their families might pick cheaper tablets, or use smaller, cheaper items like the iPhone or iPod touch. Larkin says hes told teachers not to become dependent on apps that work only on one platform.
As that happens, the financial focus may shift from buying iPads to helping needy students purchase their own.
Its hard to look long-range, says Pace Universitys Stenerson. But were expecting all students to have a mobile device to access online material.
This story, "iPads in Education: Where's the Money Coming From?" was originally published by Macworld.