After more than two years of shortages, Nintendo hopes a monthly supply of almost 4 million Wiis will meet demand this Christmas.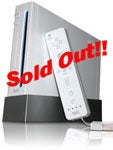 The company says it's now manufacturing 2.4 million Wii units a month worldwide, compared to 1.6 million a month last year. "We've made a 33 percent increase," Nintendo president Reggie Fils-Aime told the LA Times in an interview published today. "We're bringing 50 percent more supply this holiday...producing an unprecedented level of hardware to try to meet demand."
Earlier this month, Fils-Aime blamed ongoing shortages on record demand, when speaking at the company's fall media event. "We are selling hardware at rates that no system has ever experienced," he said.
MORE ON CIO.com
Nintendo Wii Shortage: Shrewd Marketing or Flawed Supply Chain?
The High-Stakes Search for Supply Chain Excellence During the Holiday Rush
Apple's Networking and Supply Chain Mistakes Take a Bite Out of Its Shine
Since launching in 2006, Wii has sold an estimated 34 million units worldwide, easily making it the most popular console this generation. (See also: The 28 Best Wii Games)
This story, "Nintendo Doubles Holiday Wii Shipments to Meet Christmas Demand" was originally published by GamePro.