Palm Thursday announced the Centro, its first non-Treo PDA/cell phone hybrid based on the Palm OS.
Slated to debut on Sprint in October, the Centro is significantly smaller and—after a slew of rebates, at least—cheaper than Treo counterparts that likewise support Sprint's superfast EvDO 3G network. Sprint has a 90-day exclusivity agreement for the Centro.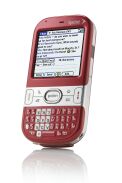 The Palm Centro
The phone lists for US$400, but rebates for a new two-year contract and a $25 or $30 all-you-can-eat data plan sign-up can reduce the initial expenditure to $100. (The $30 monthly plan adds unlimited messaging; the $25 monthly data plan offers fewer messaging options.)
Available in bright red or black, the petite candy-bar handset targets a more mainstream audience than the business-focused Treo does. It measures 4.2 inches high, 2.1 inches wide and 0.7 inches thick, and it weighs a mere 4.2 ounces.
Other hardware specs include a 1.3-megapixel camera with 2X digital zoom and video capture; Bluetooth; a 320-by-320-resolution, 65,000-color transflective touch screen; and a Micro-SD slot that supports cards with up to 4GB of storage capacity. You'll probably need a card if you intend to use the Centro to play music or store images, because the device has only 64MB of user-available internal memory.
MORE ON Palm
How Palm Lost Its Punch in 2007
Palm Kills Foleo "Smartphone Companion"
The Business-Savvy Smartphone Review: Palm Treo 750
A removable and rechargeable 1150-mAh lithium ion battery—which Palm says will support three and a half hours of talk time and up to 300 hours of standby time—powers the Centro.
The device ships with an impressive software bundle of Documents to Go, Google Maps, the Deluxe version of the Pocket Tunes music player, Sprint TV and even a Sudoku game.
Palm's messaging support includes clients for AOL, MSN and Yahoo instant-messaging services, which can run concurrently. Text messaging is displayed in threaded, IM-like format.
Palm announced the device at the Digital Life technology show, which runs through Sunday at the Javits Center in New York City.
This story, "Palm Unveils New Centro Smartphone" was originally published by PCWorld.