Apple's iPhone is still 10 days from its official release, but that hasn't stopped the company from improving the device. The company announced on Monday improvements to the battery life and the top surface of the iPhone's display.
According to Apple, the iPhone will feature up to eight hours of talk time, six hours of Internet use, seven hours of video playback or 24 hours of audio playback. In addition, iPhone will feature up to 250 hours—more than 10 days—of standby time. Of course, all times depend on your setup.
The company also said that the entire top surface of iPhone, including its 3.5-inch display, has been upgraded from plastic to optical-quality glass to achieve a superior level of scratch resistance and optical clarity.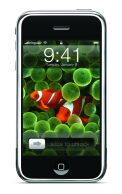 The iPhone will be available in the United States on June 29 in a 4GB model for US$499 and an 8GB model for $599, and will work with either a PC or Mac.
This story, "Apple Improves iPhone Battery, Screen Cover" was originally published by Macworld.