Fitbit's official mobile apps for Android, iOS, and Windows Phone work quite well, but that hasn't stopped third parties from making apps that aim to deliver additional Fitbit data to your mobile devices.
I tested a handful of iOS apps that use Fitbit's API or a Bluetooth signal from the company's fitness trackers. There really aren't many Fitbit companion apps for Android, other than downloads such as DashClock Fitbit Extension (free) that add Fitbit stats to your lock screen.
Here are the three iOS apps I like the most.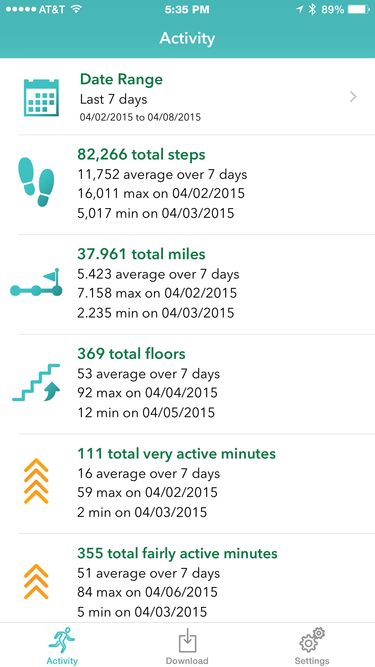 Fitline
Fitline (free; in-app purchases) lets you do the kind of Fitbit-data deep dive that you'd normally have to go to Fitbit.com to find.
For example, you can use Fitline to view your activity during a variety of time periods or over specific start and end dates. You see your total and average steps, miles, and floors during the periods. The app also shows your "total very active minutes;" "total fairly active minutes;" "total lightly active minutes;" and "total sedentary minutes." A $1 in-app purchase gives you more flexibility to set specific date ranges.
For another $1, Fitline lets you download your Fitbit account data and email it to yourself as a .csv spreadsheet file. You need a premium Fitbit membership ($50 a year) to do this on the official site. However, Fitline's data doesn't include sleep tracking, while Fitbit's official export does.
Find my Fitbit
There are a handful of apps with the sole purpose of helping you find a lost Fitbit. Of the two I tested, Find my Fitbit ($5) has the slicker interface, but it also has a big limitation: It only locates Flex, Force, One and Zip models. In my tests, it works well, and it quickly located the two Ones in my house. I had to be extremely close to a tracker for the app to display a strong signal, though.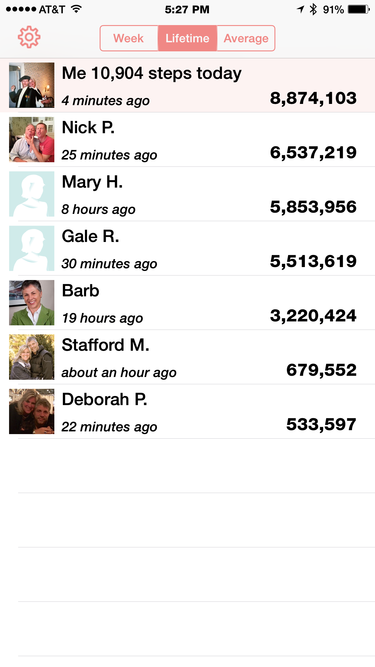 Tracker Finder ($2) is a bit more ambitious. It promises to help you locate your Fitbit Flex, One, Zip, and Force, as well as the Fitbit Charge. The app can also help you find your Misfit Shine, Xiaomi Band, Jawbone UP or Withings Pulse, but its grammar is as weak ("You're getting quite some singal") as its ability to find that "singal." With my One at just an arm's reach away, the app still said its signal was weak, and the graphical interface looks like something made for iOS 3. I say skip this app.
Leaderboard
There's nothing more motivating than Fitbit's leaderboard, which lets you see how many steps your friends took during the past seven days. At 92,455 steps for the week, my nephew Stafford is kicking my butt — for now. That little family competition is all the drive I need to walk more than 95,000 steps in a week.
Leaderboard ($1) also gives you some extra data on your Fitbit competitors. For example, the app shows how recently my friends synced their tracker data to their Fitbit accounts, which is extremely helpful. I know if Mary is trailing me but hasn't synced in 10 hours, look out — she could be waiting to sync until it's too late in the day for me to get the jump on her. (Yes, I think like that; I told you it's competitive.) You can also see your friends' lifetime step totals and daily averages.