Review: Dell Venue 11 Pro Tablet is a laptop in disguise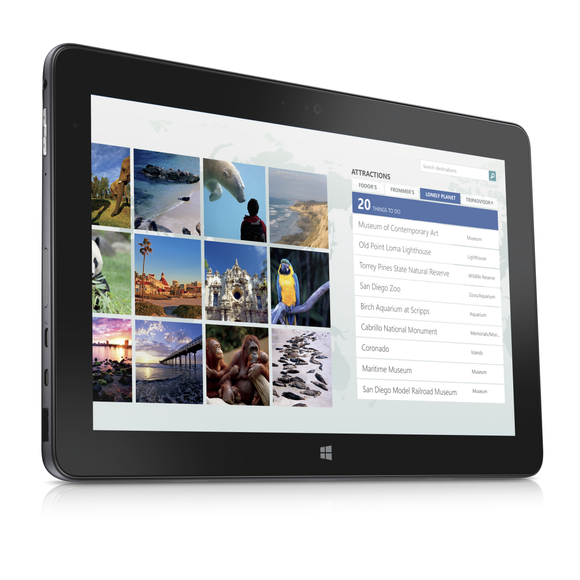 If lightweight tablets laugh behind the somewhat chunky Dell Venue 11 Pro's back, just wait until they crack their skinny heads against something the Venue 11 Pro won't even notice. Or overheat trying to process the larger spreadsheets and video/photo work that the Venue 11 Pro 7000 series shrugs off with a yawn. Indeed, the Venue 11 Pro is a laptop in tablet's clothing—with all the advantages and disadvantages that implies.
Design and Price
I'm not kidding about the chunkiness. The Venue 11 Pro on its own is 0.45-inch thick and weighs 1.57 pounds. The $160 Travel keyboard it mates with to form what is, in essence, a very nice small laptop, weighs an additional 1.75 pounds. The keyboard also adds about a quarter-inch to the general thickness, and a full three-quarters of an inch at the hinge. However, it contributes an auxiliary 28-watt-hour battery to the mix for increased run time. The keyboard types quite nicely and the touchpad is responsive. Dell has even fixed the issue I saw last August, where you couldn't click the touchpad if you were too far toward a lower corner.
The 10.8-inch (1920x1080) Venue 11 Pro 7140 I looked at was powered by a Broadwell Core M-5Y71. With its relatively low 4.5 watts of total draw, you can get away with it in a fanless environment such as a tablet.
The Core M-based Venue 11 Pro 7000 series starts at $699, but our nicely-appointed configuration—8MB of system memory, a 128GB Sandisk M.2 SATA SSD, and the Travel Keyboard—costs $1,258.96. Yowser. And that's in Dell dollars, my name for the perpetual discount displayed at the company's Web store. The claimed retail is $1,795.66.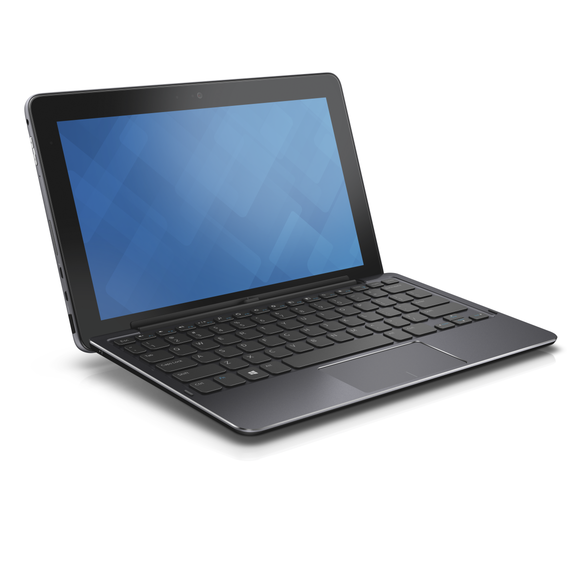 If you can live with about half the performance, you can get into the Venue 11 Pro for about half the cash via the 5000 series. The low end there offers an Atom Z3775D CPU, a 1366x768, 10.8-inch display, 2GB of RAM, and 32GB SSD for a mere $429. 
The Venue 11 Pro 7140 features an 8MP rear-facing camera and a 2MP front-facing Webcam. The right side is home to the power button, micro-SD card slot (hidden behind a plug) and reset pinhole. The lower edge of the tablet has only the docking port and auxiliary battery connection points. On the left are a full-sized USB 3.0 port (a definite upside to the half-inch thickness), micro-USB port (used for charging the unit), mini-HDMI port, the volume control rocker, and the headset jack.
The back of the Venue 11 Pro is given over largely to a pressure-fit plastic panel that pops off to reveal the 36-watt-hour battery, as well as access to other components, though the only thing you can get to without further disassembly is the micro-SIM card. The Venue 11 Pro has Bluetooth, 802.11 a/b/g/n, and WiDi on board, and is also wired for broadband.
The Venue 11 Pro also supports active stylus, and Dell will sell you one for a mere $30. In my hands-on, the Dell Active Stylus was accurate, if not quite as responsive, smooth, or stylish as the one that comes with Toshiba's Encore 2 Write.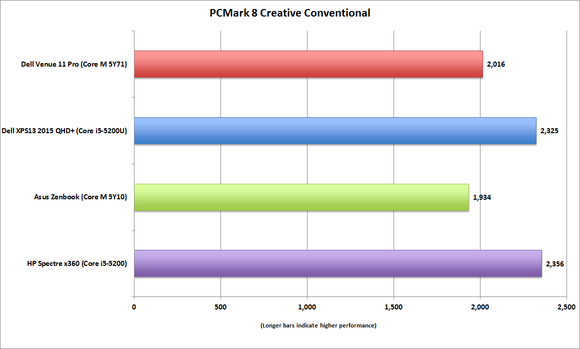 Performance and Battery Life
The performance offered by the Venue 11 7140's Core M CPU is fantastic for a tablet and good even for a laptop. PC Mark 8 rated it at 2,620 in the work test and 2,016 in the Creative Conventional test. Gaming was decent in Web-quality games—the Venue 11 7140 scored 24,775 in 3DMark's Ice Storm Extreme. That's all about twice what you'll get from the Atom-based 5000 series Venue 11 Pro.
Despite being rated at only 4.5 watts of total draw, if you do use all the processing power available in the Core M and its GPU, it's going to suck the battery dry in relatively short order. PC Mark rated it at 6 hours, 5 minutes with the auxiliary keyboard battery in play and 3 hours, 57 minutes for the tablet portion by its lonesome. Keep in mind that PC Mark uses a constant drain and you'll likely get twice that under normal usage.
More evidence of the power draw is the supplied 4.5-amp AC/USB wall wart. The average 0.5-amp cell phone charger won't cut it, and the Venue 11 Pro isn't smart enough to figure out that the voltage isn't adequate. It will shut down unceremoniously if you're running Windows and plug in a challenged charger. On the other hand, the BIOS provides plenty of warning should you try to boot with a lesser adapter connected.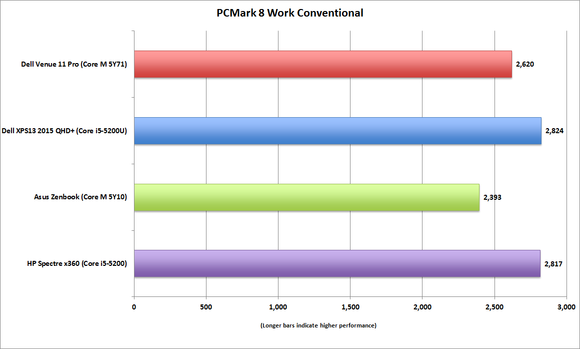 Software
Now is the time during the review when we perform our new Lenovo-check. That is, we tell you what, if any software has been added to the mix, and whether it's hijacking your browser and exposing your personal preferences to the world—or at least to advertisers. Our configuration of the Dell Venue 11 Pro came with a trial version of Office, as do most computers these days.
The rest of the junk was relatively innocuous: An app to create recovery discs, plus some Dell and Intel utilities that largely duplicate what Windows already does, and a 30-day trial of McAfee Security.
Conclusion
Statistics aside, as a tablet or a small laptop, the Venue 11 Pro is a joy to use. The display is bright and evenly lit, and it couldn't be any more responsive to touch. Movies look great and it even sounds halfway decent when music emanates from the speakers. The Venue 11 Pro isn't skinny, and it isn't cheap, but it can definitely make an argument for being the best small business tablet on the market.
This story, "Review: Dell Venue 11 Pro Tablet is a laptop in disguise" was originally published by PCWorld.
Popular On CIO.com
CIO.com's sortable, searchable directory of technology conferences makes it easy to find events coming...
From alternatives to Microsoft Office to full-blown ERP systems, open source software can provide free...
iPhone may have the retina display, but Google's phone is Pixel perfect.