For the past eight years, the iPhone has been the innovator. Whether we're talking about hardware breakthroughs, software solutions, or just plain good looks, the iPhone has always taken the lead, ushering in the latest technologies and design shifts before any other device: the Retina screen, Siri, Lightning, Touch ID, Apple Pay—even the new MacBook's shiny gold case owes a debt to the iPhone 5s.
For the first time since its debut, the iPhone isn't the most cutting-edge piece of technology in Apple's lineup. While Apple Watch borrowed some of the iPhone 6's style and smarts, it also brings a host of new features and technologies made possible by the uniqueness of the device. So while I wouldn't expect the next iPhone to sport a Digital Crown or a dedicated Friends button, there are still plenty of tricks it can learn from the new kid on the block.
1. Glance encounters
Apple Watch is the rare product that's built to be used as little as possible. Its design and functionality is meant to get you in and out without dawdling or distraction, and the sum total of one's interaction—whether it's sending a message, tracking steps, or just checking the time—is meant to be measured in seconds, not minutes. In the time it takes to unlock my iPhones, in fact, I would likely already be putting down my wrist.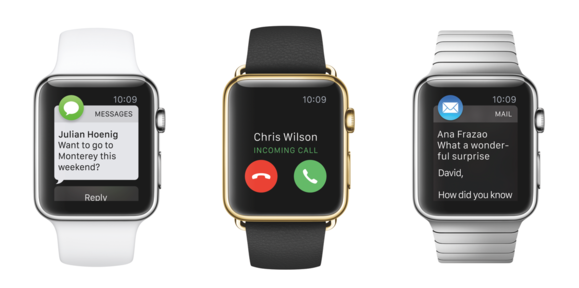 It's a fundamentally different way of thinking, and one I'd like to see make its way to the iPhone. Apple has thus far been reluctant to allow us to do much of anything without unlocking our phones first, and despite Touch ID speeding that up, I'd love a Glances-style system for the iPhone's lock screen.
I thought iOS 8's Notification Center widgets would suffice as an iOS version of Android's customizable home screen widgets. But after a relatively brief honeymoon period, I found myself ignoring widgets as much as I did iOS 7's Today view. The iPhone 6's larger screen requires a change in grip (or my left hand) just to access the Notification Center, where the jumbled, cluttered interface isn't conducive to getting things done quickly.
But Glances is perfect. It could easily replace the iPhone Control Center—in fact, as John Gruber notes in his review at Daring Fireball, the leftmost Glance already includes many of the same quick settings buttons. And Glances would give developers a true outlet for delivering quick bits of information far beyond the capabilities of the current set of cramped widgets.