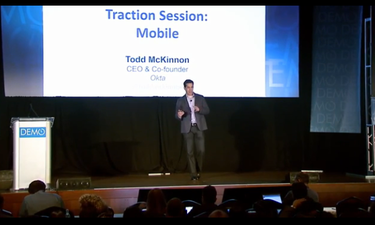 In this video from DEMO Traction in San Francisco on April 22, 2015, Todd McKinnon, CEO & Co-founder of identity management startup Okta, shares hard won advice on how enterprise technology startups can set themselves up for growth.
From the video:
First lesson: Choose your core wisely
What does that mean?
You're going to hear a lot of advice about what to do when you start a company — how to manage a company, how to grow a company. They're going to tell you how to hire, how to market, how to brand and how to design your product.
"But the thing that matters most is your market and your product. That's the thing that matters most. So choose it wisely.
If I could tell you the best idea to go out and start … I wouldn't tell you. I would keep that idea to myself.
But I can tell you something I've learned. And through the story of Okta it's been reinforced. Which is the core you choose has to have a couple very important properties. The first property is it has to be something that solves a problem right away. It has to be something that can get you started quickly.