I exactly can't prove it, because I haven't done any formal tests, but I'm fairly sure my iPad Pro battery drains more quickly than my previous iPad's batteries, even though Apple says all iPads get "up to 10 hours" of life. To make matters worse, the "Low Power Mode" in iOS 9 isn't available for iPad.
To mitigate these challenges, I found a number of simple tweaks you can use to extend your iPad Pro's battery life.
1. Turn on iPad Pro Auto-Brightness
An obvious way to reduce drain on your iPad Pro's battery is to decrease the maximum display brightness setting. The Auto-Brightness setting automatically adjusts screen brightness based on ambient lightning conditions around you. To enable the setting, go to Settings > Display & Brightness. Or if you really want to conserve as much power as possible, manually turn your display brightness all the way down.
2. Keeps tabs on battery-hogging iPad Pro apps
If you go into Settings > Battery, you can see which apps used the most battery power during the last 24 hours or seven days. Tap on an app in the list, and you see how many minutes you used it and how long it worked in the background. With this information, you can either curb the use of certain apps, or follow the next step.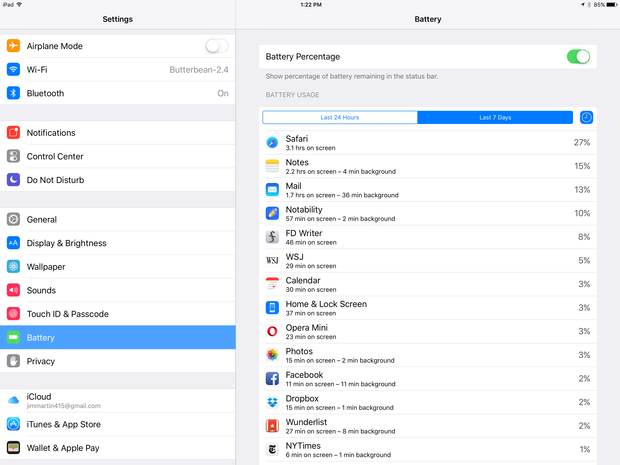 3. Disable iPad Pro app background refresh
Many iOS apps slowly sip battery power as they operate in the background. Background refresh can be convenient — new emails are already in your inbox when you open your email app, for example — but you might want to prevent some apps from constantly updating in the background. To adjust the settings, go to General > Background App Refresh.
4. Adjust iPad Pro notifications appropriately
The more notifications you receive, the more frequently your screen turns on when new alerts arrive (assuming you enable the screen-notification setting), and every on-screen alert reduces battery power. Go to Settings > Notifications to turn off notifications for non-essential apps, or tweak alerts settings for individual apps.
5. Turn on iPad Pro Airplane Mode when reading
Turning off your iPad Pro's wireless radios when you need Internet access isn't a good idea, but if you're just reading a Kindle ebook or a downloaded magazine, consider putting your iPad Pro into Airplane Mode to reduce unnecessary drain on your battery.
6. External power for iPad Pro
If you regularly fly cross-country or internationally and want to be sure your iPad Pro battery goes the distance, consider an external charger. Lots of options are available. For example, I bought a RAVPower Portable Charger with a 9,000mAh battery, a built-in (and convenient) Lightning cable, and a USB port, so I can simultaneously charge another device, such as my iPhone. The power brick costs $40 on Amazon, it is Apple MFi-certified, weighs 8.64 ounces, comes with a protective bag, and it recharges my iPad Pro fairly quickly. For $10 more, RAVPower's 3-Port External Battery Pack has a significantly larger 26,800mAh battery and three USB ports, but it weighs a bit more, at 1.01 lbs.