Believe it or not, Microsoft just provided a great reason to buy both an iPad Pro and Apple Pencil.
In 2007, Microsoft first released "digital inking" tools in its Office software for Windows. Last week, the company debuted similar drawing tools in Office for iPad. Based on my early experience, they rock.
Of course, you don't need to draw on Office documents to annotate them. You can, for example, add yellow highlights to a block of text in Word. And you can add comments to selected text, or turn on Track Changes to highlight all of your edits.
Office for iPad gets annotation features
Today, iPad users can also draw on Word (or other Office) docs and make annotations. The new tools make annotation faster — you just tap the "Draw" tab, select the pencil or marker and the color you want, and have at it. You can cross out paragraphs in Word with red annotations (just like your grade school teacher); scribble notes on Excel spreadsheets; and circle objects in PowerPoint decks.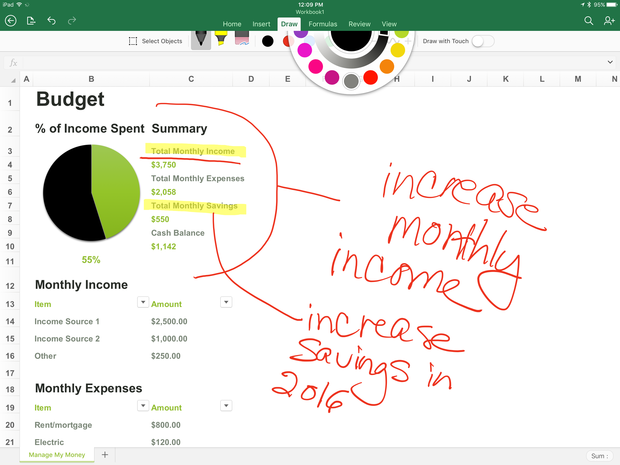 When you're done marking up documents, it's simple to share them. Your colleagues see all of the annotations, and they can delete them as necessary by clicking to select the annotations as objects and then deleting them. Another cool feature lets you automatically convert lines to shapes in PowerPoint, though it doesn't always work like it's supposed to.
If use an Apple Pencil or other stylus, you might want to turn off the "Draw with Touch" feature, so you can use a finger to scroll or otherwise navigate documents without inadvertently drawing lines. Of course, the Apple Pencil isn't the only stylus that works with Office for iPad. However, it is the only one of three styli I tested that works without having to turn on Draw with Touch.
Office apps for iPad lack some features you get in Office desktop software, but with the new inking support, the apps just got a major, welcome upgrade — especially if you use an iPad Pro and Apple Pencil.