12 Photos That Should Never Have Been Posted Online
What were they thinking? These 12 folks lost jobs, reputations, or their freedom after dumb photos they put up on the Web came to light.
By Dan Tynan
Mon, September 15, 2008
PC World — You know the old cliche, a picture is worth a thousand words? Turns out that pictures have been deeply undervalued: A single photo can cost you your reputation, your job, even your freedom—if you post it online.
Teachers, principals, firefighters, mayors, university presidents, and everyday people have all discovered the dark side of putting the wrong photos and videos on social networking sites. Sometimes they paid the price in embarrassment. An unlucky handful lost their jobs or landed in jail.
The results aren't pretty, but they are sometimes hilarious. Here's our dirty dozen—12 pictures their owners probably wish they could take back.
1. Hey Kevin, Tinker Bell Wants Her Outfit Back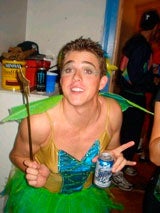 It's bad enough to dress up like you're about to slip a dollar under some toothless child's pillow. But former intern Kevin Colvin made it much worse by asking his boss at Anglo Irish Bank if he could take time off for a "family emergency in New York," then flitting off to a Halloween party dressed like a refugee from
Peter Pan
.
Putting the faerie pix on his Facebook profile
was the finishing touch. After his boss found the pictures, he responded by attaching the photo in question and blind-copied the entire office. Colvin lost his internship and what was left of his reputation when the e-mail messages went flying across the Internet; at least he got to keep the wand.
2. Quick, Call 911—My Pants Are on Fire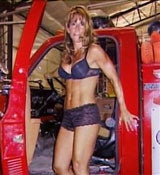 Now that an ex-beauty queen is running for the VP slot, life may be easier for hot mommas who also happen to be office holders. It will be too late to help Carmen Kontur-Gronquist, though. The former mayor of Arlington, Oregon, got in hot water with her constituents after a family member posted photos to her MySpace profile
showing off her, umm, political assets in the town firehouse
(where she worked as an executive secretary). Amazingly, the town of 500 voted to recall her from office shortly after the photos went public. Maybe they were afraid people would start setting fires, just to see what she was wearing when she showed up.
3. Muscle Bound or Muscle Brained?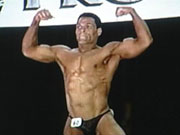 What is it about firehouses that makes people want to take off their clothes? In this case,
Boston fireman Alberto Arroyo got in trouble
for stripping down to take part in a body-building competition last May. (He finished eighth in the 2008 Pro Natural American Championships, by the way.) There's nothing wrong with fire fighters showing off their muscles, but Arroyo made the mistake of competing two weeks after he'd filed for permanent disability status due to back injuries. Apparently his injuries enabled him to lift barbells but prevented him from inspecting buildings for code violations. After his bosses saw
video of Arroyo competing on YouTube
, they decided to give him plenty of spare time to work on his pecs.
Our Commenting Policies