Nine Innovative Apple-Friendly Products from Macworld 2009
New iPhone apps and Mac software revealed for Apple fans.
By Macworld Staff
Wed, January 07, 2009
Macworld —
Macworld Expo Best of Show 2009
Every January, Macworld's editors scour the show floor at Macworld Expo to find the hottest products making their debut at the trade show. This year, we chose nine products worthy of receiving a Macworld Best of Show award.
Apple iPhoto '09
Of all the applications included with the upcoming iLife '09 multimedia suite, the updated iPhoto '09 looks the strongest.
Building on its predecessor, which introduced a feature called Events that let you organize photos around specific events, iPhoto 09 introduces Faces. The software uses face-detection and facial-recognition technology to automatically detect the faces of people in the pictures you take and determine which photos include the same faces. You can assign a name to a particular face, and iPhoto lets you quickly view all photos that include that person (or all photos including one or more of a group of people; for example, the members of your family).
Similarly, Places gives iPhoto users a new way to organize photos. The feature uses geotagging—GPS-based location-finding technology embedded in many newer digital cameras, as well as the iPhone—to determine locations; but anyone can manually add locations using iPhoto's database of place names for common vacation and travel spots. You can then browse photos by location using a map with pins showing where your photos are located.
iPhoto also adds integration with Facebook and Flickr, two popular social networking Web sites; includes new slideshow themes and the ability to export slideshows as videos for iTunes, iPods, or iPhones; and uses face detection technology to position faces in the middle of the screen during slideshows.
iPhoto '09 looks like reason enough to upgrade to the latest version of iLife.
[Available at the end of January as part of iLife '09, $79; free on new Macs.]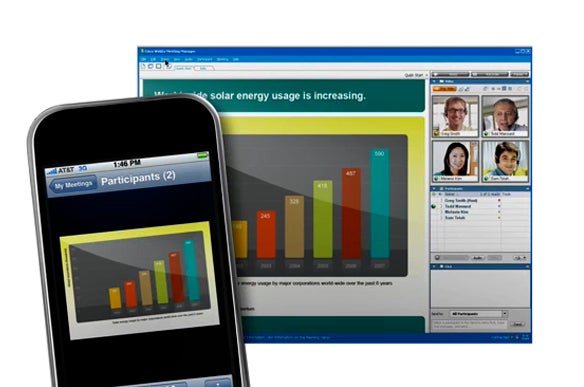 Cisco WebEx Meeting Center
Using Cisco's WebEx technology, businesses can share documents, make presentations, and collaborate with employees—or customers—around the world. Best of all, it works on computers running OS X, Windows, Unix, or Linux. Now iPhone 3G users can join in as well, thanks to Cisco's free WebEx Meeting Center app [App Store link].
With it, you can start or join a scheduled WebEx meeting, either by picking it from your Meetings lists or by clicking on a special iPhone link in a Mail message. You can also see who's participating in a meeting, pass the torch to another presenter, and start a text chat with either an individual or with the entire meeting group.
Once you choose to join a meeting, you'll receive a phone call on your iPhone. Answer the call to connect to the audio portion of the teleconference, then switch to your iPhone's home screen and tap on the WebEx icon to join the presentation. It only works with a 3G or Wi-Fi connection, so if you're stuck in EDGE country, you'll need to find a computer instead. Still, the WebEx app lends some serious business cred to the iPhone.
[Free.]
Cultured Code Things for Mac 1.0
Everyone has things to do, and that's why there's Things, a new task management program from Cultured Code. This version, for the Mac desktop, is designed to sync with the recently released iPhone app.
Things lets you focus on your tasks in any way you want: Today, for stuff you need to do, well, today; Next, for all upcoming items; Scheduled, for repeating items or just stuff you want to do later; Someday, for interesting items you want to consider for the future; and Projects for items that have more than one thing you need to do to complete them. But you can choose to see just the things you need to do Today. A handy Inbox lets you just add items without having to figure out what to do with them yet.
You can mark your items with Tags to classify your tasks for work or home, high or low priority, or just easy or hard. You can even include notes, links to online files or Web sites, or email messages. You can even search Things have a Dock badge alert you to how many tasks you have.
And you can sync everything with iCal or with an iPhone using Things for iPhone.
[$50; five-user family pack, $75.]
Our Commenting Policies