iPhone Translator App Travels to Japan: My Field Test
What happens when an American in Japan turns to his iPhone app for translation help during conversations? CIO.com's Tom Kaneshige finds some success, some failures and some odd looks from hotel receptionists.
CIO — Thanks to some severely poor planning, my trip to Japan last week ended up being one more day than I had expected. And so my friend and I found ourselves stranded in Nagoya, a city in the center of Japan, without a hotel or our Japanese-speaking travel companions.
Neither of us can speak a lick of Japanese.
Finding a hotel is the least of our worries. We also have to navigate a complex subway system to get to the airport the next morning. So we work out a plan: First, lock down a cheap room at a business hotel near the train station, find someone to walk us through the particulars of getting on the right bus and then grab a bowl of delicious ramen noodles.
We find a nearby hotel, walk up to the reception desk, and my friend whips out his Droid and fires up Google (GOOG) Translate, which doesn't work. He launches iTranslator for Android without success. Both Droid apps require a data connection, which we were too cheap to buy.
The three receptionists struggle to communicate with us in English. That's when I decide to test the voice-to-voice translation app for the iPhone, Jibbigo, which doesn't require an Internet connection.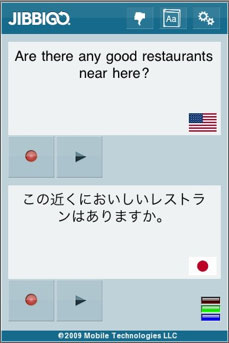 The makers of the Jibbigo app, Mobile Technologies, have delivered arguably the smartest apps in the App Store: voice-to-voice translation apps for Spanish, Chinese, Japanese, and an Iraqi dialect of Arabic, with more languages on the way. Just speak into the iPhone in either English or another language, and in a few seconds the app translates your words into voice and text. The apps aren't cheap, ranging around $30 each.
Language Translation App: Jibbigo Goes to War
Not Bilingual? $25 iPhone App for That Translates Spoken English
Jibbigo app for Japanese has been a hot seller since it became available in January, according to Mobile Technologies. It becaome the top grossing app in Japan in only two weeks.
Braving the Hotel Reception Desk
Still at the reception desk, I speak into the iPhone, asking if there are rooms available tonight and at what rate. The app takes some 10 seconds to translate, leaving all of us uncomfortably staring at each other. Apparently, my English isn't very good, because the app translates my words into gobbledygook. Before the translation enters the final phase into a voice speaking Japanese, I quickly shake the iPhone to delete the translation. The hotel receptionists look at me oddly.
Finally, I get the right words into the app, and Jibbigo translates to perfection. Everyone (including myself) is amazed. The receptionists nod that they indeed have a room at a reasonable price. Then I ask them via the app about the cost of a taxi to the airport since we're worried we'll get lost taking the subway and miss our flight. The app is working well on these complex sentences, and I'm feeling pretty good about myself. The receptionists are impressed, even a bit giddy.
Our Commenting Policies