A global payment network is Mastercard's most prized asset, facilitating 300 million financial transactions worldwide each day in a complex system protected by machine learning (ML) and other cutting-edge security technologies. The financial services company is now upgrading that system, turning away from on-premises solutions to instead embrace a blend of cloud and edge computing technologies, a combination experts say is ripe for growth.
When complete, the modernized network, Next Edge, will be available anywhere the company's customers wish to conduct business, according to Ed McLaughlin, Mastercard's president of operations and technology.
The initiative will drive revenue growth by fueling faster product delivery and integration, as well as new customer experiences. It will also improve operational efficiency by onboarding new customers in mere weeks, McLaughlin says of the network, which makes decisions based on regulatory requirements in milliseconds.
Prior to Next Edge, Mastercard made its payments network available via an appliance installed in customers' datacenters, which worked well when the world was fueled primarily by card-based transactions. But with more merchants and fintechs embracing digital payment services, including mobile ecommerce, account-to-account, and open banking, it behooves Mastercard to meet them in the cloud, a middle ground where companies tap APIs to provide new connections between platforms.
Differentiation at the edge
Hosted in a hybrid cloud environment comprising private and public cloud infrastructure, Next Edge offers a unified network interface and connectivity, enabling customers to access all Mastercard products and services via one access point. The hybrid approach is essential given the various international regulations regarding financial services, which requires some customers to process transactions on premises. It's an approach the company claims will lead to increased product sales.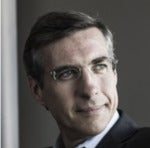 "You get the same direct connectivity with the same levels of speed and performance you'd get with an on-premises environment," McLaughlin says.
Most notable is Mastercard's embrace of edge computing. Whereas cloud computing has been eating the business world over the past several years, edge computing is arriving for dessert.
Edge technology complements its cloud cousin by situating compute and data storage closer to the devices where it's being gathered, reducing the latency issues that can effect an application's ability to serve up data in real time.
Rather than rely on a central location that can be hosted thousands of miles away, edge computing supports apps running on anything from smartphones to laptops to the dizzying array of machines that operate under the internet of things (IoT) mantle. The emergence of 5G network technology, paired with edge computing, will further reduce the latency of applications running on devices.
With Next Edge, Mastercard built an event-driven framework to push more compute workloads to the edge. One Next Edge service, called Edge Decisioning, helps make decisions at the edge without requiring connections to central sites. Mastercard also delivers customers fraud services via Collaborative Intelligence Hubs, which are distributed throughout the globe and run independently, while utilizing data across domains or through other sources.
"The edge allows us to have a zero-mile interface with customer systems and our issuers who have moved their processing to the cloud," McLaughlin says, adding that it moves logic as close as possible to the source device.
Edge computing will complement cloud computing for nearly every enterprise by 2025, according to Gartner, which says that spending on worldwide content delivery network and edge networks will hit $12.4 billion in 2021, up from $10.8 billion in 2020. Meanwhile, the percentage of enterprises that have deployed edge use cases in production will soar to 40% in 2024 from about 5% in 2019.
Modernizing network architecture has its technical challenges
Next Edge has had its fair share of construction challenges, requiring Mastercard to push traditionally centralized security solutions to a distributed module and deploy them to edge platforms. To do this, Mastercard created a new security access solution to perform authentication and authorization at the edge and partnered with public cloud providers on financial security services.
Moreover, Mastercard must offer its payment services without skipping a beat, ensuring high-speed, low-latency, and high-throughput network interfaces with modern technology stacks. To achieve performance comparable to its current interface, which controls the connection and sends and receives raw bytes, Mastercard adopted bidirectional streaming gRPC, an open source high-performance remote procedure call technology that can run in any environment.
Key to this work was not "pushing breaking changes" onto its network fabric and complementary systems, which required Mastercard's tech team to ensure that the new edge network was backwards compatible with the previous architecture, McLaughlin says.
Mastercard started the Next Edge project, which garnered a CIO 2021 FutureEdge 50 award for demonstrating innovation with emerging technology, in third quarter of 2019 and partially deployed it in the second quarter of 2020. It is currently running in North America, Europe, and Latin America; deployment in Asia-Pacific regions remains in the works.
Even so, Mastercard's rollout of Next Edge is hardly in early innings. It currently has more than 3,700 edges running globally and is serving more than 30,000 customers. In December 2020 alone, its edges processed more than 10 billion payment transactions.
Thanks to the upgrades, Mastercard projects a double-digital increase in network volume from both banks and nontraditional bank customers, such as fintechs and merchants, with noncore transaction revenue increasing to 30% of its overall revenue, over the next 5 years.
"It's a good example of taking a step back, seeing where the market was heading and taking advantage of the shift to provide much greater reach and more services and simplicity for customers," McLaughlin says.