Axis Bank is a year and half into a multi-year technology transformation programme driven in large part by intelligent automation. The bank, India's third largest in the private sector by total assets, has adopted agile methodology with multiple cross-functional squads working on over 220 high-priority, organization-wide transformation projects.
As of March 2021, more than 100 projects were fully completed, and they have delivered promising outcomes in the form of reduced turnaround times, improved productivity, and better customer experience. For example, the corporate banking business has been able to cut the loan approval time to around a quarter of what it used to be, even as the productivity of relationship managers has more than doubled.
The bank invested in modernizing the core systems, scaling up the cloud portfolio for supporting the real-time business models, and building resilience across its operations. For example, the bank has a cloud-first approach for its digital banking platform, and has over 50 initiatives on cloud.Intelligent automation has been at the core of these transformation projects. It is not only the biggest driver for operational excellence, but also a powerful strategy tool to deliver on the growth, profitability, and sustainability goals.
"The pace and application of automation has changed dramatically over the last few years. Adoption of intelligent automation initiatives coupled with large-scale digitisation is helping us solve complex problems at a faster time frame," says Axis Bank executive vice-president and head of information technology Avinash Raghavendra.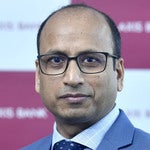 Ratan Kesh, EVP and head of retail operations and service at the bank, says, "With 700 bots deployed, of which 650 are RPA bots and 50 are AI bots, Axis Bank has been successful in deploying the combination of RPA, AI, and analytics technologies, and scaling it up to transform its operations."
In intelligent automation, the bank has set well-articulated and granular goals such as improving the automation index of major operations processes from 40 percent to above 75 percent in two years, and achieving above 90 percent straight-through-pass (STP) for key service processes.
As one of the measures of scale-up of automation, the bank is looking at a five-fold increase in the number of bots, from the current 700 to 3500.
Intelligent automation is the way of life
Currently, over 300 processes run through intelligent automation. The key processes in banking operations where automation is used include account opening, know your customer (KYC) identity validation, digital services, trade services, underwriting, instant loans, card operations, fraud detection, fraud settlement, cheque clearing, audit, procurement, invoicing, and many more.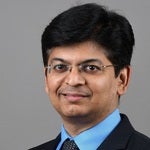 Ninety-five percent of new accounts are opened through a mobile device such as a tablet, with KYC processing is done through automation and AI. The process used to require 65 manual validations; it is now done by RPA and AI bots, a transformation that would not have been possible without digitization.
"RPA and AI are helping us in getting the validation and data flow into core systems almost instantly and thereby improving operational efficiency, compliance and providing improved customer delight," says Raghavendra, the head of IT.
Getting the right structure
Automation, AI, and analytics were the key levers for transformation. The structure for scaling up automation had to be rooted in the operations function, which in turn supports the business strategy.
Some of the members of the apex team for transformation are the CIO, CDO, analytics head, CISO, transaction banking head, and retail banking and customer experience head (Ratan). The center of excellence for intelligent automation has 25-30 people with deep process expertise and 30 people on the tech side who do devops. There's also a data science team of 20 people.
Ratan says the bank has set annual targets for improving its customer experience Index, with the goal of being the best-in-class in the banking space in India in three years.
To ensure all round transformation, Axis Bank put in a structured project execution approach moving away from a siloed working environment. That is, the structured approach demanded tracking and monitoring the progress of transformation projects, including those for automation.
People at all levels have been trained to identify where they can use automation, says Ratan. "We demand agility from them; that is scalability for us."
How IT turns the wheels
The IT organization plays a huge role in the execution of automation projects, says Raghavendra. "Whether it's about providing superior customer experience using STP for service request fulfilment via the mobile banking platform, or using voice bots for seamless query handling at the call center, there is the need for integrating multiple core and surrounding systems within the bank, as well as with government databases and external systems."
Its mandate is to ensure that the infrastructure choices are appropriate and continuously evolving, to deploy and manage development resources, to manage vendors, and to ensure that automations work securely and seamlessly.
The IT team also works on creating the technology foundation for collaboration within the bank and partnering with external organizations. For reuse, the bank has created a bot store and AI model store based on its experience in automating 300+ processes. In order to drive seamless integration with partners, the bank's open API platform has been further enhanced to on-board merchants, generating more business and driving volumes.
Choosing appropriate partners who can stand through the entire journey of transformation is another key success factor, says Ratan. "We have been careful in choosing our partners. For automation, we chose Automation Anywhere to ensure that we have a scalable and evolving automation platform. Similarly, we have one AI partner with platform capabilities that enables scale up and another one for non-linear scalability."
Automation Anywhere's cloud-based structure enables the bank to integrate legacy and software-as-a-service applications.
Although the bank works with a lot of start-ups and midsize partners who are at the cutting edge of technology, some of the technologies such as text mining are built in-house by the development team.
Ratan warns that AI is not just a technology that can be procured and installed, it is also a capability that the organization must nurture within: "You need to have skilled experts in AI within the bank."