Daimler India Commercial Vehicles (DICV), owner of the BharatBenz brand of trucks and buses, is serious about its digital transformation.
In July 2021 the company created a new Transformation Management Office led by Chulanga Perera as chief transformation officer and head of strategy. Perera has already kicked off DICV's digital transformation as its CIO, a role he will retain until a replacement is appointed.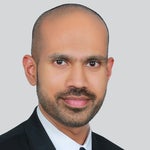 "One of my main strategic pillars when I took over the role as CIO of DICV in mid-2019 was, and still is, digital transformation. COVID-19 has pushed us to be more digital. Building the right infrastructure and upskilling our people is complete. Now, it is time for us to leverage this foundation and transform each business function until we reach holistic transformation," he says.
Among the infrastructure changes he has been putting in place is a new CRM platform, set to go live in July 2021.
"When you look at the Indian customer, no matter which segment they come from, they are more demanding in their needs. To fulfil the demand we have to deliver customized solutions to them. So we plan to integrate CRM and ERP to understand our customers a lot better and provide the dedicated solution."
To further improve contact with the customer, DICV has digitalized its customer call centre services.
Servitization: everything-as-a-service
One of the biggest changes facing the company is that the commercial vehicles market is no longer focused solely on product, but is moving towards "servitization," or the delivery of outcome-as-a-service. Rather than buying a bus or truck, customers will buy the ability to transport passengers or goods.
As a first step on the way to this, DICV has implemented a number of digital services around its physical trucks. They can be delivered with wireless connectivity, enabling fleet owners to gain insights into their entire BharatBenz fleet through a single app. For instance, fleet managers can monitor fuel levels to identify theft, or observe driver behaviour patterns such as harsh braking or acceleration.
"Daimler's trucks are connected, and there are petabytes of data coming out of our trucks," Perera said. The company is applying analytics tools to that data, sent over the air, to track vehicle downtime. "We are adding more features to the connected vehicle platform so that customers can get full value-add," he said.
DICV connects with customers through constant digital communication, providing customers and the entire value chain with relevant analysis of KPIs.
Chulanga says, "You need to continuously invest in upgrading the technology, the database, and the applications. Not just upgrading but also ensuring that the users get adopted to the technology and well served. Else, any IT implementation will not hold much."
In the digital transformation journey, the biggest challenge was to take the right approach to manage the investments into digital transformation, and reduce run costs.
DICV has strongly placed emphasis on a self-funding strategy where each project has a time to return on investment of just six to eight months. Once the ROI is realized, money is pumped back to develop new use cases, eliminating the need for additional funding, says Perera. DICV has found other ways to innovate in a cost-effective manner: It partners with suppliers to co-create common technological products, and collaborates with universities to leverage fresh talent and expedite development.
Delivering services to demanding customers means knowing more about them. "Our major goal was to become a data-driven organization," says Perera. To do that, he says, "We needed to create a data lake which housed data across functions. This process involves moving the data from our stand-alone ERP systems to the cloud."
The company is investing heavily in cloud infrastructure to secure the data and to make it available across business functions. "We have implemented several checks and balances to ensure data cleansing is carried out before we utilize our data lake, along with security measures to ensure authenticity and confidentiality of data," Perera says.
With the data lake set up and the data cleaned and secured, "We set up a central analytics tool, which displays and tracks major KPIs across the company in one single platform, real-time. This platform enables the employees to access the platform to get real-time data such as project tracking, financial system monitoring, HR data, and more," he says.
The governance model for this revolves around defining roles and responsibilities and driving a centralized analytics team that works to understand the business problems and provide data-backed-digital solutions resulting in optimization possibilities and looking at processes from a data perspective.
Collaborative development
DICV collaboratively involved its IT team and the corresponding business partners. The IT team can provide digital solutions on the basis of the technology landscape, and the solution needs to make business sense and work optimally at the hands of the user.
It also engages with external partners, suppliers, and vendors on joint development of the solution. An organization can only realize the full potential of digital transformation when external stakeholders are transforming at the same rate and speaking the same language.
DICV collaborates with business consultants who are experts at communication technologies such as blockchain so that it can gain expertise in the concept. It is also creating a workforce that is more digitally minded.
"We focus on developing a digital culture by rolling out digital training across the functions within DICV," says Perera. "This is done to ensure employees are not completely dependent on IT, but are armed with basic skills and understanding of digital technologies being introduced. They are ready to embark on and reap the most benefits out of DICV's digital transformation journey," he says.