Abu Dhabi Terminals, which manages and operates the Khalifa Port Container Terminal, is bolstering its automation capabilities with AI capabilities designed to optimise costs via smart container tracking and, eventually, autonomous shuttle capabilities.
Abu Dhabi Terminals (ADT) was established in 2006 and is based at the Khalifa port, halfway between Abu Dhabi and Dubai. Khalifa is already the largest semi-automated port in the Gulf region, and is ADT's flagship maritime asset.
ADT has already invested heavily in automation, which the company believes gives it an edge in the port management sector.
"In general, the global port industry lags behind other industries since port operators are quite conservative when it comes to investing in R&D, innovation, and disruptive technologies," said Chief Automation Officer Arturo Garcia. "The benefit of implementing AI is that it will improve the logistic chain which will enhance and improve the efficiency of the global transport of goods."
To deploy the new AI applications, ADT will be using Microsoft Azure Artificial Intelligence Services. The cost-optimisation plan has the blessing of top management at the port operator.
AI expected to optimise costs
"By driving innovation through the implementation of artificial intelligence and automation, Abu Dhabi Terminals is committed to modernising our port environment, while also dramatically reducing our carbon footprint, and costs, as well as turnaround times for those accessing Khalifa Port," said Ahmed Al Mutawa, ADT's CEO.
The Azure technology will enable the introduction of AI-based container smart-tracking applications designed to ensure 100% traceability of all containers handled by the Khalifa port, as well as the potential to launch an autonomous vehicle system, Garcia said.
ADT had adopted a few tracking applications in the past, most notably some complex applications based on GPS and RFID (radio frequency identification) RTLSes (real-time locating systems), but these created additional workloads and increased costs, according to Garcia.
The new tracking system will use Azure's Computer Vision service to recognise vehicle numbers, vehicle location, and the containers that vehicles are carrying. The AI application and system intelligence will be will be deployed on a local Azure Stack Edge system on premises, Garcia said. The data that is generated locally will be sent to the cloud for model training using Azure machine learning technology in order to enhance the intelligence of the system.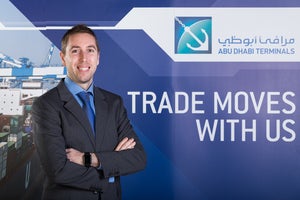 The new system is expected to help ADT enhance its container-tracking capabilities with a smaller tech footprint than it has used up to now, Garcia said.
"At the same time, considering the scaling and modularity of Microsoft Azure-based solutions, we can expand the use cases to different functional areas without tremendous effort and investment," Garcia said.
Microsoft has already been a long-term supplier for ADT, but recent collaboration on AI projects took the relationship 'to the next level', Garcia said. What that meant in practice is that both ADT and Microsoft were 'open to sharing skills and capabilities in their respective domains', Garcia said. In particular, ADT was attracted by Microsoft's ability to offer a mix of cloud, on-premises and security for implementing AI systems, according to Garcia.
AI and automation serve several purposes, Garcia said.
AI, automation reduces errors, improves safety
"ADT has an ongoing plan to invest in R&D and new technologies which bring value to our core business (terminal operations). AI and automation help to assure consistency across our operations which decreases our dependency on human capital, reduces errors, improves safety, and greatly improves operational efficiency," Garcia explained.
ADT has already invested heavily in automation, using technology to remotely operate some of the day-to-day functions in the container yard. For example, Remote Operating Stations (ROSes) allow operators to load and unload containers from trucks remotely. Outside of the Gulf area, ADT uses remote operators located at its BPO (business processing outsourcing) centre in the Philippines to handle exceptions and remotely operate the truck gates.
ADT plans to use AI to enable completely autonomous vehicles.
"I firmly believe that the port industry needs to be more aggressive with investing in and implementing new technology in order for our industry to stop being a follower and start being a leader in regard to innovation," Garcia said.