1. Considering the ever-increasing pace of technological progress, how do you find Comarch ICT and its services fitting in with trends right now? Also, has the pandemic had an impact on outsourcing as a trend – and if so, how?
Let me start answering these questions by referring to a white paper we [Comarch] have put together in collaboration with the ICAN Institute. It's called, "How IT Outsourcing is Becoming the New Normal". While we were working on this material, we understood that the COVID-19 pandemic had forced many companies to reduce their operational costs more than ever before.
Cost reduction in itself, according to 70% of those surveyed by Deloitte for the "2020 Global Outsourcing Survey" report, is one of the primary reasons why companies collaborate with outside IT partners and use their software and services for running internal and external operations.
So, if you put the two together, you will see the correlation, that is – yes, the pandemic has definitely led to an increase in IT outsourcing, making it a much more popular approach. But we need to be aware that the pandemic is not the only reason why today's companies outsource.
What also matters to those businesses are the flexibility of services (40%) and fast delivery time (20%) – things that help companies improve their performance and gain a competitive advantage. Hence, you could say that the business environment was always going to take this approach. The question was not "if" but "when". The pandemic has just opened the throttle, so to speak.
As for Comarch ICT, our products and services can deliver all the things clients want and expect these days. We can provide services adapted to changing business conditions. Moreover, our highly trained teams can quickly acquire information about the client's infrastructure and provide our services 24/7. If necessary, we also offer permanent or periodic on-site support.
Also, our Service Desk services, available in Polish, English, German and Russian, are becoming more popular these days. When working remotely, having no access to supporting applications can cause huge performance problems. Our Service Desk can diagnose and remove a problem based on defined procedures or transfer it to another support line.
What is important for us is that some customers have begun to understand that offshoring is not always the best solution, mainly due to communication and cultural barriers. This is an excellent opportunity for Comarch ICT, especially in the DACH region. Why? Because we often provide our services in the hybrid model and do so from our competence centers located in Poland, following the nearshoring model.
Of course, if necessary, we can also provide on-site user support (onshoring). Such a model allows direct contact with the user and quick responses to minor problems, allowing competence teams to solve more complex issues remotely.
All in all, I find Comarch ICT to be an excellent IT partner for companies that focus on finding new ways to drive business efficiency, as well as those that have been forced to cut costs during the pandemic.
2. Will the companies currently "lagging behind in digitalization" want to engage in digital transformation on a much larger scale? If not, in your opinion, will businesses that stick to the "analog" methods (paper document exchange and cash payments) remain competitive in a few years?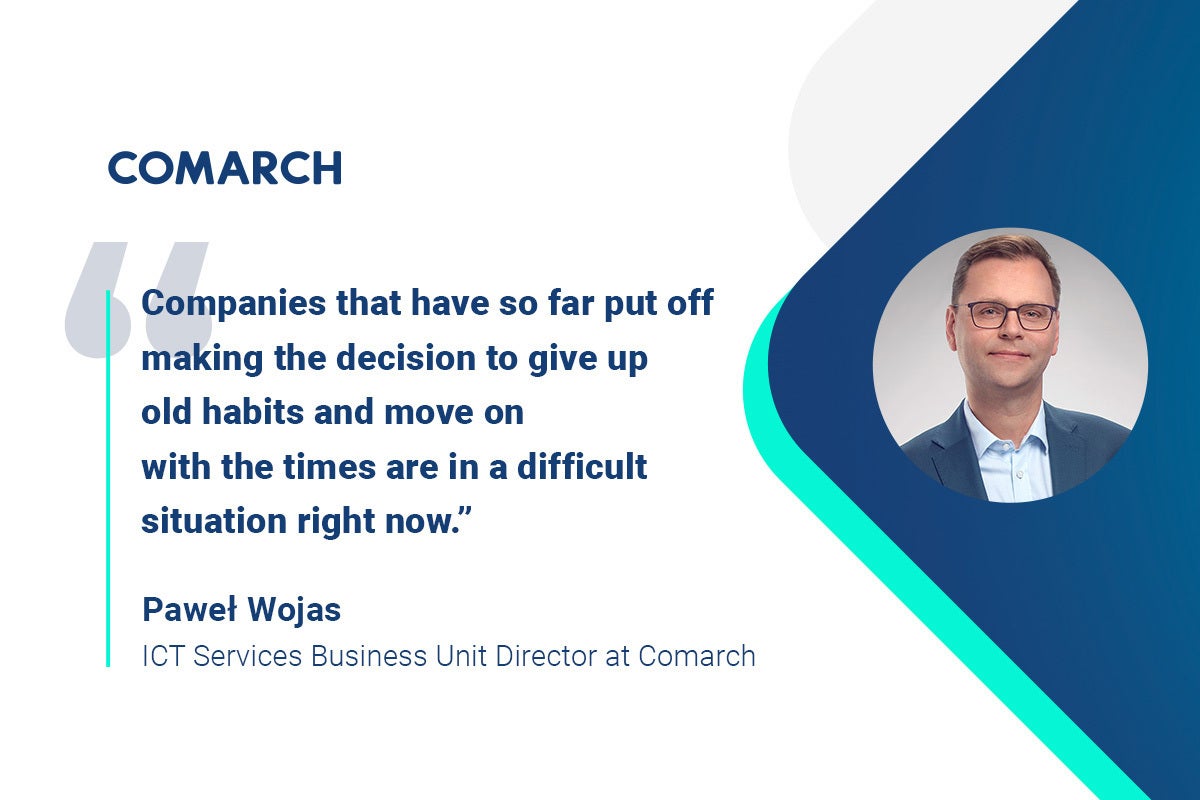 Now, that's an interesting question. In my view, digitalization is a must. Companies that have so far put off making the decision to give up old habits and move with the times are in a difficult situation right now. Although some analysts and journalists say that it's already too late and that such companies will pay the price for not jumping on the digital bandwagon earlier, I believe there's still some time left.
I also think we can help many of those companies by providing them with our ICT services and our other products and services, such as our EDI system, our loyalty management platforms, our IT infrastructure consolidation and consulting services, and so on. In Comarch ICT, our focus is on performing migrations of selected services to hybrid-cloud-type solutions and providing IT support to help keep them in good condition. Of course, we can provide support for older technologies, but – from our perspective – the cloud is the future.
My point here is that Comarch has what it takes to help any company start its digital transformation journey. Our goal is to ensure that every organization that uses our products and services has the computing power and professional support it needs to gain a competitive advantage.
3. What new technologies do you find most interesting from the user's perspective? How do you think they can be used in business? Will suppliers want to implement them?
Those would be the technologies that allow companies to drive business efficiency and improve cooperation between employees while working remotely. Two years ago, we carried out a Microsoft Skype implementation project for one of our clients. And now I read that the online version of the product will no longer be supported as of August 2021 and will be replaced by Microsoft Teams. I've used this example to show that there has been a massive shift in the way people communicate and cooperate in the last 1.5 years. Today, solutions such as MS Teams, Zoom, or WebEx (which we use at Comarch) are a must. Plus, we have cloud-based solutions, such as Microsoft 365, that help us in other business areas.
I believe that, as a provider of a wide range of ICT services, we will benefit from this trend – but we also want to be fully prepared for what is to come. Thus, we keep improving our competencies in the design, management, and maintenance of cloud solutions. This is evidenced by, for example, our partnership with Microsoft.
4. Is it worth investing in IT either as a company or as a person thinking of possibly changing their career path?
There's no straightforward answer to this question.
But let me say this – I believe that if a company uses Comarch's ICT services, it can focus more on running business operations, mainly because it is no longer forced to spend time and resources on internal IT departments. We have many great teams full of highly trained system engineers who can take care of one's IT infrastructure, end users can receive assistance from our Service Desk, and the availability of key systems can be monitored 24/7 by our Global Operations Centre. In other words, we are well prepared to provide a company with the tools it needs to become more successful.
As for people who want a career in IT, I think this industry is a land of many great opportunities, so they should go for it if they really want it. As a company, we find that it is worth investing in employees' competencies. From the very beginning, Comarch has created opportunities for people studying IT and telecommunications. Being a junior at our company allows you to learn from more experienced colleagues. Plus, we're always looking for graduates of non-IT studies who would like to take part in our endeavours. This is all to say that we know how many people are passionate about IT – and we're doing our best to help them maintain and cultivate that passion.
____________________________________
About Comarch
Comarch, a global software provider, also offers reliable services related to IT infrastructure. Comarch outsourcing gives customers access to 15 CDCs located all around the world. Extensive international experience and the number of international offices allow the company to offer nearshoring services. The flexibility of our solutions has convinced global brands, including Valeo, Nicols, London Heathrow Airport and BP, to establish long-term cooperation with Comarch. Over 25 years, the company has helped them to optimize business costs by using the latest technologies and ensuring the highest data security standards. More: ict.comarch.com