Ocean Network Express (ONE) is the world's sixth-largest container carrier, with a fleet size of about 1.6 million TEUs (20-foot equivalent units). Operating more than 220 vessels, the Singapore-headquartered company serves 120 countries.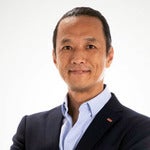 Formed in 2017 from three Japanese liner companies, ONE started its services in April 2018, with its IT system a complex mélange from its three parent companies. "Those IT workloads were still working with on-premises-based architectures," said Kosuke Wada, ONE's senior vice president of business process, IT strategy, and innovation. "Since then, we have started to shift our workload to the cloud. We engaged with Google Cloud and have already shifted some enterprise application systems to the cloud. We plan to eventually shift all of our workloads to the cloud."
Need for faster information updates during the pandemic
As the COVID-19 pandemic choked the global supply chain across the world, ONE's operations were greatly affected. The company provides timely information to its customers on schedule or delivery delays via its online and offline platforms. However, the information got outdated fast during the pandemic, with so many last-minute changes to the vessel schedules, train schedules, and terminal efficiency. It was challenging for Wada's IT team to ensure the delivery of timely and accurate information to their customers.
At that time, ONE was using Microsoft Dynamics CRM tool to manage sales, customer performance, and service levels globally. But Dynamics struggled to handle the fast-changing information, primarily because ONE's IT stack is largely based on Google services, not Microsoft ones. So ONE moved to Salesforce CRM, whose "integration with Google Workplace was an enormous advantage right off the bat," Wada said. "We also selected Salesforce because of its extensive configuration-based features, such as EAC [Einstein activity capture], flexible security model features, API integration, and dynamic process flow."
Over six months, ONE implemented Salesforce CRM in 10 pilot countries and is on track to roll it out globally by October 2021," Wada said, for a total of nine months of implementation. Wada's team worked with several services firms: Accenture as the global cloud systems integrator, Neuraflash as the North American contact centre provider, and Salesforce as the CRM provider.
"One of the greatest challenges we met was coordinating various partners to align on the dependencies and timeline to meet the product delivery schedule," Wada said. "But with a great team effort between ONE and Salesforce, we managed to overcome these challenges and delivered a quality implementation on time."
Lessons from ONE's CRM implementation
Wada credits the smooth implementation to four critical strategies that helped the IT team focus on timeline and delivery of scalable systems:
Aligning the IT strategy with out-of-the-box Salesforce features as much as possible to maximise ROI and reduce time to market.
Taking the time to understand the philosophy of the CRM provider to find the best fit for your organisation.
Valuing employee experience by ensuring the CRM system integrates with the other software employees rely on, so as to reduce the friction of its rollout.
Creating a solid change-management plan to communicate effectively across the organization. As part of creating that plan, ONE used Salesforce's Trailhead gamification platform to test out various scenarios to help increase user adoption.
Next steps for ONE's IT systems
With the new CRM system nearly in place, ONE's next steps in its IT roadmap include building a data analytics platform in Google Cloud, introducing new BI tools, implementing a machine learning platform, and improving the data governance process "to use the data in a deeper way," Wada said.
Another challenge the company is tackling is the organization-wide adoption of agile development methodologies and devops. "We are training our IT engineers to be ready for the latest software engineering methods and approaches, and we opened our digital factory [an agile application development center] in Vietnam last year to facilitate our digital transformation," he said.