It's become axiomatic that companies should embrace AI and machine learning – whether that's for the analysis of customer data, the development of robotics, implementing chatbots or anything else.
But to truly reap the rewards of the technology, organisations must have a firm grip on how it works and how to deploy it successfully.
With the fast pace of innovation, however, keeping up to speed is no mean feat.
Business and technology executives therefore welcomed the opportunity to explore the latest AI breakthroughs at NVIDIA's GTC conference this November.
The conference, which took place online from 8-11 November, offered C-level executives and technologists a variety of sessions that provided a complete overview of AI and, most importantly, how companies can take advantage of it.
The AI Strategy for Business Leaders track at GTC hosted a number of sessions aimed specifically at C-Level executives – including 'Building Powerful AI Workflows to Unlock Productivity', 'Energy Transition, Sustainability, and the Role of Technology' and 'AI in Fintech: With Great Power Comes Great Responsibility'.
Attendees also got the chance to learn about the latest breakthroughs in AI applications across every industry, and how to deliver the best ROI in artificial intelligence, while technical personnel had the opportunity to dive into the detail of everything from neural networks to deep learning.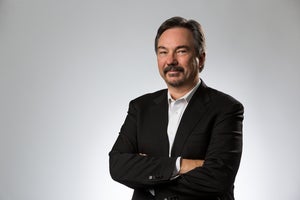 And it is this training element of the GTC which extends beyond business and technology executives, but to anyone who wants to learn about the potential of AI.
"We're targeting students and others who are just coming into the industry and want to learn about this new field," says Greg Estes, NVIDIA's VP of corporate marketing and developer programs.
"You can learn about this technology at colleges – all the major universities have programmes for AI and machine learning – but how do the lecturers find the time to keep up with the latest developments?"
"We have created training content, slides, a full curriculum and packaged those up into teaching kits – and made these available for qualified educators," explains Estes.
It's this mixture of sessions for different attendees, as well as the various networking opportunities, that make GTC so unique. It is a chance to hear from the leading technologists, academics, cloud providers and senior executives in one place, but also to interact with peers virtually; for example, GTC attendees got time with an Nvidia engineer, had their questions answered live during a 'Connect with the Experts' session and could also go on a 'Braindate' – a unique networking opportunity for attendees to huddle in small groups or have a one-to-one discussion around a specific topic.
You can watch a highlights video of the GTC keynote with Nvidia CEO Jenson Huang here.