There has been a rapid increase in the importance of technology in financial institutions and banks in the past decade. "Technology of course has always played a key role, but we are now in an era where banks seem to have become technology organisations first and financial service providers second," said Vinit Singh Chauhan, head of Technology Business Management and Strategic Projects at Standard Chartered Singapore, a subsidiary of British banking and financial services company Standard Chartered.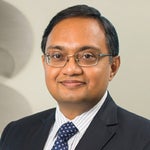 What's happened over the years is that not only the scope, complexities, and methodologies of technology have evolved, and the pace of change has accelerated, but for technology decision-makers, a wide range of alternatives is now available for every technology decision—and often used concurrently.
That's where Apptio's proprietary Technology Business Management (TBM) framework comes in. TBM is one method to help companies integrate IT into the organisation, with the goal of running the IT department like a business. (Competitors include Bee365, CostLens, Digital Fuel, and ServiceNow, according to Gartner.)
Chauhan has used TBM at Standard Chartered Singapore to help drive its technological evolution. "TBM aims to harness the power of information and analytics to enable these functions to be managed in an optimal manner, and for decisions to be taken in a better, more effective, and timely way," he said.
In the case of Standard Chartered, "the use of TBM was not reactive but rather proactive, preparing to create a good, solid foundation that would allow the achievement of technology objectives by catering to the increasingly complex and varied demands for data, information, analytics, insights, decisions, and monitoring," Chauhan said.
Chauhan started his career in front-line investment banking and then gradually moved towards financial management. For the past decade he has been working in a very interesting area: the intersection of technology, finance, and governance. He started at Standard Chartered in 2011 as the CFO for Technology, and later was the CFO for Technology, Operations, and Shared Service Centres. So a methodology like TBM was a natural fit for him.
How TBM has helped Standard Chartered Singapore
The adoption of TBM has provided banks with several advantages, such as being able to take better decisions on technology, in a timely manner, to enlist the support of users and stakeholders based on clear benefit cases, to be able to contrast and compare different approaches, and to be agile in responding to new challenges or priorities.
"We can see the difference in how technology is now managed compared to older, more traditional approaches," he said. "Banks are now much more agile, they are managing innovation better, making better build or buy decisions, controlling spend and investments more effectively, adopting new development methodologies, managing investments better, achieving efficiency gains and cost reductions, and so on—with TBM playing a major role in enabling these."
TBM enables "a much greater degree of transparency and insight into technology, in various aspects; for example, across infrastructure, operations, consumption, vendors, headcount, and other parameters," he said. "It enables a more accurate allocation of costs and a clearer view of what drives those costs. It allows for better investment decisions with clarity of benefits and regular monitoring. And finally, it supports new methodologies and ways of working ranging from agile and cloud to devsecops and more. All these put together allow a bank to operate much more efficiently, get better benefit from technology investments, reduce waste and technology debt, and in the end to serve its customers much better."
Information has to be timely, accurate, and lend itself to analysis and drill-down, which TBM provides. Also, Chauhan said, business agility requires various stakeholders across the organisation to be able to rely on a common set of information and facts, so that they are not distracted by different or, worse, conflicting information. That is also what TBM can enable. And finally, agility requires effective monitoring of past decisions, so that course corrections or changes can be applied effectively in a timely manner—and again, TBM enables an organisation to do that.
Chauhan said that bank customers too are affected by the volatile, complex, and ever-changing environment we all find ourselves in. They require their bank to be able to be agile enough to support them as they deal with changing scenarios, which in turn requires the bank's technology organisation to be nimble and agile enough to support the bank's businesses in their customer responses. "This can be a major advantage for a bank that gets it right—and TBM plays a not insignificant role in making that happen," he said.
TBM deployment is an ongoing process
Chauhan approaches TBM as an ongoing process that needs to continuously develop and evolve to meet stakeholder requirements and expectations. "This is not merely a statement of intent—it is reality, and is an essential condition of TBM being implemented successfully," he said.
A TBM tool can be implemented, purely from the technology aspect, within one to three months depending on the organisation and its requirements. "That is frankly the easiest milestone. The hard work begins only after," Chauhan said.
TBM needs to source appropriate data, both financial and nonfinancial, in consistent formats from different parts of the organisation. Those datasets need to be linked and associated, dependencies need to be calculated, and often data processing routines need to be set up—"all to ensure that we are working off a good dataset that gives us relevant information", he said. As the underlying data structure and reference data keep changing, that has to be taken into account.
Ideally, Chauhan said, a TBM can provide decision makers with the analytics, insights, and decision support they require, through dashboards, reports, and other tools—and putting in place mechanisms and forums that enable the related discussions to take place, ensuring that those insights are used effectively and that any followup requirements or changes are addressed promptly.
"Having said this, organisational priorities and stakeholder requirements keep changing, and to be effective, TBM needs to be able to respond quickly to those changes," he said. "In addition, we are always seeking new avenues, new insights, new pathways that can provide greater transparency in the management of technology. In that sense, our [TBM] implementation journey continues."
Challenges in a TBM implementation
The first challenge Chauhan encountered in implementing was determining the exact scope and objectives prioritisation for the TBM effort, as TBM can be a vast, multidimensional implementation.
"Determining a clear list of prioritised objectives required intense discussions with a diverse group of stakeholders, but once that was achieved, it really did lay the foundation for a successful implementation, since we knew not only what we were aiming at but also how and when we were planning to get there," he said.
In addition, there were technology challenges for his team, mostly in data sourcing, building feeds and connectors, and validation and reconciliation. "However, the TBM team here, which works from three countries, is frankly one of the best, and they were able to rise to the occasion to overcome those systematically, with the cooperation of the other technology departments involved, to hit those milestones on schedule," Chauhan said.
Besides determining the scope of the implementation and technology challenges, there was one more area critical to TBM's successful deployment in the organisation: to gradually develop the TBM culture. Chauhan does not describe it as a challenge but sees it as "a large piece of work nonetheless" to get the relevant people in a large organisation involved with TBM and familiar with its data, reports, and insights so the organisation could make effective use of it at all levels and geographies.
Chauhan noted that partners play an important role in TBM implementation in several ways:
The TBM platform or tools used are rarely developed in-house—they are usually developed (and continually enhanced and managed) by a partner organisation with greater expertise in this area.
A partner can help with creating a framework for TBM operation and implementation, using industry standards. However, these will need to be customised.
A partner can help suggest or bring in best practices from other organisations, based on the experience of TBM implementations and operations there.
"I believe clarity and cooperation are perhaps the most important aspects in the TBM journey," Chauhan said. "Clarity of purpose enables clear objectives to be set: What exactly does the organisation expect from a TBM implementation, in what priority, and when? TBM is a powerful mechanism but can be complex, and implementing it in accordance with a clear objective and roadmap would avoid a lot of wasted effort and delays, in addition to being able to deliver better on stakeholder requirements."
Second, he said it is essential to have the cooperation, support, and involvement of stakeholders throughout the TBM journey. "This cannot be a standalone function that is seen as a separate outfit merely providing yet another service to the rest of technology. Rather, it should aim to become a way of working, where its principles and insights form an important part of decision making and monitoring on an ongoing, involved, basis."