Like many top financial firms, Wells Fargo is taking a slow and steady path to the public cloud.
Its ambitious, 10-year transformation to the public cloud will begin in early 2022, a migration that will include a hybrid private and public multicloud architecture powered by Microsoft Azure and Google Cloud Platform, as well as third-party data centers, according to Christopher Marsh-Bourdon, head of hybrid environments and technology infrastructure at Wells Fargo.
"In 2022, we will start deploying applications into the public cloud on US soil," says Marsh-Bourdon. "We have a private cloud, and a number of flavors of different private clouds based around open source technologies such as Kubernetes."
Due to concern over the risk of having customers' monetary assets stolen by hackers, financial companies have been among the last to embrace the public cloud. Thus, a key part of Wells Fargo's cloud transformation has been an emphasis on security.
"Confidentiality and security is extremely important to us — the basis of our cloud strategy — and baked in from the get go. Security has a huge impact and it's so important we get that right before we make the move," Marsh-Bourdon says.
Two years ago, the San Francisco, Calif.-based company hired Marsh-Bourdon, a veteran of JP Morgan, Deutsche Bank, and Amazon Web Services, to drive the company's multi-stage move to the cloud, a plan that is still coming together, Marsh-Bourdon says, noting that while some advanced applications will be migrated to the public cloud and others will be written specifically for public cloud stacks, nothing is set in stone.
"There will be a combination; … it's not cut and dried," he tells CIO.com, adding that some applications will be kept on-premises in private clouds.
Currently, Wells Fargo has nothing in the public cloud. "Financial institutions, not just Wells Fargo, have not been on the bleeding edge of moving to the cloud and that's quite appropriate for our company and the industry we sit in," Marsh-Bourdon says.
Groundwork and guidelines
According to IDC's 2021 Worldwide Industry CloudPath Survey, just 20% of large banks reported having optimized their operations for the cloud by broadly implementing a cloud-native strategy, while a majority (53%) report increasing investments in non-cloud platforms.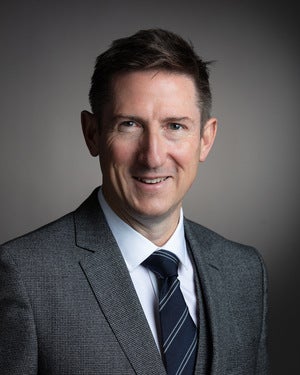 For smaller banks, however, the race to the cloud has been on for some time, with 79% being current users of the public cloud, according to IDC's survey.
But the pandemic slowdown provided Marsh-Bourdon the opportunity to dig deeper into the design of Wells Fargo's cloud vision and map for the next decade. Key to the plan will be bolstering its Kubernetes-based "containerized" approach to give business units the ability to move workloads from private to public clouds and vice versa in an agile way, while writing cloud-native applications when appropriate.
"We are not of a mind to just take the applications as they exist and just lift and shift them to the cloud. We are re-engineering for the cloud," he says. "That doesn't mean everything is going to be cloud-native."
Wells Fargo will take many factors into account when making those decisions, such as where the applications reside, in which language they are written, and their "burstability" requirements — that is, how elastic the workloads are and the extent to which they need to be scaled up and down rapidly.
Apps that spike may be kept within Wells Fargo's private cloud or be moved to the public cloud, but each move will be carefully analyzed, he says, adding that the company employs an assessment mechanism that analyzes an app's source code to determine its best path.
"We don't expect to do this overnight," says Marsh-Bourdon of the 10-year plan, noting that Wells Fargo has many applications residing on client/server and midrange servers, on mainframes, and in private clouds. Moving the reins slowly when deciding which workloads to move to the public cloud will be essential.
"We'll be looking to take applications that have low data categorization [to the cloud] … and [build] applications that have an architectural pattern that fits the cloud so we get [more experienced in migrations]," he says. "Then we can adapt and take on more complex or more data-critical applications in the future."
Embracing cloud culture
One IDC analyst contends that just a handful of highly complex financial houses have moved to the public cloud because it is the highest-risk migration.
"Institutions like a Wells Fargo, JPMorgan Chase, Bank of America, even Capital One and more and more these days, US Bank, the top five, they operate completely differently than the rest of the banking organizations in the US," says Jerry Silva, an analyst at IDC. "They're very tech-heavy, they have tens and thousands of [IT pros] and can build custom applications that they believe will differentiate them in the market."
Wells Fargo will utilize Azure's critical data and analytics services to accelerate the transformation to improve customer experiences and employee collaboration.
Over time, Wells Fargo will migrate, for instance, embedded finance payment optimization applications to the cloud. The apps will be split across the two public cloud platforms according to best-of-breed principles.
Was Google's artificial intelligence investments a factor? "Obviously, AI machine learning is a big area of technology at this point in time and Google has a number of advantages in that area," Marsh-Bourdon says, while declining to specify the exact nature of the workloads that will run on Microsoft's and Google's cloud, respectively.
It's a work in progress, but the biggest bump in the road that stalled the big financial firms' embrace of the public cloud — concerns about security — seems to have been alleviated by the cloud vendors, he says.
"We have a high level of confidence … but we're not so overconfident that we'll take our eyes off the screen," Marsh-Bourdon says. "We continue to evaluate and adopt new technologies as they come about, and as new risks come about."
Potential benefits include greater resiliency and scalability of workloads, as well as the ability to create next-generation cloud-native apps that produce new customer experiences, he says.
With security less of a concern, the biggest challenge is now finding IT pros with adequate cloud skill sets. Wells Fargo has embarked on an intense internal program to upskill its workforce, but Marsh-Bourdon realizes that instituting cloud practices and "lifting our workforce to leverage the cloud itself" is his chief concern, he says.
Of course, Marsh-Bourden expects to encounter other bumps on the road, and while Wells Fargo plans to move to the public cloud in 2022 are firm, the company stands ready to adjust its timeframe and scope as common sense dictates.
"We're not going to move to the cloud this week, or this year. This is a long-term investment," Marsh-Bourdon says. "The glib answer is, We'll do it when we're ready. Putting a date on something like this is ultimately the wrong approach."