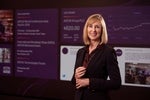 Sustainability has become an imperative for businesses around the world because of its role in enhancing resource efficiency, improving business resilience, and ensuring a livable future for all stakeholders. Nine in 10 companies expect to accelerate their sustainability activities in the coming year, recent AVEVA-sponsored research shows. Similarly, 90% of respondents feel that digital transformation is key to enabling their sustainability transition.
Across the business spectrum, companies are already making good on the promise of digital technology by tapping technologies like big data, cloud computing, and predictive analytics. At the recent AVEVA PI World Digital conference, attendees heard firsthand from speakers several ways that such advanced technologies are contributing to the 1.5°C Pathway.
From the conference, here are some actionable takeaways for businesses looking to onboard digital tools for sustainable impacts:
21% energy savings and 44% less downtime in manufacturing
Technological applications such as the internet of things and machine-to-machine communication have transformed manufacturing and production plants. In the process, systems have been optimized for improved productivity and flexibility, minimizing risks, enhancing profitability, and reducing waste. In Batam, Indonesia, AVEVA partnered with Schneider Electric to co-develop lean management software for a group of factories producing power and industrial automation products, with a view to taking performance efficiency to the next level. Putting data into the hands of the team running the facility enabled operational efficiency improvements, with real-time performance tracking and digital escalation for faster decision-making. Downtime dropped 44%. There was a 40% increase in on-time customer deliveries. And energy savings rose by 21%. The factory has been recognized as one of the world's most advanced industrial units and named a Fourth Industrial Revolution Lighthouse (4IR) World Economic Forum Lighthouse.
80 units connected for cross-border collaboration
On its journey toward carbon neutrality by 2035, Neste is using digital innovation to drive sustainable outcomes throughout its business. A principal application of digital technology has been the introduction of AVEVA's Unified Supply Chain solution in the cloud. With multiple sites and more than 80 processing units, cross business coordination was complicated. By using the power of the cloud to analyze and structure information, staff at the world's largest producer of renewable diesel and jet fuel can now rely on a single source of truth that teams from across the business use to make quick, network-wide decisions from anywhere. Production can be optimized automatically, while decision support and production planning all take place in one digital space. As a result, business yield has grown and waste generation has fallen, bringing Neste closer to their target, and helping them shape the future of energy.
1,000 wind turbines for more efficient product design
Industrial IoT connectivity helps collect and aggregate operations data from a wide array of sources. When this data is channeled back into the design process, it indicates how new industrial products can be designed to run more efficiently while using less resource. Renewable energy company Ørsted, on track to becoming carbon-neutral by 2025, applies predictive analytics to industrial data from a fleet of more than 1,000 offshore wind turbines. The resulting feedback uncovers innovative directions to produce future assets. Innovation is a continuous process of refinement, and advanced technologies such as AI and big data can facilitate that process.
60% reduction in emergency response times
Nava Raipur, India's first greenfield smart city, has been designed and constructed from the ground up with the latest and most innovative know-how. An integrated command and control center (ICCC) built around AVEVA's Unified Operations Center technology enables officials to streamline communications, enhance collaboration, and make better informed decisions for all stakeholders quickly. Civic staff can directly monitor roads and traffic, water, wastewater and electricity use, social activities, security systems, and governmental and residential energy consumption. This single-pane-of-glass interface also significantly benefits residents by integrating all citizen services within a user-friendly mobile app in which they can pay bills, apply for new utility connections or planning permits, and receive 24/7 communications updates. The intelligent governance system has minimized service disruptions and slashed critical response time by 60% on average. The ICCC came into its own over the coronavirus lockdown, enhancing communication between municipal authorities and citizens in Nava Raipur, while supporting containment measures.
Agile and cost-effective training on demand for 2,000 operators
As new tools are deployed across the shop floor, more operators need to be trained in more locations worldwide. Cloud-based operator training simulators (OTS) offer a scalable, flexible, and economic solution that expands training capabilities without millions spent on travel, while reducing training times for new staff. OLEUM, the European training center for TotalEnergies' energy business, integrated AVEVA OTS solutions built on Microsoft Azure into its corporate learning management system to provide employees with realistic virtual learning programs in which new models, users, and geographical regions can be introduced at any time with little cost. More than 2,000 operators around the world are now trained virtually each year, instruction time reduced from months to weeks, travel costs and environmental impacts minimized, safety enhanced, and downtime reduced.
As global attention increasingly focuses on the environment, businesses will be urged to make greater contributions to improving sustainability for every stakeholder. Meeting today's new sustainable operating standards demands a new way of thinking. As these examples show, digital solutions can deliver the intelligence necessary for sustainable innovation across the industrial ecosystem.