The Egyptian government is leading its nation's digital transformation through the ongoing work of its Digital Egypt mega project. Developed to strengthen and diversify the nation's economy by bolstering technological knowledge and innovation, the project is achieving early results that can benefit technology leaders doing business in the country.
The ultimate goal of the programme is to transition the nation to a knowledge economy characterized by a highly skilled workforce, the creation of intellectual property, and goods and services based on information-intensive activity. The project is based on three main pillars: digital transformation, digital skills and jobs, and digital innovation.
[For our story on Digital Egypt's skills and jobs pillar, see "How Egypt is building a generation of IT pros to close the skills gap". For our story on the innovation pillar, see "Digital Egypt strategy calls for investment in tech hubs, innovation".]
Many investments have been made, with more still planned. These have focused on improving ICT infrastructure and education, building capacity and encouraging innovation in order to improve the sector's contribution to Egypt's economic growth.
Digital transformation plan spurs IT growth
Officially launched two years ago, the project has provided technology firms and professionals with new opportunities to grow, and it's already showing results. In 2019, the ICT sector's contribution to Egypt's GDP had risen to 4% from 3.2% the year before.
Under the digital transformation pillar, the Egyptian government is taking the lead by digitalising its own services. This provides an opportunity for digital transformation to accelerate across the country says Nagia El Emary, Egypt country director and MEA senior consultant at IDC.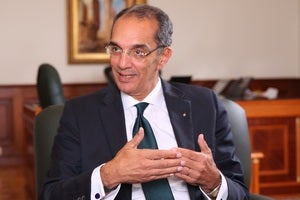 There has also been the development of a New Administrative Capital (NAC). Based 50 miles east of Cairo, it will house the central government and is a "transformational move towards a paperless, collaborative digital government," says Amr Talaat, Egyptian Minister of Communications and Information Technology.
Government services go digital
What began as a trial in Port Said last year has now become a major country-wide project to create a one-stop-shop platform for citizens wanting to access government services. Digitalization of services will improve communication between departments – for example, digitalizing Egypt's law enforcement system to better link police officers with public prosecution officers and the courts will enable them to work as one government entity.
To date 113 services are available in Port Said; these include food subsidy, notarization, court filing, driver license, car license, agricultural and investment services. Thirty-four of the services have been rolled out around the country, and 150,000 citizens have registered for digital identities to access them.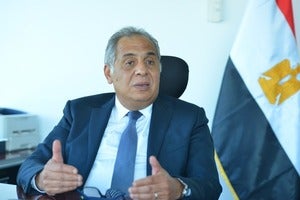 "We're designing a service that allows citizens to get what they need from the government quickly, easily, anywhere and anytime," says Khaled El Attar, vice minister for administrative development, digital transformation and automation at Egypt's Ministry of Communications and Information Technology (MCIT). "This is a huge opportunity and we'd like to add a further 500+ services over the coming two years."
Currently 60 government-to-business specific services, such as commercial registration, are available online and in the process of being streamlined. This work is expected to be completed by the first quarter of 2021.
Projects support Egypt's IT ecosystem
The government is among the highest spenders on IT in Egypt, investing heavily in improving infrastructure in order to help businesses run more productively. In addition, each new IT project the government undertakes gives opportunities for businesses to tender for work.
"We recently passed the mark of working with 100 local SMEs (small and medium enterprises) as well as the multinationals," El Attar notes. "We believe these projects will help companies mature, evolve, collaborate and in time export their services and knowhow to other countries."
Within the government's digital transformation alone, El Attar says they'll soon be looking to bring UX designers, testers, blockchain specialists and data experts onto projects.
"We have a lot of opportunities for people with data skills – visualisation, value extraction or management. In addition, cloud computing is a big part of our transformation," says El Attar. "There are huge opportunities for companies."
The number of companies established in the IT sector between October 2019 and December 2019 reached 414 compared to 398 companies during the same period in 2018, according to ministry data. Some of the most in-demand jobs include software engineering and front-end design, security engineers, data analysts and network administrators, according to recruitment agency sources and employment sites.
Digital infrastructure improves
In order to build Digital Egypt's 'pillars', the government had to put in place important bases, or enablers. This included the development of a secure and resilient ICT infrastructure.
In January 2019, Egypt ranked 40th amongst African countries in terms of fixed broadband speed. Since investing approximately US$1.6bn in this area it now ranks fifth and MCIT aims to improve this further. The ministry is also building a new fibre network across the country to ensure sustainability and resilience of digital government services. It's also in the second phase of upgrading the country's digital infrastructure to support the rise in internet use which resulted from the pandemic.
Cloud computing is also an important part of the government's transformation, says El Attar. "Over the past two years we've been involved in building a government cloud that follows a hybrid model," he explains.
Law paves way to data centres
It was also important to develop a legislative framework to govern 'Digital Egypt'. This has included a data protection law, which came into force on October 14th.
Talaat has talked about this law being an important stepping stone towards developing a data centre industry in Egypt to serve the region. With its strategic location in the Middle East, the necessary infrastructure, an abundant supply of electricity, and with 17 submarine cables passing through the country, Egypt is well placed for growth in this area. The MCIT believes such an industry will improve work environments by providing cost-efficient computing.
Through its three pillar Digital Egypt strategy El Attar believes MCIT's work will change the face of Egypt – both for businesses and individuals. Now's the time to think about how MCIT's work could affect the future of your business or career.
(This story is the first of a three-part series on digital transformation in Egypt.)