Due to the specialized nature of patient-care services, the healthcare industry has traditionally implemented a myriad of best-in-breed technologies that often operated independently from one another. Now, ubiquitous access to connected devices and mobile cloud applications are raising patient expectations for a seamless customer experience, in turn driving hospitals to build more-integrated IT infrastructure.
Given changing patient expectations, Aster Hospitals UAE faced an increasingly common problem amongst healthcare organizations: Though it has been innovating and developing internal information systems, the various systems and devices — particularly those used by different departments — were not sharing information with each other.
This was not the type of patient experience that Aster Hospitals and Clinics UAE's CEO, Dr. Sherbaz Bichu, wanted to deliver. "If you go by what is happening in the IT world, then the healthcare industry may be really outdated," he says.
Aster Hospitals UAE is part of the Aster DM Healthcare group, which operates across seven countries. Inside the UAE, it operates through three leading hospitals, supported by other accredited hospitals, clinics and diagnostic centers. The available services include general surgery, obstetrics and gynecology, gastroenterology, orthopedics, ENT, neurosurgery, dermatology, cardiology, cardiac surgery, pediatrics, amongst others.
"We wanted patients to have a seamless journey. If somebody has been screened in UAE, when they go back to India, they should be able to get access to their reports and investigations," Bichu explains. "That is the mission. One Aster is our vision."
This has prompted Aster Hospitals UAE to invest in an advanced networking platform.
Network goal includes linking IoT devices
A key goal was to connect multiple types of applications, networks and data that proliferate across departments and clinics. The integration, however, could not compromise security and access policies of sub-systems.
"Departments within a hospital have a variety of unique needs when it comes to their network and IT infrastructure. For this reason, it is always difficult to adopt modern technology standards," says Ashish Saxena, director of technical sales and services, Middle East and Africa, Alcatel-Lucent Enterprise.
Another challenge for hospital IT administrators is the proliferation of internet of things (IoT) devices from healthcare solution providers. IoT is essentially a network of connected devices that collect information and provide a stream of data that can be analyzed and acted on. Medical IoT equipment is changing healthcare by non-intrusively aggregating data from patients, often via mobile devices such as connected inhalers and insulin pens, as well as apps installed on wearables like the Apple Watch.
A hospital's network therefore needs to isolate and secure IoT devices based on their type, functionality or location, and today this can be done using software containers — virtual network segments where IoT applications are isolated from other devices and applications. This segmentation facilitates enforcement of security policies and limits damage in the event of a security breach. Since each container is secure within itself, a breach in one container cannot spill into another and another.
IoT containers need to be separately developed for many different systems including HVAC and laundry systems; patient identification; doctor's and assistant devices; laboratory diagnostic tools; and back office equipment.
Aster Hospitals UAE is using various IoT-connected medical devices and material. These include vital signs monitoring devices from GE; barcoded sterile supply and specimens; point-of-care testing equipment; mobile computing devices for closed-loop medical transactions; and Vios ECG monitors.
Software-defined networking is key
To manage the network connecting all these systems, Aster Hospitals UAE deployed the OmniVista 2500 Network Management System from Alcatel-Lucent Enterprise. The software is distributed as a virtual appliance compatible with popular virtualization hypervisors.
The system provides management and network-wide visibility as well as management tools for a converged campus network. It is designed to let administrators maintain the network infrastructure and elements including mobile components with alarms, policies, and virtualization. The system also provides network analytics for visibility into wired and wireless devices, IoT endpoints and applications, and predictive analysis for forward planning.
The critical part of the installation was ensuring that the system supported individual hospital requirements in line with general principles that are foundational for a software-defined network designed for healthcare needs — increasingly called Healthcare Defined Network Architecture.
The core applications used by Aster Hospitals UAE include its Hospital Information System and Picture Archiving and Communication System. The Hospital Information System includes Electronics Medical Records, Revenue Cycle Management, and a Management Information System. The Picture Archiving and Communication System allows the Hospital to store various medical images for easy access by doctors and patients. Aster Hospitals UAE uses Microsoft Power BI for data visualization, analytics and reporting, and Oracle Fusion for financial and material transactions and information.
Critical applications are hosted on Azure Cloud
Aster Hospitals UAE is a serverless hospital group, with hosting of critical business applications inside the Microsoft Azure Cloud, UAE Data Centre. The Microsoft Azure data centre guarantees patient data safety and long-term data retention.
All peripheral applications are integrated with the Hospital Information System, which is Aster Hospitals UAE's core application. The Hospital Information System and other applications inside Microsoft Azure Cloud are end-to-end integrated, and end user access is based on functional requirements. With the adoption of Electronics Medical Records, 95% of patient healthcare records and transactions have become paperless.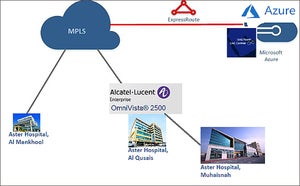 The Microsoft Azure Cloud, UAE Data Center is connected to Aster Hospitals UAE using Microsoft Azure Express Route and the Etisalat Managed Network, MPLS Cloud. Two facilities are directly linked: Aster Hospitals Al Mankhool and Aster Hospitals Al Qusais, the flagship hospital for Aster Hospitals UAE.
Microsoft Azure Cloud Network creates a hub-and-spoke application architecture for Aster Hospitals UAE, while Alcatel-Lucent's OmniVista 2500 Network Management System generates a similarly configured, hub-and-spoke network architecture using Aster Hospitals Al Qusais as the hub.
"Microsoft Azure Express Route is very secure and reliable in this region," says Aster Hospitals and Clinics' Bichu. "In general, it is a connected mesh in terms of cloud connectivity."
Hospital requires edge-to-core management
Aster Hospitals UAE needed assurance that a new network would be designed with their industry in mind. "To address these priorities, Alcatel-Lucent Enterprise offered an edge-to-core solution and a wealth of expertise to help Aster Hospitals UAE build a robust foundation, while guiding them through their digital transformation," says Alcatel-Lucent Enterprise's Saxena.
To utilize the capabilities of OmniVista 2500 Network Management System, a Healthcare Defined Network Architecture has been deployed at Aster Hospitals UAE. A Healthcare Defined Network Architecture takes advantage of the general increase in system processing power that has occurred over the last few years, and eliminates the central hardware controller, while distributing intelligence across all the access points in the network. This decentralized but managed architecture offers multiple benefits.
In this architecture, there is no single point of failure. If any access point in the network fails, adjacent access points will increase their transmission power covering the hole in radio coverage.
Because each access point can provide 1Gbps throughput, tunnelling such amounts of traffic through a central controller is not sustainable. Since centralized architecture introduces recurring bottlenecks and points of failure, the OmniVista 2500 Network Management System actively uses distributed intelligence to manage network performance.
Particularly important is the ability of the OmniVista system to scale efficiently and securely to manage onboarding of IoT devices. The OmniVista uses containers to isolate IoT devices. IoT devices are automatically assigned a network profile according to their device type. This network profile defines the container that the device will be provisioned with as well as device-type specific QoS and security policies.
OmniVista system eases device onboarding
The automated onboarding enables the network infrastructure to recognize devices and assign them to the appropriate secured part of the network.
"Thanks to OmniVista 2500 NMS, we could secure, authenticate and authorize access for users and devices," summarizes Aster Hospitals and Clinics' Bichu. "It looks at the applications running in the network and uses analytics to decide what actions to take. It monitors network integrity to ensure it is running at optimal performance and uses IoT containers to provide secure access and separation of the various departmental elements."
Aster Hospitals UAE's network can now manage a range of mixed network workloads with varying levels of quality of service including support for: high end diagnostic devices such as MRI and CT scanners; wearable patient monitoring devices; wearable geolocation sensors; authorized access to facilities; and CCTV surveillance.
"We need a platform to grow. We definitely realize that for the future of healthcare, it is very important to keep abreast and apace," adds Aster Hospitals and Clinics' Bichu.
Bichu believes any technology investments into the Hospital need to translate into improved patient safety, improved automation, and reduction of manpower. Ultimately, these will drive the return on investment for the hospital.