The Egyptian government is ramping up investments in the country's start-up ecosystem as part of its Digital Egypt strategy designed to encourage innovation and pave the way to a digital, knowledge-based economy. The growth of technology hubs to provide training for IT professionals, support for start-ups and development of emerging technology is key to the plan.
Egypt is a country of entrepreneurs. It has the second largest start-up ecosystem in the Gulf region, behind only the UAE, according to IDC. It ranks sixth in start-up "friendliness" and second in established entrepreneurship ecosystems within the Middle East and North Africa, outside of Israel, according to reports from entrepreneurship and start-up consultancies Enpact and WAMDA.
"In Egypt, there's a lot of emphasis on entrepreneurship and developing the skills necessary to succeed," says Dr. Eman Elshewy, IDC research manager. "A lot of this is taking place in the technology space, specifically among e-commerce and online businesses, but we're now beginning to see fintech, AI and even blockchain start-ups pop up, too."
Innovation is key to Digital Egypt strategy
The Digital Egypt strategy was developed to strengthen and diversify the nation's economy by fostering technological knowledge and innovation, and rests on three pillars: digital transformation, digital skills and jobs, and digital innovation.
[For our story on the digital transformation pillar, see "How Egypt's digital transformation is creating business opportunities;" for our story on digital skills and jobs, see "How Egypt is building a generation of IT pros to close the skills gap".]
Support for start-ups and entrepreneurs is central to Digital Egypt's innovation pillar.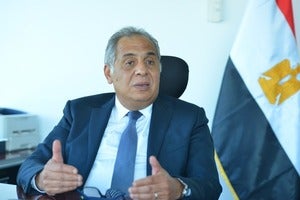 "Our Minister of Communications and Information Technology, Amr Talaat, puts a lot of importance on entrepreneurship. We really need to keep embracing and growing the good ideas coming out of Egypt, as well as refining those that need further work," says Khaled El Attar, vice minister for administrative development, digital transformation and automation at Egypt's Ministry of Communications and Information Technology (MCIT).
As part of the Digital Egypt strategy, the government is investing in a number of projects designed to "spur innovation and nurture an ecosystem that's conductive to entrepreneurship," Talaat pointed out at IDC's recent Egypt CIO Summit.
Egypt funds technology hubs
One such project is to build technology hubs located in universities across the country. Under the initiative name Creativa, Digital Egypt Innovation Hubs, there are currently seven, which are located in the Menoufia, Mansoura, Ismailia, Menya, Sohag, Qena and Aswan governorates.
Students, graduates and entrepreneurs will be invited to these training centres to help improve their ideas, incubate and accelerate their projects and meet with potential investors. The hubs are expected to cater to more than 25,000 beneficiaries and 20 start-ups in 2020/21.
There are plans to develop 20 innovation hubs across the country by 2025, each housing facilities such as incubators and co-working areas, and regularly holding events like hackathons, designed to help the start-up ecosystem to evolve.
"These [technology hubs] are all about embracing ideas, learning how to fail fast and transforming these ideas into something bigger and better," El Attar says. Several buildings are also currently in the process of being turned into digital hubs for innovation. "We've started with an old palace and a 19th century beer factory," says Talaat. "These are being restored and turned into digital hubs for Cairo University students and graduates, due to their proximity to the campus."
AI has been and is likely to continue to be an area of focus for Digital Egypt's innovation pillar. The government has for some time looked to develop AI capabilities in a number of ways, including launching its first AI faculty at Kafr El Sheikh University. Egypt is aiming to have 7.7 percent of its GDP derived through AI by 2030.
Meanwhile, Egyptian government initiatives to improve healthcare for residents, along with venture capital interest in the sector and a growing local talent pool, has made the country one of the healthtech start-up hotspots in the Middle East.
At the same time, digital transformation initiatives among government entities and private enterprises along with the rise in entrepreneurship in the country bode well for the long-term health of the Egyptian technology job market, with software engineers, data analysts and security specialists in especially high demand.
With a government keen to support innovation, Egyptian entrepreneurs have an opportunity to accelerate business growth, in turn allowing IT professionals to work with cutting-edge technology. Ultimately the success of Digital Egypt will rest in large part on whether new businesses are born out of these projects, and whether in just a few years Egypt can challenge the UAE for the MENA entrepreneurship top spot.