&ever Middle East, a joint venture between NOX Management from Kuwait and German company &ever, is using AI and IoT in a cloud environment to bring indoor farming to Kuwait City, while automating and streamlining operations to maximize profits.
The company's Kuwait City farm — which started operations last August and is one of a number of such facilities the company is building to bring sustainable indoor farming to population centres around the world — grows up to 250 varieties of greens and herbs. With approximately 3,000 square meters of farming space, it has a daily output capacity of more than 500 kilograms of salad, herbs, and cresses. The products are sold in leading retailers under the brand name &ever Kuwait.
The farm uses &ever technology called Dryponics — essentially, the next level of hydroponics, compressing sprawling indoor water farms into vertically architected and layered facilities, using much less water than traditional farming. The land savings by area are estimated to be 1:300.
&ever indoor farms are scalable in form and size, and are to be set up in urban and challenging climatic conditions, anywhere around the globe.
Sustainable farms use automation, AI
"&ever combines high-quality agriculture with best-in-class technology to bring delicious leafy greens to people around the world, even during the height of summer in the Arabian Desert," says Dr. Jan-Gerd Frerichs, Chief Digital Officer, &ever Kuwait. "It depends on automation, machine learning, and the Internet of Things (IoT) to enable sustainable farming practices."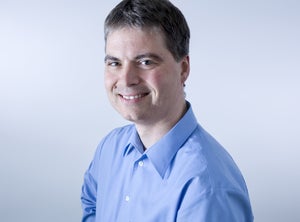 The objective of Dryponics farming is to grow hyper-locally, close to or inside urban pockets, as well as to use much less real estate, water and pesticides. By using shallower water basins, the cost of engineering and construction per layer of farm produce is reduced. This also allows layers of farm produce to be stacked vertically, one above the other, saving real estate costs and optimizing climatic conditions. This has spawned the term vertical farming.
At &ever farms, produce is harvested with the roots intact, with all nutrients preserved, and delivered directly to the final point of consumption. Since the farms are in close proximity to the points of urban consumption, there is no need for the middleman typically required for cold storage, packing and shipping operations. This saves on logistical costs, reduces waste and enhances profits for the farms. Hence the term "harvest on demand."
IoT sensors capture data to control climate
To boost profitability and yield from vertical indoor farming, effective Dryponics farming relies on digitally controlled climatic conditions, using IoT sensors to capture data and regulate prevailing conditions, especially the usage of water. Another objective is to reduce the costs of human intervention and to use sensors, automation and applications, to manage the growing operations of the farms.
Green leaves can lose most of their nutritional value after being washed in chlorine, chilled, packed, stored in warehouses over a period of time, and then sent on the road for transportation. To tackle that drawback, &ever provides fresh products by using harvest on demand, which leaves the roots intact even when the produce is shipped to reach the customer.
Locally produced greens minimize waste and allow for savings on logistics. With the controlled and clean atmosphere inside the farm, the fresh greens do not require washing and are harvested immediately before they are eaten, helping to ensure high nutritional quality.
A common misconception is that today's greens come from the field, but they are instead mostly grown in various types of greenhouses. The commercial &ever Middle East farm in Kuwait City will produce fresh salad year-round. The farm has faster growth cycles than traditional outdoor farms, which are dependent on the weather conditions.
The farm produces sustainable crops indoors, which not only increases nutritional quality, but decreases environmental impact. The vertical farming method uses 90% less water and 60% less fertilizer compared to traditional farming, and zero pesticides.
Systems are integrated with SAP Cloud
&ever has built what it calls its &ever Cloud system using the SAP Business Technology Platform, comprising components such as the SAP HANA in-memory database and SAP Cloud Platform. Farm production planning and management is done with applications hosted within this system. The cloud technology platform connects to the facility's IoT network to digitally control &ever's vertical farms.
In its Kuwait operations, &ever is using Viessmann Refrigeration Solutions to manage the climate within the farm. IoT sensors and edge computing devices collect data at several hundred points throughout the farmhouse. They monitor various elements of farming including seeds and germination, carbon dioxide levels, temperature, humidity, and airflow — all of which assists quality assurance and allows onsite farmers to do real-time analysis.
Raspberry Pi is used for IoT control
Data from these sensors are digitized using the Raspberry Pi gateway interface. Raspberry Pi, frequently used in IoT systems and hosted onsite at the farm, is a low-cost computer the size of a credit card that runs Linux and provides a set of general-purpose input and output pins that allow control of electronic components for physical computing ­— the management of physical objects such as sensors, switches and other devices.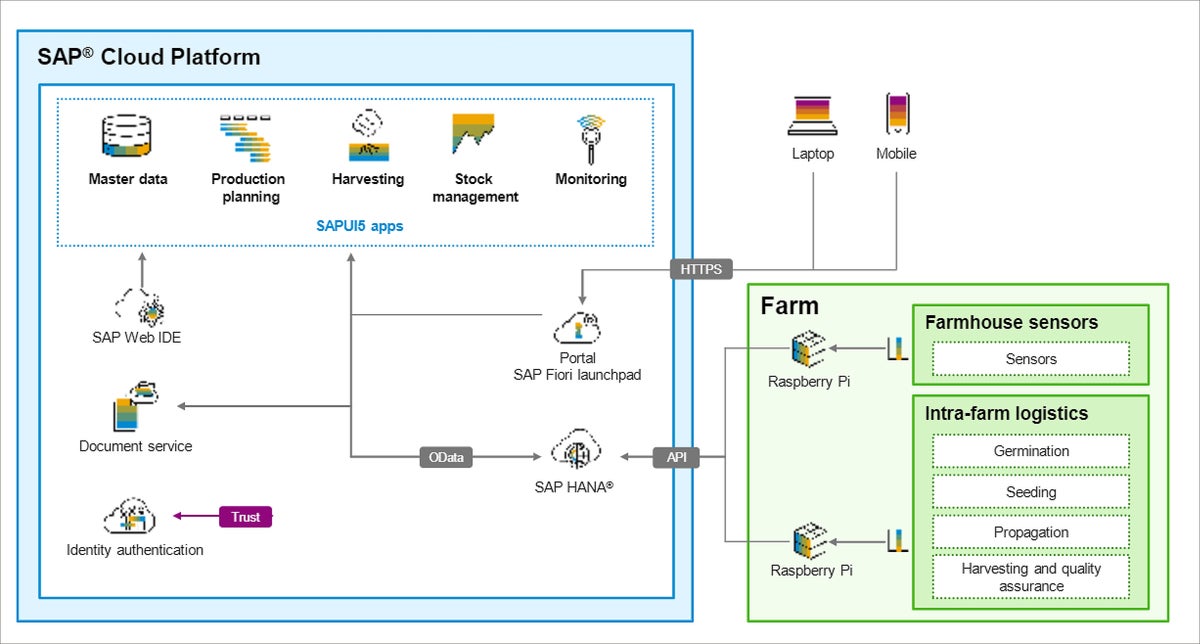 Data is then broadcast to the SAP HANA portal through APIs that connect to the &ever SAP Cloud platform. (See graphic.) The &ever SAP Cloud backend hosts various applications and machine learning algorithms to manage incoming data and generate analysis for business insights.
Data variables that are fed into the SAP Cloud backend solution also include seed and recipe information as well as end-to-end climate, light and irrigation parameters. The data from Viessmann Refrigeration control systems, which are used to manage the climatic conditions, are also fed into the SAP Cloud backend.
The SAP Fiori launchpad manages end user access and offers a unified user experience for viewing and analysing data.
SAP Cloud allows for customization
According to Frerichs, &ever is using the SAP platform because of its potential to build custom applications that can meet its unique farming business needs. It is using intelligent data warehousing capabilities from SAP HANA and SAP Cloud platform. "There is a need to monitor and control production planning throughout the greenhouse site," Frerichs says.
To support the project with software implementation and development, &ever chose IBsolution, a specialist in SAP Cloud platform services. IBsolution developed various applications to manage master data and determine how long crops need to germinate, when to move the germinated plants indoors, how long they will remain in the indoor farm, and how long to harvest — all of which gives farmers greater control over harvesting, packing and shipping.
The system also enables digital control of seeding, germination, and propagation of the plants. This automated management of crops allows farming production to be adjusted and avoids inefficient farming.
Operational efficiency breeds business expansion
Frerichs explains that the business case for the SAP Business Technology Platform on SAP Cloud is to optimize farm production by continuous monitoring of operations using a large number of data points, automation, and the company's custom-built applications.
"We are monitoring the complete &ever proprietary climate system delivered by Viessmann for the entire farm with several hundred datapoints in our &ever Cloud solution," Frerichs says.
"This has enabled new efficiencies and greater productivity at the new greenhouse site," he adds.
Following the successful rollout of its indoor, vertical farm in Kuwait, &ever is planning to open sustainable farms in cities throughout Africa and Asia, while managing challenging climatic and urban conditions.