There's a new mantra among the IT team at trans-Tasman construction firm Fulton Hogan that goes something like "It doesn't need to be perfect, but it does need to be fast."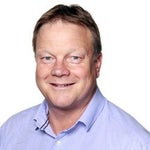 CIO Brian Northern says speed and scale are the two lessons from the pandemic year that he will be taking into 2021. "Pre-pandemic, it was probably 'Make sure it's right and although change is coming, we don't want a whole lot of it at once.' Now we are more accepting of change, and it's got to be fast."
This approach was validated when Northern's team deployed Microsoft Teams in 10 days rather than in the three months that had originally been planned. They also showed it was possible to scale solutions when, for example, they went from enabling 20% of staff to work remotely pre-COVID, to more than 80% of staff working from home during the lockdowns.
Northern is based in Christchurch and had become used to travelling across the Tasman to visit his team and fellow executives prior to the pandemic. This is something he expects to resume when quarantine-free travel between New Zealand and Australia is enabled.
While the events of 2020 have proven that video conferencing is effective, nothing quite takes the place of face-to-face meetings. Northern says he misses the water-cooler conversations, the discussion that occurs informally after a meeting is over, when people have digested what's taken place during the formal agenda and ask additional questions for context. "When a Teams meeting finishes, you hang up and that's it," he says.
Full speed ahead on data and analytics
Northern placed second in the 2020 CIO50 New Zealand awards after leading a digital optimisation strategy which has seen timesheets and job records become fully digitised throughout the business. The data from these tools, which is collected in a standard format, is driving new and useful insights.
In the coming year, the IT team intends to extend their data and analytics strategy in two areas: greater use of the internet of things (IoT) and machine learning.
Use cases for IoT could be sensors that determine the amount of rubbish in bins, or crash barrier sensors. Northern is evaluating vendors to find solutions that can be standardised across Fulton Hogan's platform and be deployed in both New Zealand and Australia.
"We're not just limiting it to sensors here in New Zealand; we're also working closely with a team in Australia to try and identify those use cases. If we find one in Australia, we will standardise that and then roll that out in Australia and New Zealand—we've got to cover both sides of the ditch," Northern says.
A centrally controlled IoT deployment also minimises support costs. Northern says the sensor market is "moving so quickly that if we find something better, we will put the new one in and then grandfather the old ones out."
Meanwhile, Northern sees huge potential for machine learning to provide innovation for Fulton Hogan's clients as well as efficiencies in its own business. The first area will be to look at automating road inspections by taking digital feeds off cameras on vehicles and using machine learning to categorise road defects. "I really think that, come the end of 2021, we will see massive value in the data we are starting to collect," he says.
Enduring leadership lessons from the pandemic year
From a people perspective, topping the list of Nothern's lessons learned about IT leadership during COVID-19 is the importance of ensuring people are looking after their well-being. "You've got to get people to take breaks and look after themselves mental-health-wise and not being physically drained. It's really having a focus on self-care and ensuring people are not just consumed with working because there has been a lot of pressure put on a lot of IT teams," he says.
In addition, it's important to allow people to step up and take on additional responsibilities, especially "with the amount of work that's coming in." And, as a leader, it's important to "overcommunicate"—Northern now subscribes to the idea of holding short and frequent meetings, so that everyone on the team is able to be fully engaged.
Finally, Northern says the pandemic has brought home the need to celebrate the small successes—such as rolling out collaboration tools in days, not months. "We should have been doing this previously, and now we're doing it because it seems more important."
While he doesn't expect the world to be free of the pandemic until the end of 2021, he says his team will continue to execute on their digital roadmap. While his job entails a lot of reading board papers and other documentation, he is hoping to start the year by reading at least one book completely unrelated to business, IT, or construction. When asked what to name the one piece of tech (in addition to the ubiquitous smartphone) that he would take on his summer holiday, he opted for a Kindle.