Jason Conyard had a front-row seat to the COVID-19 pandemic earlier than most IT leaders. Traveling through India and later Singapore in January and February of 2020, Conyard got an inkling of the danger emerging from China and wending its way to other countries.
Conyard, then vice president of IT responsible for managing the technology experience of VMware's 33,000 employees, began evaluating his supply chains, anticipating capabilities his colleagues would require, and confirming that staff were equipped to work from home. When the coronavirus made landfall in the United States in March, VMware flipped a switch, with most office-based employees told to work from home. Overnight, 95% of VMware employees were working remotely, a stark and swift change by any measure.
"The good news is we already had a lot of the capabilities we needed," says Conyard, who was promoted to CIO in September after serving more than five years with the software company. "I had no appreciation for how important that would be when the pandemic hit." Moving forward, Conyard is considering how to help the company navigate a future workplace without borders, and how that will impact technology and talent.
Conyard's challenge mirrors that of many other IT leaders confronting the global pandemic. Nearly a year into the outbreak, enterprises are investing in contact-tracing, thermal scanners, sensors and other safety tools, and are reimagining offices as flexible work environments. Most IT leaders are enabling real-time communications to facilitate meetings with both physical and virtual attendees, subscribing to hoteling applications to permit workers to book a desk or meeting room for a day, and implementing productivity and collaboration software suited to hybrid workforces.
The future of work is here
While most companies scrambled to make sense of technology and processes required to support remote work, VMware had a head start. Some years ago it embarked on Future of Work, an initiative to provide people the appropriate technology and practices to work in offices, residences and other remote locations. Future of Work is essentially a hybrid work model that many companies have been shifting to in the wake of the pandemic. It is led by VMware senior leaders, including CEO Pat Gelsinger, HR head Rich Lang and Conyard, both of whom meet often to hammer out the processes and technologies required.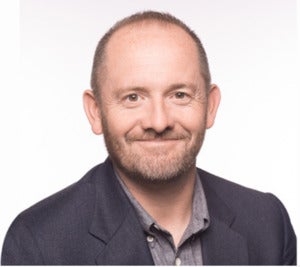 To wit, VMware had already deployed SaaS office productivity, video collaboration and VPN tools, as well as many of its own creations, including Workspace One, a software suite that provides single sign-on and virtual desktop infrastructure, endpoint management and other enterprise management tools.
The IT team complemented these capabilities by shipping new speakers, webcams, large displays and other hardware to employees, Conyard says. Recognizing that collaboration on programming endeavors would require a new virtual capability, VMware standardized on Miro, a digital whiteboarding tool that enables users to share, collaborate on and refine code, replicating the physical burn-down boards that typify Scrum sessions.
Targeting AV, VR upgrades
This year Conyard is rethinking VMware's conference rooms to "level the playing field" for physical and virtual attendees. Its rooms are currently equipped with large projector screens and an array of microphones and cameras that facilitate meetings between those present and the majority of staff attending remotely in accordance with social distancing policies.
But the challenge lies in ensuring that remote attendees are treated as full participants. Audio quality in conference rooms tends to be dodgy for those connecting remotely from their laptops or mobile phones. And the visual experience isn't anything to boast about either, with remote attendees rendered as headshots or avatars on a screen, making it hard to detect body language and hash out presentation content, Conyard says.
Here, Conyard sees virtual reality (VR) having a role to play in facilitating more "emotional connection" in meetings, adding that his teams are still experimenting with applications and the hardware that runs them. The company's Workspace One integrates with many VR headsets, solving onboarding and endpoint management issues, but it remains hard to type in VR settings, thwarting note-taking. Also, few employees own a VR headset, which tend to be expensive.
At its core, the Future of Work is about VMware recognizing employee preferences for how and where they wish to work, a flexibility that is helping it court talent in markets it had not previously considered. "The pandemic created an opportunity for us to accelerate that thinking and move from there," Conyard says.
And while Conyard manages VMware's global technology footprint, he insists that helping people navigate the changes is perhaps his most critical remit. In that vein, Conyard ranks emotional intelligence as a prized asset — and one he seeks in his hires.
"My job as CIO is far less about technology and far more about people," Conyard says.
It's a fair assessment at a time when CEOs desire CIOs who can show empathy toward employees, says Daniel Sanchez-Reina, senior research director at Gartner. "[CEOs] are still unsettled about the future and want determined CIOs who make and implement timely decisions, while displaying emotional dexterity to be tactful and supportive," he says, adding that demand for CIOs who can demonstrate empathy about stakeholders' challenges jumped 92% from 2019 to 2020.