The numbers are impressive: New Zealand produces around 10% of the world's kiwifruit, of which 95% is exported via the co-operative Zespri. According to its latest annual, Zespri recorded $3.1 billion on sales of 164 million trays, with growth expected to reach 280 million trays in 2030.
Small wonder it's time to refresh the 20-year-old IT systems.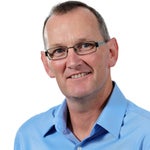 Chief digital officer Dave Scullin, who joined Zespri 15 months ago, has assembled the building blocks for the transformation programme dubbed Horizon, which is expected to take four years and cost up to $160 million. The IT team has been restructured and Deloitte appointed as the lead design and implementation partner.
Scullin detailed the transformation plan to CIO New Zealand.
A private cloud in Microsoft Azure's public cloud
The latest in a string of announcements about the Horizon programme is that Zespri will be one of the first customers globally to use the SAP S/4HANA private cloud edition. Zespri currently runs its SAP environment on the Microsoft Azure public cloud, and it will be migrated to the SAP S/4HANA private cloud but remain within Azure, as befits the growing alliance between the two global giants.
"Data sits on Azure, but it will be in Singapore. And any other infrastructure that we stand up in and around that will be in Singapore as well. We're a global company, we operate in multiple markets, so from a latency perspective we really only have two options: Singapore or the West Coast of the US. We might host data in New Zealand, particularly if its related to grower data and the volumes are such that it makes sense to reside in New Zealand [once Microsoft's data region is established], but by and large we'll be in Singapore," Scullin says.
Why Zespri has been forced to upgrade its IT infrastructure
Scullin sums up the need for change as being threefold: "Reducing risk and making sure we get our fruit out, improving productivity and efficiency, but most of all scaling for current and future growth."
He says that Zespri currently operates on a heavily customised SAP environment that dates back 20 years and was deployed "when our industry was significantly smaller than it is now. Technology and business processes are fairly immature, based on our current platforms and we really want to make sure that we enable our businesses for the growth."
Over the years, a number of bespoke applications have been added to support Zespri's growers, mostly focussed on supply chain, finance, and the grower area. This functionality is now available in the SAP environment, although it's anticipated that some customisations will be transferred to the new platform.
Legacy systems also pose a risk to supply-chain efficiency, and Scullin says he wants his team focussed on value-add tasks "rather than reconciling duplication in entry data and systems, which is what we've got now."
Technology that understands the consumer
"There are two aspects to the technology [deployed as part of Horizon]. There's what we're calling standard busines processes: putting in a modern-day financial system, standard supply-chain capability, and logistic supply-chain capability on SAP S/4HANA private cloud edition. But also, the cloud for customer capability in the SaaS public cloud edition that SAP provides will drive the innovative aspects for the consumer," Scullin says.
Scullin says SAP will provide tools that enable a better understanding of the consumer. Traditionally, Zespri sells to global distributors and large retail chains, and so the need for sales and marketing technology hasn't been as pressing. While those traditional outlets will remain, Scullin says trends in e-commerce and consumer awareness mean that Zespri will need to develop a more direct relationship with consumers in the 50 markets the business sells into.
The greater awareness around sustainability—more consumers demanding to know the provenance of their food—and the need to ensure orchards can keep up with demand have highlighted the need for better data and analytics capability. "There is lots of opportunity around pest and disease prediction. Predicting conditions that might foster pests and disease or even sensing technology that detects possible pest and disease on the vine and on the fruit. Predicting fruit quality and size and volume and optimising the supply chain is another avenue that you could use predictive analytics for," he says.
"The other one is demand sensing, the opposite end of the supply chain. Understanding consumer's preferences, segmentation, and analysis from commerce and social media platforms ,and using that to influence our demand signals so we can try to balance our supply capabilities with that demand."
Activating the IT transformation programme
The detailed design phase for the first tranche—finance and supply chain—of the Horizon programme is under way, and Scullin hopes it will go live on 1 November 2021. "This is the beauty of the private cloud environment: We already have our development environment available to us—it was made available to us in six weeks—so we initiated that in early December and it became available mid-January for us," he says.
Scullin is extremely familiar with SAP, having spent the past 20 years of his career implementing the technology in previous roles at Fonterra, Rio Tinto, and more recently at Ballance-Agri Nutrients. "Why SAP? I've been lucky enough to work in some large-scale global businesses and to run global businesses in multiple countries with the tax and legal compliance and accounting complexities you need a large-scale ERP, and there are only a handful of options to be able to deliver that function successfully to organisation. SAP happens to be one of those."
It isn't just about the tech. The skills in his team of 56 IT professionals will also be critical to the success of the Horizon programme. Scullin has spent the past year restructuring the team to put in place people with SAP skills and experience, such as business analysts capable of configuring SAP in specialty area, and an agile-style team for the "platforms of innovation".
Going local for IoT and AI
Although SAP and Deloitte are international IT companies, Scullin says that Zespri is keen to work with local agritech providers in areas such as internet of things (IoT) and AI. "We've got ambitions in that enablement space, to make sure that we foster any digital innovation where potential suppliers can work closely with us and help orchard production and help our growers be more productive and have us providing those grower enablement platforms to support the flow of data to the supply chain."
Pride in bolstering New Zealand
He notes that the agritech sector "does seem to be quite boutique and small" but helping to grow the ecosystem will be good for NZ Inc.
As for Scullin himself, "I have a real sense of pride if I'm part of a large-scale project or a part of building a team that delivers some wonderful digital capability to solve business problems in a sector that is the backbone of the New Zealand economy. What a fantastic feeling for my people, my team, to be part of that and be proud to say New Zealand's economy is doing well because of the kiwifruit sector, or any other primary sector organisation, and be part of that success."