Referring to Trustpower as a technology company that happens to generate and sell electricity and telecommunications may be meant as a joke, but the company's general manager for technology and delivery, Matt van Deventer, has a serious point to make: "IT aren't the kids in the corner who you yell at when the printer doesn't work —they are the people who are leading and enabling the business through technology," he says.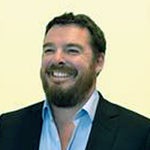 He describes IT transformation strategy as a tech version of Maslow's hierarchy of needs (basic needs such as food and clothing as the foundation of a pyramid on which higher-level needs are layered, such as fulfilling your creative potential at the top). In IT, the bottom of the pyramid is providing a solid IT platform, in the middle is the enabling tech such as collaboration tools, and at the top is leading through new technology. "We want to be able to go to the business and say, 'Do you know we could save $X million if we automated this process?' That's the way we think about applying technology in the business."
Van Deventer was appointed to the general manager role in late 2020, following six years with the business. Before that, he spent 10 years at Trade Me, one of New Zealand's great tech start-up stories that he watched it grow from 30 employees to more than 500.
Taking on an IT role in a corporate was a major shift, but he's been focussed on working with the business on driving tech-led transformation. Trustpower now has a 50/50 split between on-premises data centre and public cloud, about a third of the 100-strong IT team are developers, and collaborative tools such a Slack, Dropbox, and Zoom have been introduced. CIO New Zealand has described Trustpower's adoption of the Workday finance solution.
Transforming the contact centre by going cloud-native
Amazon Web Services' contact centre system Amazon Connect is the latest technology to join the mix at Trustpower, with the deployment prompted in part by the COVID-19 lockdown in March 2020. Trustpower had been exploring cloud-native platforms before the pandemic, but the need to enable 300 contact centre agents to work remotely became urgent once it was obvious the New Zealand government would bring in the lockdown.
In ten days, the IT team created a no-frills solution whereby calls were routed through its traditional on-premises Enghouse (formerly Zeacom) system and then pushed to Amazon Connect. Van Deventer says Amazon's approach of providing the building blocks and enabling in-house teams to extend on it themselves, meant they could move fast. "We didn't have to go through lengthy processes around getting environments set up, we could do all that ourselves," he says.
"Most critically, as with most AWS stuff in my experience, it's all purely consumption-based. It didn't matter if we put 300 agents in the systems or 3,000 agents in the system; we were only paying for what we used, which meant it was a very low-cost, low-risk thing for us to stand up. If it didn't work out, we would have burnt a little time and a little bit of money, but not very much."
After lockdown, the team undertook an eight-week discovery process to ensure the Amazon Connect system was the right one for the business, before working on decommissioning the Enghouse system. New capabilities that came with Amazon Connect include being able to dynamically change the interactive voice response menu, as opposed to having to record new messages manually, and the ability to "data dip into the CRM" to anticipate callers' needs. An example of the latter is if a customer misses a bill and phones the business, an automatic message will let them know they can pay in the next three days without having to speak to an agent. "All of that, which in the old system was very difficult or impossible, is now API-driven. It's all very simple to add that functionality and capability," van Deventer says.
Taking a multivendor approach to public cloud
Although 95% of Trustpower's public cloud deployment is with Microsoft Azure, van Deventer says the business is adopting a multicloud approach. Its chatbot is with Google Cloud Platform (GCP), and now its contact centre capability is with AWS.
"We genuinely believe that the future is multicloud. We think it's healthy to have options with different vendors because, as we know, they all have different strengths and weaknesses, and we want to be in a position where we can select the best tool for the job," he says.
But having a multicloud approach requires flexible skills. Van Deventer's says his team must be able to move easily between different environments and be able to quickly "learn and unlearn things. …The hyperscalers [the major cloud platforms] know that the business will follow the developers, so the training and tutorials and all of the material for people to learn and upskill is all pretty readily available, either from the vendors themselves or free on the internet," he says.
"The great thing about the rise of modern devops practices is that most of those languages are portable across the different environments. So, if you are developing something in .NET you can push that into Azure or AWS or GCP. It's more setting up the automation and the infrastructure around that which can be a bit different."
Trustpower's possible sale won't stop the transformation
The announcement that Trustpower is considering a sale of its retail business—which has 231,000 customers and provides services that include electricity, gas, and telco services—will have less impact on the technology roadmap than it would a decade ago.
This is because most IT projects today are completed in small bites, as opposed to large deployments that would need to be put on ice during a sale process. "The fantastic thing about the world we live in now is that 10 years ago we would have had to stop doing stuff because we'd be in year-long projects with big commitments and long payback times," van Deventer says.
About 80% of IT projects at Trustpower are incremental pieces of work that have to deliver value immediately, he says. "The Amazon Connect team are still deploying changes every week, and they're going to keep doing that because the cost of that is very minimal and the returns are immediate. It's great that we can going and keep delivering on those things."
So the transformation continues. Next on the roadmap is growing Trustpower's data and analytics capacity with van Deventer's team "reasonably far down the path" of implementing Snowflake as its data warehouse.