Reengen is on a mission to optimize energy management via a cloud-based IoT and analytics platform. The Turkey-based start-up was founded by Şahin Çağlayan, Utku Simitli, and Burak Sefer, three MSc students who noted a functional gap between the enormous amount of data produced by disparate energy monitoring systems and the ability for organizations to visualize and act upon that data.
The growth of their company, founded in 2013, shows how a tiny, local start-up can expand internationally by leveraging cloud-native technology — in Reengen's case, an analytics PaaS (platform as a service) designed to take advantage of data provided by burgeoning IoT (internet of things) networks to make energy management more efficient and sustainable. Along the way, the company took advantage of one of the programmes offered by major cloud providers and designed to help start-ups scale quickly.
Many retail spaces like shopping malls and banks as well as facilities like factories and utility plants use IoT sensors that monitor energy consumption of everything from air conditioning units to overhead lighting.
IoT networks merge IT and OT (operational technology) and comprise edge-network sensors, control systems, back-end servers and a wide range of applications. Each sensor produces a wealth of information and informs future adjustments that can lower both expenditures and carbon footprints.
IoT PaaS brings data together
However, as many of these IoT systems work on different platforms, facilities have trouble seeing the big picture of their energy consumption. Reengen developed a PaaS model using only open source tech stacks for data collection, analysis, and visualization. The platform brings energy consumption data together in one place for streamlined monitoring, data analytics, and predictive modelling.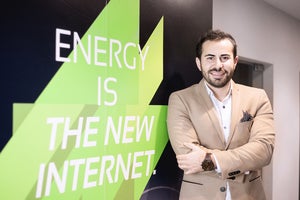 "Our vision is to empower connected and intelligent energy. To do that we utilize IoT and AI machine learning technologies," explains co-founder and current CEO Çağlayan. "We provide end-to-end data analytics solutions across the energy value chain, from generation to consumption."
To create this window into energy consumption, Reengen designed its own IoT gateway. The real-time data from disparate sensors, meters, and other data sources is gathered with industrial communication protocols such as Modbus, Mbus, IEC or BACnet. The Reengen platform can also collect data from wireless signals like LoraWAN, NB-IoT and Bluetooth.
Reengen collects this data, and creates visualizations that can also integrate third party weather data services and utility tariffs for a single, unified glimpse into energy consumption and predict future rates of consumption.
Turkish start-up scene continues to grow
Reengen is at the forefront of a new generation of Turkish start-ups. According to the 2020 State of Turkish Startups report released by the Presidency of the Republic of Turkey Investment Office, there were some 5,000 start-ups in Turkey operating in 2019. These pioneering Turkish start-ups have done well in recent months, with USD$80 million in investments in the first nine months of 2020. Despite the tumult caused by the pandemic, this figure represents nearly 80% of start-up investments in the country for the entire 2019 fiscal year, according to a Turkey Venture Investment Snapshot report prepared by MAGNITT.
While many of the start-up deals and investments were centred around the gaming industry, the overall increase is a sign of a maturing start-up ecosystem in the country, according to the report. Still, many Turkish start-ups, like Reengen, opt to move their businesses abroad to support international growth.
"Turkey is a good place to start a start-up. There, it is a small market, as well as some government programmes that support new businesses," says Çağlayan. "But to achieve global growth, many start-ups, like us, opt to move operations abroad. Our R&D is still in Istanbul, but our management offices are now in the UK."
While the vast majority of Reengen's customers are in Turkey, they have managed to expand their client base and now have customers in Ecuador, Spain, the UAE, Azerbaijan, and the UK. The company uses EU and US-based Oracle data centres, but with government tenders on the line in Saudi Arabia and the UAE, they will activate local servers to comply with local data storage regulations.
Cloud providers offer support for start-ups
Startups in the region have seen additional support from industry leaders and cloud providers. To accelerate their growth, Reengen looked to Oracle's global programme, Oracle for Startups. The programme offers participants free Oracle Cloud credits, a 70% discount on ongoing cloud services for up to two years, and migration assistance.
Other hyperscale providers offer similar programmes for start-ups. Amazon Web Services, for example, offers a suite of start-up programmes, addressing industry silos like education, and start-up specific needs like access to the AWS Partner Network. Microsoft's start-up programme is aimed at B2B companies specifically, offering access to Microsoft tools as well as a programmatic path to market products alongside Microsoft's extensive suite.
Ultimately, Reengen chose Oracle to help grow both their product offerings and market reach. Oracle for Startups provides mentorship for young start-ups, marketing opportunities, and engagement opportunities with Oracle's some 430,000 global customers. The Oracle for Startups programme has seen major traction in the MENA region, with growth from start-ups joining from the Middle East up 297% year on year, according to the company.
"We see Oracle as more of a strategic partner than just a cloud service provider," says Çağlayan. "Through Oracle, we have been able to reach industry players that we wouldn't have considered on our own. We have also been able to represent Reengen at global conferences, like the OpenWorld Middle East conference in Dubai last January."
Power monitoring, predictive analytics spur growth
Reengen has seen strong growth since partnering with Oracle for Startups at the start of 2020. The company now has a client roster that includes big-name retailers like GAP and Zara and operates in 8,000 locations across 10 countries. Reegen's service offerings now include portfolio management, critical power infrastructure monitoring, and predictive maintenance.
"We are now working in the manufacturing industry for monitoring and predictive maintenance. We monitor things like machine vibrations, abnormal consumption, and temperatures to alert facility managers of potential problems and to predict when parts may need to be replaced or repaired," says Çağlayan.
As Reengen continues to grow, the sustainability start-up from Turkey now looks to crack the utilities market. Çağlayan sees the potential for Reengen to work with municipalities to streamline utility management and monitoring, potentially reducing costs for consumers, and further reducing energy consumption's impact on the environment.