The chief information officers' decades-long struggle for recognition across the executive group was cemented in 2020, thanks to the global COVID-19 pandemic and IT leadership becoming the 'go to' force for driving innovation and continuity for business.
This is the key finding from 1,062 tech leaders worldwide – including 24 per cent from the Asia-Pacific region – who responded to the 2021 State of the CIO survey.
Michael Fagan, who was chief technology officer at the Australian operation of large retailer Kmart when COVID-19 hit in early 2020, and is now chief transformation officer at Village Roadshow, says being able to mobilise quickly and respond to urgent needs has certainly enhanced the reputation of IT teams and CIOs.
"However, you're only as good as your 'last game', to coin a sporting analogy so if this hasn't continued, then that quick response will be quickly forgotten. CIOs and tech leaders need to continuously innovate and bring fresh perspectives to the table," he says.
In 2020 at the height of the COVID-19 pandemic, Rowan Dollar was chief information officer at the South Australian Department of Human Services (DHSSA). He took up the role of chief innovation officer at the Public Sector Network in January this year.
He says that DHSSA responded favourably to the ICT team's ability to deploy mobile solutions and allow staff to work from home en masse. In fact, the transition was almost too seamless, as Dollar explains.
"Ironically, just like Y2K [the year 2000 problem], we made it look easy and I think that devalued the ICT team particularly in the eyes of the executive."
For construction giant, Lendlease, the pandemic meant immediate change.
"We had already put in place the infrastructure and collaboration tools to support our business working remotely. Over the course of a weekend, we were able to scale our IT platform to keep our business productive," says Harvey Worton, co-CIO at Lendlease.
"We are now supporting more than 100,000 virtual meetings per month, which has grown by a factor of five since last year. The delivery and return of IT equipment needed to move from an 'in-office' model to a 'home-to-office' model required accelerating processes across our entire business."
"While this drove a high intensity of workloads for the IT team, it also drew our teams closer to the business, with [positive] sentiment towards IT rising incrementally," Worton says.
Meanwhile, Matt van Deventer, general manager for technology and delivery at Trustpower, an electricity generation and retailing company in New Zealand, argues that the extra recognition of tech execs started before COVID-19 and the pandemic "really gave it a bit of a shot in the arm."
"There was a joke that did the rounds last year, which is along the lines of, 'Who led your digital transformation? Was it the CIO, CDO or COVID-19?'"
What COVID has done is accelerated a lot of work that was already happening and elevated technology, particularly in some traditional enterprises, with many now realising how critical an enabler it is, he says.
Digital strategies now vital
COVID-19 has transformed how enterprises look at digital; it was part of the strategy before the pandemic and now it 'is' the strategy, says Karan Bajwa, vice president for Google Cloud in the Asia-Pacific.
Technology has always been the enabler, it is instrinsic to the way companies lead and conduct business, so it's natural that IT leaders now have higher visibility than before, he says.
"In the retail market, COVID-19 has meant that many more people are choosing to order their groceries online for a contactless experience. Through intelligent automation, we're helping retailers and e-commerce players better handle this surge in demand — allowing them to better serve their customers," he says.
"The banking industry has been no stranger to artificial intelligence (AI) in recent years, offering customers a better, more personalised banking experience through digitisation. However, during the pandemic, the industry has also turned to AI to speed up backend functions that benefit the customer, but aren't seen by them directly, like helping to process documents more quickly."
Bajwa adds that bank and insurance leaders he speaks to every day are increasing automation and AI since the outbreak.
"This isn't limited to improving backend functions; it has also enabled a rise in the use of contactless credit cards and cashless money transfer systems, and for more and more transactions to take place online," he says.
Revenue creation is your responsibility
The majority (74%) of Asia-Pacific CIOs say the creation of new revenue-generating activities is among their job responsibilities with 42% now managing a team tasked with doing just this.
What does this say about the CIO role?
"Given that a huge proportion of CIOs are assigned with the task of keeping the lights on, might I postulate that 'revenue generating' is about the delivery of solutions to help business generate revenue," says Rowan Dollar.
He suggests that the CIO role is changing roughly in line with the expectations from their organisations.
"Too many organisations have a disconnect when it comes to tech leadership and the organisation. I'm sure that this is an explanation as to why CIO tenure is becoming shorter. Organisations hire a CIO known for disruption without knowing what is means for them. I have said in the past that disruption is like the truth; everyone wants it until you give it to them."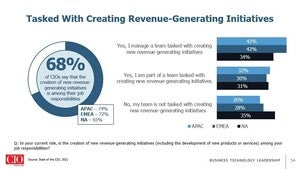 Trustpower's van Deventer says he thinks about revenue generation more in terms of changing the perception of IT from being a cost centre to a value-creating division.
"Certainly, the way we think about it here and when I talk to other people in the industry, the focus has to be on creating value and not reducing costs. And sometimes you can create value by reducing costs but if you move to a pure 'cost-out' model or mentality, you can end up cutting your nose off to spite your face," he says.
Meanwhile, Village Roadshow's Fagan adds that CIOs have always been a part of an organisation's success and sometimes a part — or cause — of its failure.
"I am not sure I agree with the initial premise. Most CIOs who see revenue generation as their responsibility alone, or in isolation from their business partners, are doomed to fail. IT should not live in a vacuum. A great partnership with business stakeholders, and joint responsibility for delivering commercial outcomes, is crucial," he says.
Tech budgets expected to increase in 2021
Across the Asia-Pacific region, 33% of respondents to the survey this year saw their budgets increase during the pandemic, 31% experienced a decrease, and the remainder said their budgets stayed the same. Further, 57% of respondents around the region expect their budgets to increase in 2021.
Village Roadshow's Fagan says budget changes will depend on the industry. He says many businesses are hurting and have seen a decline in revenues commensurate with lockdowns, social distancing and other factors.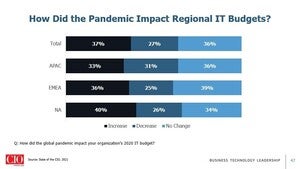 "For example, the cinema industry in Australia saw revenues decline by 80% in 2020 with costs to deliver government-mandated and COVID-safe practices increasing operating costs.
"This is an industry which creates $2 billion of value in the Australian economy with most employers being female and nearly 60% of young workers and all operators were happy to comply the government guidelines. However, the result is the tightening of belts all around."
Dollar says at the SA Human Services his 2020/21 technology budget was cut by 20% compared with the year earlier and further decreases were flagged for 2021/22.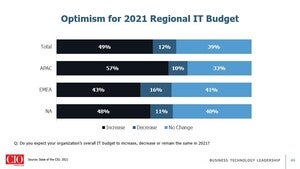 Google's Bajwa adds that it's pretty typical for overall spending on technology to increase over time, given the way in which it has evolved to a business-transforming function.
"That said, organisations are always likely to use their 'first dollars' to get business growth back on track. The CIOs I speak to are being asked to do more with the same or less and ultimately what COVID has shown them is the need to re-platform for the future," he says.
Next page: Reporting roles indicate greater influence
Reporting roles indicate greater influence
More than half of the CIOs across the Asia-Pacific report to chief executive officers, 14% to a corporate CIO, 8% to a CFO, and 8% to a COO.
Rowan Dollar says he is surprised that the number of CIOs reporting to CEOs is so high. He says this is not his experience, certainly not in government at all levels.
"I think it is because most CIOs are concentrating on keeping the lights on rather than [contributing to] the strategic goals of the organisation they work for," Dollar says.
"I think it's critical that the CIO is seen as a strategic force in the organisation. They need to be at the board table not just having a reporting line to a CEO. They need to be actively involved in the strategic decision-making process, not just carrying out orders from their boss.
"A broad understanding of the issues facing the business combined with the conversation and discussion prior to a strategy decision being made is invaluable to any executive," he says.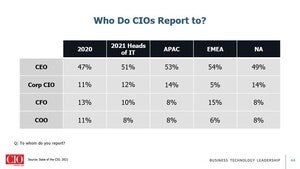 It is becoming increasingly important that c-level technology execs have a seat at the top table, says Trustpower's van Deventer.
"One of the interesting things that will happen is the changing of job titles. We are already quite used to CIO and CTO, but we are now seeing more CDOs, whether they are chief digital officers, chief data officers or chief transformation officers," van Deventer says.
Top priorities for 2021
Perhaps not surprisingly, leading digital business initiatives is the CEO's top priority for 53% of survey respondents, with strengthening IT and business collaboration second with 37% and upgrading IT data security to boost corporate resiliency third with 31%.
Identifying new data-driven business opportunities was a priority for 27% of respondents, with the same number indicating that their CEOs want them to help reach a specific goal for corporate revenue growth.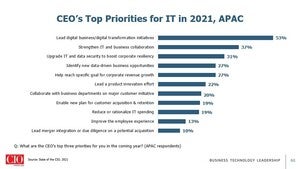 "What my CEO wants from me is to deliver great customer experiences because their expectations are evolving rapidly. Our non-traditional competitors such as Netflix and Airbnb are lifting the bar. Our competitors are no longer down the road, they are global," says Village Roadshow's Fagan.
"So, we have two key aims: Firstly, to deliver more innovation and better experiences to our customers faster, and we need to improve our speed of delivery to deliver on that customer demand. Secondly, we need to implement technology to be efficient and improve productivity to reduce our costs, which allows us to invest in the business," he says.
Filling the skills gaps
For some time, organisations operating in countries across the Asia-Pacific region have had problems filling roles across their tech teams.
It was no different in 2020 with 31% indicating they are struggling to find people with artificial intelligence/machine learning roles and 26% having issues finding cyber security specialists. A further 24% are having difficulty finding data science and analytics specialists.
David Lipscomb, co-CIO at Lendlease, says talent is incredibly important and underpins the organisation's strategy.
"We have just transitioned from a contractor model to an in-house talent model and combined this with modern lean and agile ways of working to provide our customers with more value for money," Lipscomb says.
"We are finding that these ways of working combined with our digital strategy is helping us to attract good people. With increased demand comes an increased requirement for people and this means committing to the development of IT talent in Australia.
"However, we are definitely finding the market highly competitive right now. We are partnering with universities to develop and nurture new talent; creating more learning and development opportunities within Lendlease."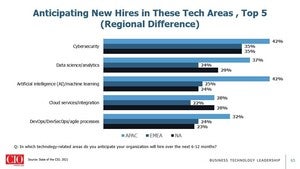 Trustpower's van Deventer says as long as he has worked in the industry, attracting and retaining talent has always been one of the hardest things to do.
"One of the many good knock-on effects of COVID-19 is that we are not restricted in terms of location of people anymore, so the talent pool becomes a bit wider. For us being in Tauranga (in New Zealand's Bay of Plenty region), while that was attractive to a whole lot of people who wanted to move here, it limited our talent pool.
"But now we are more flexible in terms of being able to employ people remotely. You don't have to be in Bay of Plenty anymore and I think that work-from-anywhere is going to be an interesting one to watch over the next couple of years," he says.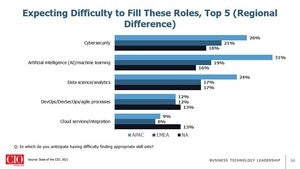 Village Roadshow's Fagan points out that the United Nations' 2030 Agenda calls out skills gaps as a key threat to our future.
"I have spoken to many other CIOs in the past year and the two most valuable hard skills companies are struggling to find are in the areas of cloud computing and artificial intelligence," he says.
Having people with skills in these areas at Village Cinemas and Theme Parks helps the organisation deliver solutions faster and improve the customer experience, he says.
"By leveraging data-driven insights, for example, we have been able to deliver personalised movie engagements and timely communications to moviegoers. Customers at our Gold Coast theme parks have access to an app that shows wait times and guided maps and allows for virtual queuing. The app itself is the ticket which facilitates seamless entry and exit," he says.
Additional reporting by Sarah Putt, CIO Editor New Zealand.