Enterprise IT leaders are required to do their fair share of crystal-ball gazing to determine what technology will be around in two, five, even 10 years from now, and what impact it will have on their organisation. For Ewen Powell, CTO at Chorus, anticipating what network capacity will be required is critical to ensuring New Zealanders can continue to work during unexpected events such as the global pandemic.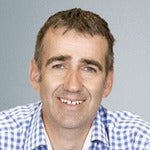 "Think of it as a pyramid; we're at the bottom of that. So, you need to get a stable foundation with us as a wholesaler for the others sit on top of. You have the retail service providers [RSPs], and you have the app providers, the over-the-top players [for example Netflix]. If we don't get it right, it's going to have widespread impact as you go up the chain—they have may have issues further up, but it is going to be more discrete in who it impacts," Powell says.
Chorus's own IT roadmap
On his IT roadmap is extending the company's data and analytics capability to improve decision making around investment decisions, as well as maintenance management of its network. This will include using machine learning to "automate what we can to make our customer experience a bit more seamless."
Meanwhile Chorus's cloud strategy is determined largely from a "fundamental risk perspective," he says. "What do I need to continue to be able to operate the business, and [what of that do] I want onshore. For anything that is to do with managing the network to keep it operating and running, or our ability to get our workforce to a place to do their business, we want a lot of controls and to be onshore in terms of security so it can't be isolated, it can't be taken down."
What CIOs need to consider with regards to broadband networks
CIOs need to think more about connectivity in people's homes, Powell says. With the push to working from home, do staff have the right broadband plan, the correct modem, and the right laptop to take advantage of fast connectivity and do they have the right understanding of security issues, Powell asks: "Trying to figure the balance of your control and security concerns versus the tools that are available to people to download and use. How do you fit that into your thinking as a CIO in terms of control versus enablement aspects?"
Powell speaks from firsthand experience, as the 150-member team he oversees is responsible for delivering IT services to Chorus's 900 staff, as well as operating the network. They too have had to switch to working from home.
Network capacity increases by over a third each year
Chorus expects network usage to grow 30% to 40% year on year and predicts that by 2024 peak traffic will reach 7.6Tbps. Compare that to the current peak of 2.4Tbps when Auckland was in Level 3 lockdown in August 2020.
Factors driving increase in usage are COVID-19 forcing people to work from home and the proliferation of live-streaming platforms in sport and entertainment. Then there are the gaming platforms.
"The likes of Call of Duty and Fortnight do regular updates to applications that are 8GB to 10GB, and people aren't able to continue gaming until they've downloaded them, so they are set up to autodownload. Those platforms generally do those about 6:30 p.m. to 9 p.m. NZ time," Powell says.
The busy times on the network are 7 p.m. to 11 p.m., so Chorus's capacity planning centres on ensuring a seamless broadband experience in the evening. When COVID lockdowns occur, it is mostly daytime traffic that increases as people are forced to work from home. During the day, network usage increases by 70% to 90%, while in the evening it's been around a 15% increase.
Dealing with sudden lockdowns
Lockdowns have been added to list of crisis events that Chorus has developed a playbook for, as Powell explains. "We've got event- and crisis-management plans because we deal with a number or physical or network events all the time."
There are three key aspects that kick into play when a lockdown is declared:
Ensuring Chorus staff have the technical capability to work from home.
Ensuring the field staff can safely attend to faults in the network.
Maintaining network capacity.
"Ironically, the network probably needs the least of the attention," Powell says. "We look at the information and model it regularly. There are a few pieces of traffic that you can move around the place but there's no massive augmentation you can do in a hurry, so you have to invest ahead of the curve for where traffic is going to take you."
Adjusting fibre network capacity as demand changes
Chorus, which has around 75% of the national Ultra Fast Broadband (UFB) fibre network in New Zealand, expects to complete Phase 2 of the build, UFB2, in 2022. To date, it has 802,000 fibre connections, with the vast majority being residential and small business connections using gigabit passive optical network (GPON) technology.
With the fibre in the ground, increasing capacity is a matter of changing the electronics at either end, Powell says. "Everything is fibre directly to the home, so you've got capacity through to the flexibility point, which is the piece closest to your home. As it moves back up the network, we have electronics that aggregate that traffic, and that's largely where you have to put in larger aggregation, and larger pipes in the background, as you start moving the traffic back to a central point."
Chorus has a last-mile network and a national backhaul network. International connectivity is provided by companies such as the Southern Cross Cable and Hawaiki Cable. The push to working from home, moves by cloud hyperscalers such as Microsoft to open data regions, and new application could all affect the Chorus network, Powell says.
For example, he says, "What does edge computing mean for New Zealand? A lot of that traffic has been going back to Australia or America. Does edge compute mean it's more nationally based, which then starts pumping more traffic around our country, rather than offshore, to get the economies."
While Chorus is keen to see more connections, as a wholesaler it provides uncapped broadband, so it's customers taking faster speeds, not increasing capacity, that earns the company a greater share of revenue. "We'd like to you to use more speed, because with more speed we get slightly more from a wholesale perspective. None of them [the broadband plans] are capped, so actual data usage or volume we don't recoup other than through the overheads," he says.
Copper disconnections and rural broadband issues remain
With UFB2 almost complete, attention will next fall on two big issues. The first is decommissioning the national copper network, which Chorus owns. There are 381,000 copper connections, and in September 2021 Chorus expects to decommission the first 30 cabinets, which will affect about 250 customers, followed by 400 cabinets in 12 months.
From a technical perspective it is simple exercise, Powell says. "The challenge in the conversation is how do you migrate customers off it. The decommissioning is relatively easy. You've got to have 100% [copper lines in the cabinet] to decommission, so where our focus over to time will be is how do we help customers and RSPs make that as seamless as possible."
What that process will look like is being worked through with the wider telecommunications sector and the Commerce Commission. The copper itself will likely stay in the ground if it is a feeder cable to a home, but the larger copper cables could be mined and resold.
The second issue, Powell says, is tackling rural connectivity. "Part of the challenge for New Zealand becomes what happens to those rural areas and how do we as NZ Inc. service those effectively."