Micro Focus, one of the world's largest enterprise software providers, is taking digital transformation to the track, teaming up with Jaguar Racing for the seventh season of the ABB FIA Formula E World Championship. Team Jaguar has already made headlines this season, securing two podium results at the season-opening round of Formula E in Riyadh earlier this month.
Formula E, one of the world's fastest-growing sports, is an all-electric race series that focuses on championing electric vehicles and promoting sustainable motorsport. The race is fully interactive, as Formula E leverages mobile technology to allow fans to participate and give their favorite driver a "boost" through in-race voting.
Arguably one of the most tech-driven sports on offer, Micro Focus' partnership with Jaguar Racing as their official business resiliency and analytics partner for Formula E is a perfect pairing. Micro Focus has long-been top choice for organizations looking to speed up and streamline operations and processes with digital transformation, business resiliency solutions, and robust data analytics.
In fact, Micro Focus was recently ranked one of the best in the software industry for "ease of doing business" and in the top fifteen for customer loyalty. The company also ranked in the top five for post-sales support and is one of the top-ranked companies in the entire software industry for training.
A key component to the new partnership is a suite of AI-powered data analytic solutions from Micro Focus' analytics products group, Vertica. Vertica's software will analyze a vast amount of sensor data, weather data, environmental data, and more, and will help Jaguar Racing gain deeper insights into the race explains Gonzalo Usandizaga, president of international sales at Micro Focus.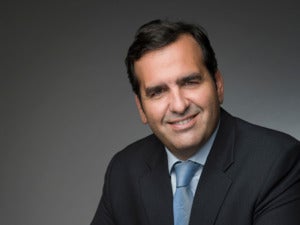 "In Formula E, software can make all the difference to what happens on the track," says Usandizaga. "Jaguar Racing's two Formula E vehicles are updated every race week, analyzing all 250,000 lines of code. At the same time, each car produces data across 700 parameters which has to be captured and analyzed, not just during development, prototyping, and testing, but during races itself."
In addition to data analytics, Micro Focus will provide regular security assessment workshops for the Jaguar Racing team to help identify any gaps in their cybersecurity stance, and flag risks that could cause issues further down the track.
For more on the company's partnership with Jaguar Racing, and all things digital transformation, Micro Focus' flagship event, Micro Focus Universe will be held virtually on March 23 and 24. This year's event is free to attend and will feature a keynote speech from James Barclay, Jaguar Racing Team Director.
"We are extremely pleased to be able to reveal Micro Focus – a world-leading software provider – are joining Jaguar Racing for season seven of the ABB FIA Formula E World Championship. With their specialist software knowledge we are excited to work together and achieve great results on track," Barclay commented ahead of the partnership announcement earlier this month.
To learn more about how Micro Focus keeps team Jaguar on track, visit www.microfocus.com/en-us/jaguar-racing