The COVID-19 outbreak has cast doubt on corporate requirements for real estate, with McKinsey and other consultants speculating that building space needs would shrink as much as 30% worldwide. Yet commercial office space will continue to be critical, even with corporate workers increasingly favoring a hybrid of office and remote work.
So says Sandeep Davé, chief digital and technology officer of CBRE, which, as a global leader in commercial development, property leasing, and other real estate endeavors, manages nearly $115 billion in assets. While the frequency with which employees come to the office may decrease for some companies, building space remains a key requirement for allowing employees to meet and collaborate, Davé tells CIO.com. But with the pandemic still ongoing — even as more citizens become inoculated to COVID-19 — safety remains a concern to address before employees return to the office.
And employees are returning to corporate offices, albeit spending some portion of their workweeks working from home offices. Sixty-seven percent of more than 10,000 workers CBRE surveyed in August 2020 said they expected to enjoy a hybrid work arrangement, with 28% expecting to work permanently from home and only 6% expecting to work in the office full time when the pandemic subsides. A separate poll of 77 CBRE tenants conducted in September 2020 revealed that 73% anticipate accommodating balanced work styles. "The boundaries that we've had for work and life have been blurred," Davé says.
The office re-entry movement
To that end, Davé's tech team has upgraded the company's office experience software to accommodate re-entry into facilities. CBRE's mobile app, called Host, now enables companies to incorporate customizable content, including information about the coronavirus from CDC, as well as corporate events, announcements, and other pertinent details.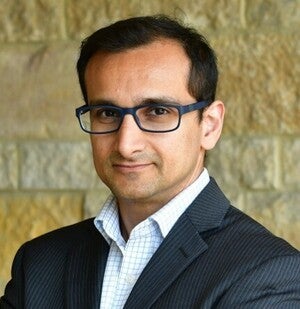 Office managers can designate employees' return to the office by groups, while alerting managers and users when the building is close to full capacity. This is no trivial matter; with state guidelines recommending that people maintain social distance, companies must monitor office space occupancy in near real-time, Davé says. These features supplement perks such as the ability to virtually badge into buildings, book desk and meeting spaces, access ambient controls, access wayfinding and location sharing tools, and view analytics about workplace occupancy and utilization.
If nothing else, the office-re-entry features could boost adoption of such apps, particularly as more employees come back to the workplace. But employees venturing back to the office need appropriate workspaces at a time when social distancing mandates require wider berths between cubicles and other workspace arrangements.
On that score, CBRE offers Plans, interactive leasing software that enables prospective tenants to test floor plans in 2D or 3D, a "virtual tour" capability saving real estate professionals time, and other resources. Plans allows users to visualize working and open spaces, as well as estimate requirements for headcount.
While CBRE's tech teams were fueling new features for its core office apps, they also helped manage the transition for 100,000 global workers during the outbreak in 2020.
In addition to previous investments in VPN and remote conferencing capabilities to accommodate a remote workforce, CBRE's tech team arranged for training on what it calls "Tech Tuesdays." These comprise weekly two-minute videos offering employees "Did you know?" style tech tips. The company also ramped up communications via internal social channels. "The challenge is really around how to create a culture when everybody is remote," Davé acknowledges.
The tech team also continued to pepper CBRE's operations with process improvements. As part of its digital transformation, CBRE has applied robotic process automation (RPA) to streamline more than 100 processes, including automating the processing of documents, such as invoices, that have traditionally been manually keyed in by humans, as well as shuttling data between systems. All told, this work has yielded $7 million in efficiency gains, says Davé, adding that CBRE sees great potential in combining RPA with machine learning (ML) — a rising trend hailed by some as intelligent automation — to parse unstructured documents, further automating workflows.
A measured approach to the cutting edge
There remains a frothy enthusiasm for applying emerging technologies to facilities management. While Davé believes in testing tech to explore the art of the possible, he allows that certain "shiny new objects" may not be applicable for every process.
For instance, everyone wants to do something with blockchain, even if there isn't a clear business case. Davé says that while CBRE tested the applicability for blockchain to facilitate end-to-end tracking of lease approvals, CBRE ultimately concluded the technology added little benefit to its current approval process. Even so, the company remains interested in using blockchain for property valuation and has garnered a patent covering such a tech implementation.
Also, CBRE has piloted chatbots but doesn't currently offer one for corporate consumption because the complex nature of real estate is such that it is hard to offer a quality user experience, Davé says, adding that he prefers subtler forms of ML technologies.
CBRE's Host app uses ML algorithms that clock user behaviors to provide smart recommendations that make some processes more efficient. For instance, by analyzing historical data such as an employee's tendency to book a certain meeting room for a certain time and day, Host prompts a user to book a meeting room with a single tap when they open the app.
One area that CBRE takes extremely seriously is privacy, which is bound to be an increasingly sticky issue as buildings add more IoT sensors, cameras, and other features that can be ripe for abuse if applied too casually.
Noting privacy concerns have increased in various jurisdictions, CBRE preserves employees' privacy by requiring them to opt in to allow themselves to be "found" in CBRE's Host app, Davé says. "Privacy should be top of mind in any design, anywhere."