As cloud data centres proliferate in the Middle East, pressure on CIOs to transform legacy infrastructure is increasing. This means enterprise tech leaders have to juggle multiple projects: updating aging infrastructure, ensuring current apps are running optimally, and constantly looking for ways that IT can help boost revenue in the future. As chief information technology officer of Amer Group, Mohamed Saada is in charge of digital transformation and is used to handling multiple priorities while managing expectations of business managers.
Amer Group operates mainly in Egypt, the Middle East, and North Africa within the real estate development and hospitality sectors. In this Q&A, Saada provides his insights on the current state of digital transformation in a business operating in industries impacted to a greater extent by the COVID crisis than most. He discusses organisational changes the crisis has brought about and how the business is adapting, innovating and pushing ahead by leveraging technology for business continuity.
What technologies do you think will have the biggest impact on your sector this year and beyond, and which areas of your business will be impacted most?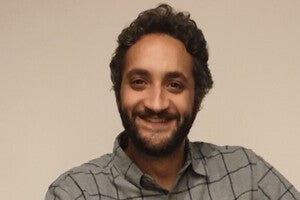 Cloud computing, e-payments and mobility are the main technologies. We are currently working on migrating workloads to the cloud to avoid issues and disruptions in the on-premise setups. We are also working on developing customer portals and mobile apps with e-payments that would allow the customers to get in touch and fulfil their services in a contactless manner.
Are there certain types of data you've placed in third-party cloud infrastructures and how do you ensure that data is not compromised?
One of the major projects of 2020 was migrating our main ERP to the cloud. For data security, we are relying on the cloud vendor's defences, our network security as well as application security.
What percentage of your overall tech budget will software cloud subscriptions represent in 2021?
I would say 30%
What is the average contract length for your cloud software contracts?
Three years.
What does your digital transformation agenda for 2021 look like? How are you accelerating the development of digital tech capabilities within your organisation?
When COVID-19 disrupted all businesses, including ours, the top management realized the importance of digital tech and initiated several digital transformation projects. This raises a lot of concerns regarding the current digital maturity of the company especially with regards to people mindset and legacy technological infrastructure.
What's the biggest challenge you've faced integrating legacy applications and old-school ERP, CRM, and other legacy enterprise systems with modern customer-facing apps?
I see this as the biggest challenge I am facing now. The integration process is very costly and wastes a lot of time. This creates a gap between the speed that the business expects from IT and the actual project deliveries. Business always blames IT for it!
What lessons have you learned during the current crisis that may help you respond with speed and flexibility if faced with another global crisis that disrupts your business operations?
We learned that change is inevitable, regardless of the resistance and challenges that you may face. The ways of doing business are changing and we must be open-minded to embrace these kinds of changes.
What are the top three business challenges that need to be overcome in 2021 and how does a transformational CIO adjust to a defensive market like we're in today? What changes in the role, in the thinking, when the market is struggling?
Sales numbers dropped, which gave a need for e-commerce and digital marketing projects
Collection numbers dropped, which gave a need for e-payment solutions
It is harder to manage people in the current circumstances and thus the need for process automation
A CIO has to now play a role that is way beyond technology management. The CIO should act to change mindsets, work on enhancing processes and act as a business consultant to the management.
CIOs are overseeing multiple projects in high-pressure environments. How do you deliver projects on time when there are competing priorities, especially in this pandemic situation, and how do you balance your focus/time between keeping the lights on, strategy and innovation?
It is overwhelming to be honest. The amount of initiatives that need to run in parallel is huge. Delegation is key, however keeping the team's focus is very challenging as things are getting out of hand with everybody within their personal lives. Management needs to be more human and understanding nowadays and this affects performance and delivery. The CIO is squeezed in the middle!
How do ensure that your digital transformation strategy is aligned with business priorities? How agile is your approach?
In the current circumstances that the world is facing, business priorities are changing by the day. So a CIO has to have all cards ready and homework done in order to be able to juggle between priorities and align with the business dynamic nature.
What is the most difficult technology-related investment decision you had to make? Why was it difficult?
Creating business cases to IT projects is not always straightforward. A lot of the projects involve entrepreneurial thinking and are done for the first time. So it is hard to forecast their effect on the business in numbers. Also some of the benefits of such projects could be linked to intangible outcomes which makes them hard to calculate in numbers. This makes it hard to convince management with the ROI of these projects so it makes the decisions hard to make on everyone.
What alternative employment modes and digital technologies have you identified that can be utilised to empower employees and automate tasks?
A lot of companies have been very pleased with the new "working-from-home" experience. Some of the large corporates are not going to go back to the way of doing business before COVID-19. The main technologies would be VOIP and video conferencing, communication tools such as Microsoft Teams and robotic process automation (RPA).