Sweeping technological change had already started in the aviation industry before the pandemic, as airports adopted emerging technology such as big data analytics and IoT.
COVID-19 accelerated these trends faster than anyone could have imagined, though, as air travel hubs confronted, almost overnight, urgent and complex public safety and logistical challenges.
John Barton took on the CIO job at Abu Dhabi Airports on March 1, 2020, just when the crisis was getting into full swing and staff were scrambling to work remotely. Abu Dhabi Airports is the largest airports operator in the UAE, owning and operating 5 airports including Abu Dhabi International Airport.
Immediately, Barton had to not only ensure that the company had the infrastructure in place to enable remote work, but also put together a plan for how technology could help meet heightened demand for health monitoring and workflow optimization.
AI, big data key to COVID fight in aviation
As a result, mobile technology and AI applications implemented during the last year have fundamentally changed the organisation's operations. Along with big data analytics and sensor technology, the applications have streamlined communications and optimized the flow of passengers through airports, making the passenger experience as contactless as possible.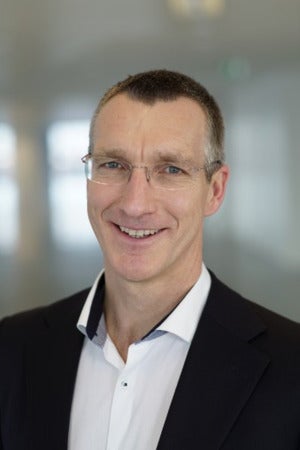 Safety protocols urgently called for optimisation of passenger movement to avoid crowding, which drove implementation of analytics and AI to speed the processing of all the data inputs the IT structure supports.
"The AI system assesses the capacity of the airport at any given time based on known flights and booked passengers and by using footage from cameras and sensors," Barton says.
It predicts when passengers will arrive and can alert airport staff how many check-in desks, security lanes, immigration counters, and retail kiosks to have open at any given time.
"A primary way in which we are looking to employ big data is through the rigorous modelling and assessment of queues at the airport," Barton says. "Not only are long queues potentially uncomfortable for passengers, but they also present challenges when it comes to enforcing social distancing. For these reasons, we want to use big data to shorten queues and increase efficiency across the board."
By analysing the number of flights and aircraft passenger load, Abu Dhabi Airport can build a comprehensive model for how busy its departure terminals will be at any given time. Accordingly, passengers can know in advance when they should be in the airport. "By using big data, we can enable an airport experience that minimises queuing as much as possible and maximises our passengers' health and safety," Barton says.
Mobile app streamlines staff communications
A new community mobile app, dubbed the ONE app, provided an essential boost to communications as staff needed to coordinate their actions while maintaining social distance protocols.
"Designed for the Abu Dhabi International Airport community, the application provides users with a wealth of information at their finger's tips," Barton says.
Through the application, employees can be alerted at any given time to activity at any part of the airport: to tripping hazards that need to be removed for arrivals, to the change of a departure gate for an airplane, or to potential tasks relating to the runway. The community application enables cross-airport coordination for all its employees and provides real time information about every single ongoing activity at the airport.
"It enables coordination and facilitates the management of the airport, helping employees manage our operations and infrastructure more easily, and enables colleagues to provide customers with a high-quality experience at our facilities," Barton notes.
Contactless technology enhances safety
Abu Dhabi International Airport has also implemented various applications to help monitor and ensure public safety. For example, it has deployed SterixGates disinfectant gates at key entry and exit points. The gates scan passenger body temperature and provide a full-body, fog-like disinfection that sanitises individuals from head-to-toe in as little as three seconds
In addition, the airport has partnered with a UAE start-up to deploy new touchless technology at 53 elevators. "The new technology, Tchk (Touch-less Keypad Technology), was designed and manufactured by Meta Touch, a start-up based at the UAE University Science and Innovation Park (UAEU SIP), which develops innovative solutions designed to support health and safety," Barton says.
Self-service kiosks to help travellers identify the symptoms of COVID-19, developed by Elenium Automation, are also part of broad set of applications and hardware that Abu Dhabi Airports has implemented to inspire passenger confidence and reassure them of their safety. The kiosks can measure a traveller's temperature, heart rate and respiratory rate, and should it notice any irregularities, it notifies both the passenger and airport staff.
According to Barton, there is no one technology that can act as a 'silver bullet' for safety. But strategic use of various technologies together, alongside the practice of social distancing and the wearing of personal protective equipment (PPE), has resulted in air travel remaining the safest form of mass transportation in the world today, he noted.
Pandemic accelerates move to cloud
Meanwhile, the influx of data and need to process it has fuelled the move to cloud technology.
"The bulk of our data is currently stored in a local data centre. However, we are in the process of transitioning to a couple secure cloud solutions," Barton says. Abu Dhabi Airports is investing in a new enterprise service bus (ESB) to ensure that source data can be accessed and passed into storage quickly and reliably, according to Barton."Ensuring that we have robust and dependable access to our data is important to us at Abu Dhabi Airports."
Abu Dhabi Airports' primary hyperscale cloud provider will be Microsoft. The company is using one of the company's new data centres, right in Abu Dhabi.
"Microsoft Azure also brings with it a host of benefits, from its flexibility and ability to scale on demand, to its automation and integrative data solutions. For these reasons and more, including our long-term and successful relationship with Microsoft, we chose to use Azure to store our data," Barton noted.
(John Barton was awarded first place honours in the first edition of the CIO50 Middle East awards, by an independent panel of industry professionals, analysts and journalists.)