New Zealand has already embraced cloud computing enthusiastically, but it is about to experience a whole new dimension in cloud computing with the arrival of New Zealand's first hyperscale data center region. And now is the time to prepare.
Microsoft's new hyperscale data center region will create massive opportunities for organisations to leverage the capabilities of cloud infrastructure. It could open the floodgates to cloud migration for New Zealand organisations— in particular those in the banking, financial services, insurance, and public sectors which are required to store data locally.
The banking, finance and insurance sector is already the largest user of public cloud services, followed by the public sector. Once the new data center region opens they will be able to keep all their files, including backups , onshore in New Zealand.
Microsoft's two NZ flagship customers, BNZ and Fonterra, are already gearing up to use the new hyperscale data centers as soon as they open, with innovations that will be secure and scaleable.
Cloud is essential for innovation
New research from IDC and Microsoft has also identified the increasing importance of public cloud as a platform for digital innovation, concluding "it is virtually impossible for organisations to innovate without leveraging all cloud technologies."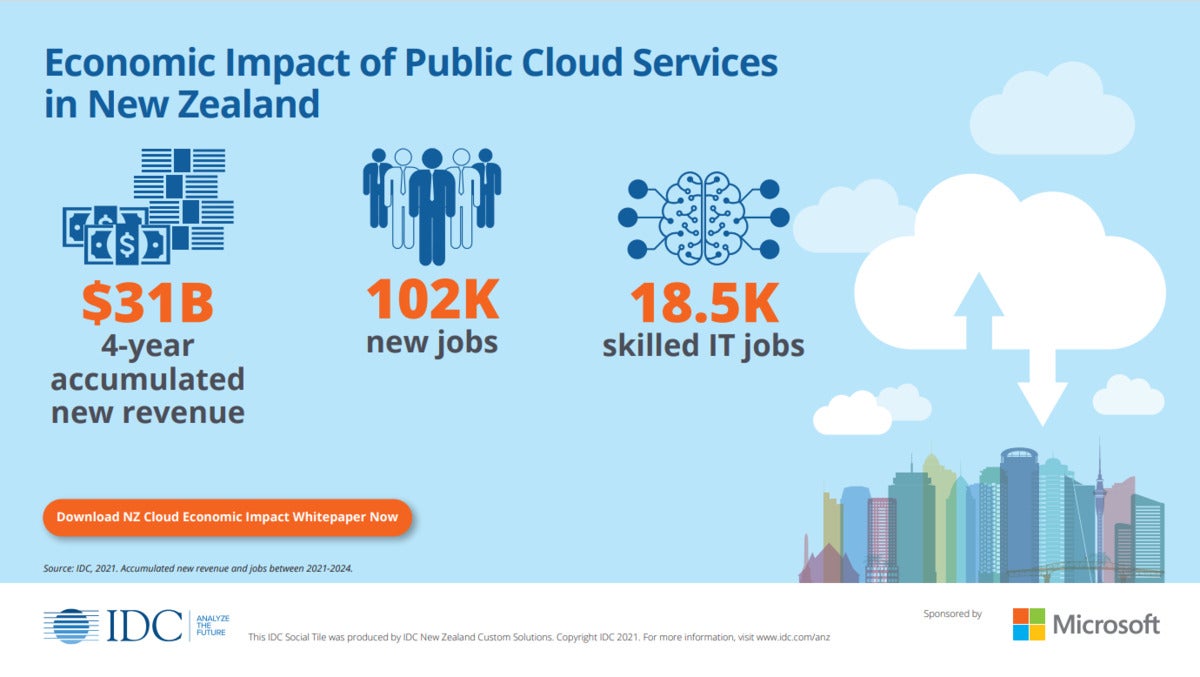 The IDC and Microsoft research has also found evidence of huge growth in the use of cloud technologies in New Zealand, where 38 percent of organisations already take a cloud-first approach to investment in new IT systems.
The research shows that the establishment of New Zealand's first hyperscale data center region will produce a 'cloud dividend' that will spur innovation, create skilled jobs and open up new opportunities for New Zealand to export its innovations.
It also estimates spending on public cloud services will almost double over the next four years, with cloud deployment creating 102,000 new jobs, including 18,500 skilled IT roles, in the same period.
Free training to address the skills shortage
The shortage of cloud skills in New Zealand is already well known. Demand for skills to manage cloud environments has outstripped supply,­ and launch of our new data center region will create additional demand.
To address this, Microsoft is offering free certifications and training to enable IT professionals to gain Azure cloud skills. Businesses wanting to take full advantage of cloud, should encourage and support workers to take up these opportunities.
With the expansion of cloud services, developers will increasingly turn to public cloud services to create new technology products and services to benefit businesses and consumers. The more people with cloud skills, the more the country will benefit.
So now is the time to "be prepared", to seize the many opportunities that cloud services present. Microsoft and Microsoft Approved Azure Partners can help you. Both Microsoft's own teams and those of our partners have been trained to the highest standards to enable them to support customers on their cloud journey.
This journey starts with the Microsoft Cloud Adoption Framework, a step-by-step guide that Microsoft and our partners have produced to help organisations develop their cloud migration strategy and cloud adoption plan. Once you have your plan, our dedicated Azure FastTrack Engineers can help you identify and implement best practice to undertake your transformation.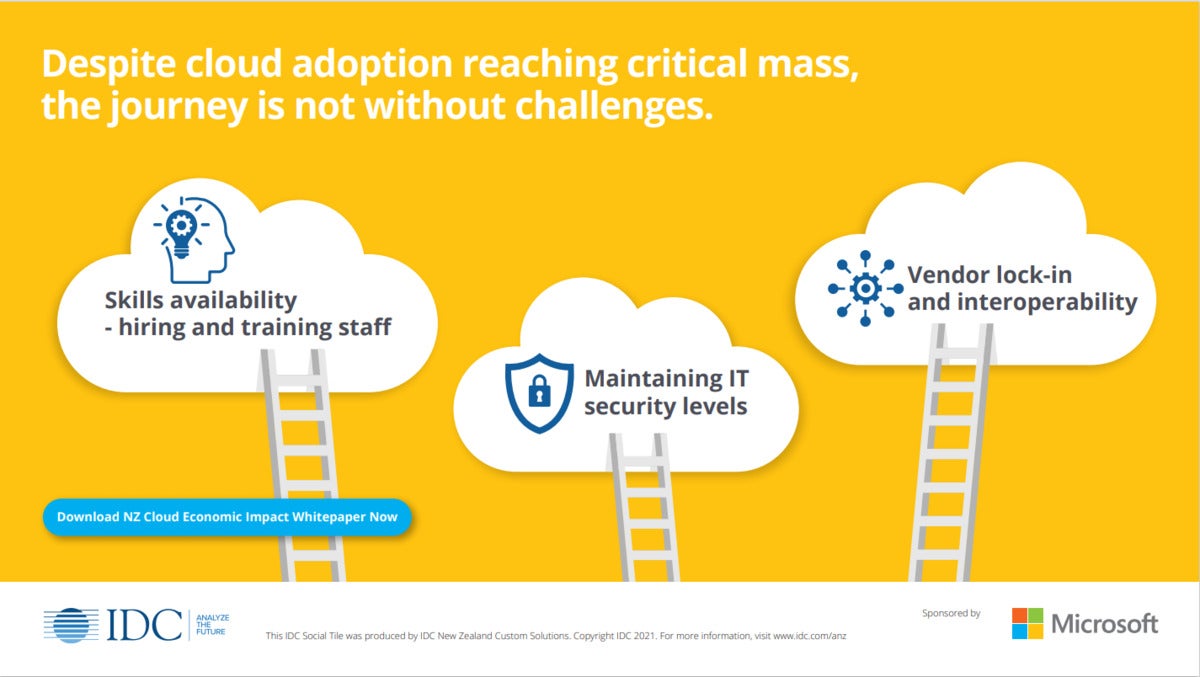 Key cloud migration considerations
There are some key things you will need to consider as you plan this journey, in particular, lock-in to proprietary cloud services and security. If you adopt a multicloud or hybrid cloud model, you need to make sure those two different environments work together and enhance, rather than inhibit, productivity. Fortunately, there are platforms available that can help you connect and manage multiple clouds.
Regarding security, there are considerable benefits to using public cloud services. Microsoft Azure offers a range of security features as standard that would be expensive to obtain by other means.
Despite this, some organisations are reticent to use cloud because of perceived security issues, in particular those considering using cloud to support Internet of Things (IoT) and edge computing deployments. These issues can all be addressed by cloud services with the right configuration, based on a holistic view of security across the cloud environment.
Accelerating innovation
However, these are all things you need to do to transition to 'business-as-usual' to the cloud. What I really want to talk about is something much more exciting: leveraging the new data center region to accelerate innovation in New Zealand.
To support this acceleration, Microsoft has launched a series of Innovation Workshops to get people exploring, and realising, the innovation possibilities offered by Azure.
They are not simply basic training – they're designed to help people really leverage Azure for innovation. Please check them out here.
Now is the time to get ready for the opportunities that Microsoft's new data center region will offer, so you can hit the ground running when it opens. Data migration is not difficult, but it doesn't happen overnight, and it doesn't go smoothly unless you plan.
Then you need another strategy to move beyond your initial migration to the cloud and really leverage its potential. Now is the time to start, and at Microsoft we're ready to help you take that journey, to optimise your apps for the cloud and turn New Zealand into a country powered by the cloud.