Industrial companies have long struggled to put together the computational horsepower and modeling techniques required to derive meaningful insights from sensor data, giving rise to the so-called digital twin. Johnson Controls is building one such virtual version of physical assets, using Microsoft Azure cloud software to improve how buildings are designed, constructed, and managed.
The platform, called OpenBlue Digital Twin, reimagines machines and other physical objects as software that enables companies to create digital versions — called twins — of physical buildings and systems and visualize them.
OpenBlue leverages machine learning (ML) and artificial intelligence (AI), as well as edge computing technologies, to analyze large datasets and predict patterns and trends, says Mike Ellis, chief digital and customer officer of the $22 billion provider of building management systems.
"The common thread across all of those is digital and connectivity technology," Ellis says.
Digital twins: An elusive solution
Digital twins enable businesses to monitor and manage buildings, mitigating risks that have become common with the rise of connected systems. Feeding on information generated by sensors, the digital twin can fire off a service request to service an ailing elevator or heating and cooling system before it breaks down. Digital twins could also help point employees or visitors to vacant meeting rooms in buildings, a critical function at a time when companies are adhering to COVID-19 social distancing guidelines, and even open parking spaces.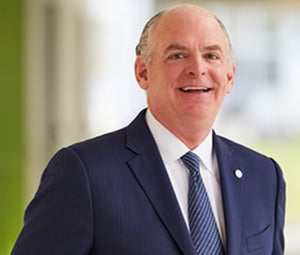 Connecting the dots that drive decision-making and improve business outcomes requires real-world data in context, which is what makes a digital twin so useful, says IDC analyst Jonathan Lang, who researches the convergence of IT and OT.
Industrial companies have struggled to scale digital twins, however, spending considerable dollars on service and data integration while failing to build the requisite models of their physical assets.
Moreover, data generated from connected assets have grown too vast for most industries to visualize and query, much less apply analytics or AI models. Cloud vendors, with their infinite data modeling resources, are well positioned to help enterprises build out these systems because they can contextualize sensor data produced by heterogeneous machines and applications. "This is the approach companies are taking to make sense of the droves of data they're taking in," Lang says.
Making the most of Microsoft Azure
Into the breach steps Microsoft Azure. Built on Azure, OpenBlue simulates Johnson Controls' building and device management technologies, including HVAC systems such as chillers and heat pumps, fire protection and detection, as well as cameras and other safety and security solutions, says Ellis.
OpenBlue simulations leverage Azure Digital Twins, an internet of things (IoT) service that blends data from disparate devices and business systems to model the physical world. Tracking both past and present events, the software enables customers to simulate possibilities and help predict future events for entire ecosystems, such as buildings, factories, farms, energy networks, railways, and stadiums.
These digital models empower property managers with insights that optimize operations and reduce costs, as well as support COVID-19 safety and security protocols as employees return to the office. Johnson Controls and Microsoft are addressing how people can return to work to maximize space while operating facilities safely with the following measures:
Sustainability: optimizing energy use with a goal of reducing carbon emissions at a time when commercial buildings consume as much as 48% of the world's energy
Safety: addressing physical access and safety using live video analytics and spatial intelligence
Facilities management: integrating workflows with collaboration platforms such as Office 365 and Microsoft Teams to increase productivity and collaboration
Spatial optimization: maximizing the use of spaces by merging building and occupancy data to create insights for facility managers
Industrial alliances gain traction
Johnson Controls is currently piloting OpenBlue with The National University of Singapore (NUS), where it currently operates a $50 million innovation center to test digital twin solutions. NUS plans on using OpenBlue to deploy connected building management across the campus to improve energy and space optimization, predictive maintenance, and unmanned operations.
For Microsoft, the Johnson Controls alliance represents two significant milestones: the general availability of its Azure Digital Twins service, as well as the next leg of the company's so-called "industry cloud" strategy. The former includes customers such as Bentley Systems, Doosan, Ansys, and Brookfield Properties, while the latter is part of Microsoft's plan to woo more enterprises to Azure by creating an easier on-ramp to its cloud services.
Microsoft is hardly alone in its industry cloud push.
IDC's Lang says that cloud vendors are ostensibly striking "co-vendor" deals with industry leaders because they lack the subject matter expertise to build the digital twin capabilities that have such great potential. Other co-vendors who have struck similar partnerships are PTC and Rockwell Automation, C3 AI and Baker Hughes, as well as Siemens and SAP.