The District of Columbia Water and Sewer Authority (DC Water) delivers about 900 million gallons of drinking water a day via 1,300 miles of pipes, and operates the worlds largest advanced wastewater treatment plant, processing an average of about 300 million gallons a day. Thomas Kuczynski's mission is to deliver analytics throughout the organization, or, as he puts it, to get out of the report business.
"I want to be in the data business," Kuczynski says. "I want to be here exposing a reliable, auditable source of information to the people that need to make the decisions."
Kuczynski is CIO and vice president of IT at DC Water and president of DC Water's wholly owned nonprofit affiliate, Blue Drop, which is responsible for generating non-ratepayer revenue to help minimize the impact of rate increases on DC Water customers.
"We've made a significant investment in certain areas, largely focused on what we refer to as 'non-revenue water,'" Kuczynski says. "We're spending a lot of time on the operations side building predictive analytics tools for predicting water main breaks so we can be more proactive in eliminating them rather than responding to them. We're doing some work now in what is typically referred to in the electric industry as 'outage management.'"
Much of the focus of DC Water's efforts is on eliminating "unaccounted for water," which is the difference between the water pumped into the system, and the water consumed, measured by an advanced meter reading (AMR) system. Some of that unaccounted for water is the result of legitimate uses, such as the city's fire suppression efforts via DC Water's more than 9,000 fire hydrants.
"As you eliminate all those, there's a remainder of water that's being consumed by the system somehow, but it's not being billed," Kuczynski says. "It could be because of inaccurate metering — oversized meters that run slow because there's not enough volume, meters that are degrading and have to be recalibrated."
So Kuczynski and his team are putting a variety of data sources to work in building a set of dashboards and routines to isolate where the majority of that loss is occurring and "home in on specific areas where the overall loss is significantly higher than in other portions of the system, and then apply other types of analytics to try to determine why," he says.
Analytics in action
Kuczynski's team is building digital platforms and linking them to DC Water's SCADA and process control system (PCS). SCADA manages and controls DC Water's distribution and collection system, while PCS operates the Blue Plains Advanced Wastewater Treatment Plant. By integrating those systems with its customer systems and GIS platform, DC Water is able to perform spatial analysis as events are occurring.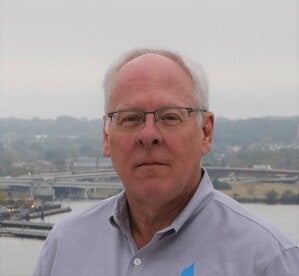 "When heavy rain falls, we're able to monitor the performance of the collection systems and also potential customer complaints about flooding to be more proactive about responding to those on the water delivery side," Kuczynski says.
The analytics also enables DC Water to compare the consumption of similar users (such as hotels or laundromats) to look for outliers. Doing so helps the organization identify potential leaks or bad meters. It's even helped the organization discover broken pipes in abandoned properties.
The most sophisticated analytical tool DC Water has is Pipe Sleuth, a sewer assessment solution developed at Blue Drop that uses AI to review CCTV footage to assess sewer pipe status in real time.
"It uses an advanced, deep learning neural network model to do image analysis of small diameter sewer pipes, classify them, and then create a condition assessment report," Kuczynski says.
Prior to Pipe Sleuth, operators had to review each frame of footage manually and tag any defects they saw. A certified engineer would then look at the tagged footage and classify the defects.
Kuczynski, who has been DC Water's CIO since 2013, says the organization started implementing analytics in a comprehensive and focused way about two years ago.
"Some of that ramp up was educating people around digital analytics and data science, creating and exposing the digital assets that we had available to us," he says. "Largely it was focused on individual systems first, like understanding how well individual groups of workers were performing particular types of jobs relative to the population as a whole."
Those efforts were fairly straightforward but helped the team gain experience. About a year ago, they started aggregating different sources of information, such as bringing together billing data and meter data from the AMR system and blending it.
"We're getting more and more sophisticated," Kuczynski says.
A matter of trust
The initial education component at DC Water consisted of centralizing data sources, providing access to them, and helping individuals understand how those resources could aid decision-making processes.
"Part of it is really educating people about the power of some of these tools and their ability to be more precise in their predictions, and getting people comfortable, especially when the answer comes out and you don't necessarily always see the process through which that happens," Kuczynski says.
Helping others gain trust in predictive analytics tools is essential, and it may mean working through the answer a model provided to either confirm it or cancel it out. Kuczynski points to the tool for predicting water main breaks. It's accepted wisdom in a lot of circles that water main breaks occur due to cold weather, and they are more frequent in colder parts of the year. That said, the tool also has to predict water main breaks during warm parts of the year.
"If your goal is to solve the main break problem, then you have to solve it in its entirety, not just for that one part of the year," he says. "It's actually more about rapid fluctuations in temperature that cause the ground to surge and cause dislocations in a pipe."
Ultimately, the goal of all these efforts is to drive down water loss between 2% and 5%, roughly 1.8 million to 4.5 million gallons per day. Every 1% of "found water" that was previously unmetered is worth about $4 million to the organization.
"You want to look at those problems that are persistent challenges for your organization and ideally have a revenue component or efficiency component associated with them," Kuczynski says. "It's always easier to sell something that saves you something, whether that's real dollars or something that improves a process significantly."