An initiative to bring residents and corporates of the UAE together to plant one billion trees globally to help offset the country's carbon emissions is using blockchain to overcome a key challenge of such socially motivated projects: adherence to compliance and auditable progress towards reaching milestones.
The One Billion Trees Initiative (OBTI) was launched in January by The Storey Group, an Emirates-based business consultancy focusing on leadership training, employee and community engagement, and environmental sustainability.
According to Karen Storey, CEO of The Storey Group and founder and project director of OBTI, decarbonisation is the biggest challenge facing humanity. Fifty-one billion tonnes of greenhouse gases are produced globally every year. OBTI is aimed at capturing 250 billion kgs of carbon within a decade of planting the full tree complement.
By helping to plant one billion trees by 2026, the UAE can play its part towards sustainability. OBTI gives corporations and individuals in the UAE the opportunity to buy or gift trees, in a transparent way, Storey says.
The failure of tree-planting programmes
One of the biggest challenges in such tree-planting initiatives — of which there are many around the world — is confirming that the trees people have paid for are actually planted. With this objective, The Storey Group decided to partner with EcoMatcher, which operates TreeChain, a blockchain-based tree-planting platform.
"There have been numerous, and sometimes famous examples, of major companies saying they are planting thousands or even millions of trees," explains Storey. "Yet, when people have gone to the site, looking for forests they have found nothing planted. TreeChain, together with EcoMatcher's mapping solutions and satellite imagery, helps us to solve that problem."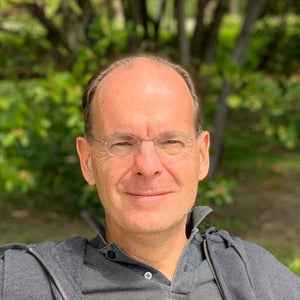 The TreeChain app is designed to solve several problems that crop up for tree-planting programmes, says Bas Fransen, CEO of EcoMatcher.
"In addition to the transparency problem, TreeChain means we can share an immutable transaction record for each and every tree planted by our global NGO partners," says Fransen. "This brings integrity on top of transparency at a time where everyone is looking for confidence that money put towards climate change is being used effectively."
Using blockchain for compliance
EcoMatcher, is a certified B Corporation, a type of for-profit business that is required to consider the impact of their decisions on workers, customers, suppliers, community, and the environment. To achieve B Corporations status, entities must comply with rules set by B Lab, a non-profit organisation.
Using technology embedded in mobile phones and other devices, EcoMatcher is able to produce data about every tree planted, which can also be visited virtually. Typically, businesses can use trees as part of their corporate gifting, rewards, loyalty, and employee engagement programs.
EcoMatcher uses blockchain technology for its TreeChain mobile application to ensure transparency for tree-planting initiatives. There are various different blockchain platforms, but at its core, it is a distributed ledger technology (DLT) in which a growing list of records, or blocks, are time-stamped and linked using cryptography. Blockchain transactions are publicly verifiable.
TreeChain is based on the open source EOSIO protocol. EOSIO platforms are built for public or private, and permissioned or permissionless blockchain infrastructure. EOSIO is adaptable to suit a wide range of use cases with rich role-based security permissions and designed for secure application processing. Building on EOSIO follows familiar development patterns and programming languages used by existing non-blockchain applications.
Data about every tree that has been planted and every tree that will be planted by EcoMatcher is stored and visible on EcoMatcher's TreeChain. Anyone can check any tree with TreeChain, including the tree's transaction history.
How blockchain maps, tracks trees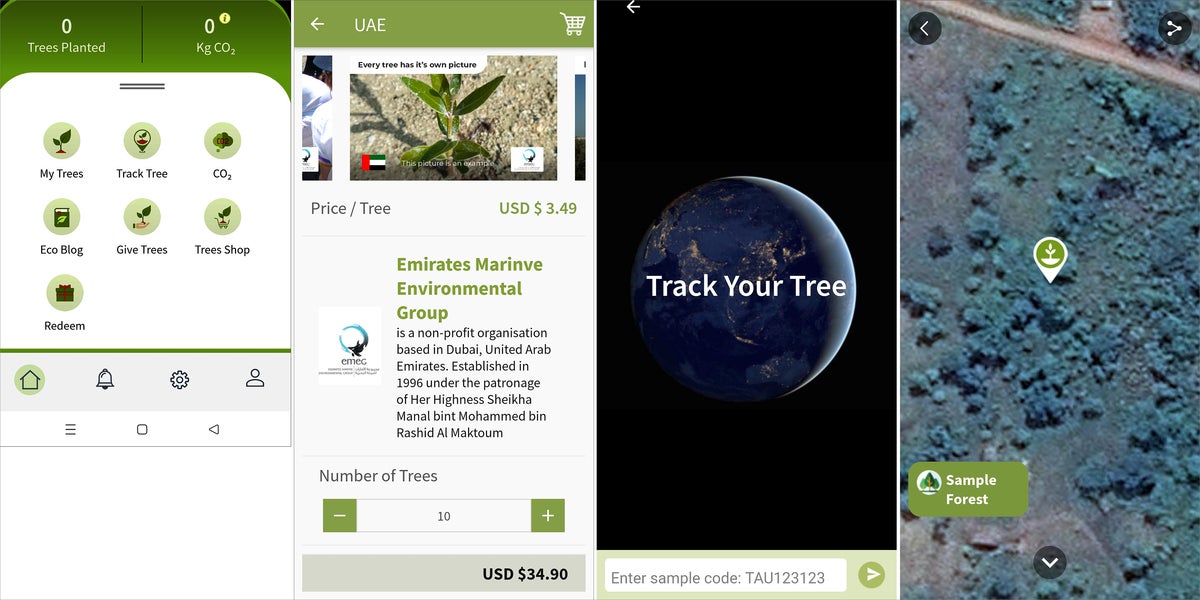 EcoMatcher's software includes the following components:
TreeCorder: This is designed to make it easy for tree-planting organisations to take photos of each seedling once planted. TreeCorder automatically registers every tree's GPS coordinates, the date of planting, and assigns a unique number to each tree. EcoMatcher only funds the trees planted that are captured with TreeCorder. Ecomatcher's tree-planting partners have access to TreeCorder data as well.
TreeManager: Once there are trees inside an EcoMatcher account, businesses can decide how to use trees as a corporate gift, a reward, for employee engagement and events. Numerous digital gifting tools are available in TreeManager, including sending a customised email with links to trees.
TreeTracker: This is a web-based application that uses satellite maps. TreeTracker shows each user the precise location of the tree, the species, the date of planting, the farmer who is taking care of it, and other information. Tree recipients can also share the tree experience on social media, amplifying the tree planting initiative.
TreeChain: Every tree that has been planted by EcoMatcher is stored and visible on EcoMatcher's TreeChain. Anyone can check any tree with TreeChain, including the transaction history for any tree.
Using EcoMatcher mobile applications, tree owners can track tree performance from their phones through geolocation, and learn about each tree's story: its species, plant date, farmer and more.
Storey Group and EcoMatcher vet every NGO tree-planting partner to ensure they adhere to the philosophy of planting the right tree in the right place at the right time and where — to sustainable forestry standards. TreeChain is carbon neutral as EcoMatcher offsets TreeChain's carbon footprint with trees.
Each tree costs $3.49 each and a minimum of 10 trees is required per individual. A company forest of 1,000 trees costs $3490.00. Forests are subject to a discount depending on the volume commitment of the clients. This enables corporates to gift and track trees for a lifetime of the tree and free of cost use of the app, digital marketing, gifting platform, tools and API integrations.
These fees are designed to ensure the NGO can sustain the forest, that EcoMatcher can provide the technology platform, and there is NGO management and tracking of trees for the lifetime of the tree. A nominal contribution is made to The Storey Group to market, manage and support clients on their tree-planting journey.
Research indicates that in a tropical climate a tree will sequester a minimum of around 25kg of CO2 per year for a useful life span of 40 years. At present trees will be planted in nine countries — Guatemala, Peru, Uganda, UAE, India, Nepal, Thailand, Indonesia and The Philippines — with more to follow.
OBTI's Storey points out that reaching a zero-carbon footprint requires innovation, collaboration, and action. Blockchain-based software and mobile applications play a role by boosting the richness of user experience and helping drive social motivation for this long-term initiative out of the UAE.