Since becoming chief technology officer of Australia's Digital Health Agency (DHA) in February this year, Dr Malcolm Thatcher has been on a crash course in managing massive, critical projects under the glare of constant media and public scrutiny.
One of Australia's foremost experts in digital health, he has a PhD in 'digital risk in governance in healthcare', has worked in both the private and public sectors, and also wrote the book 'Digital Governance Workbook'.
Also known as just Digital Health, DHA is the Australian government agency responsible for My Health Record (MHR), the country's electronic prescriptions and health referral system, and other ehealth activities under the national digital health strategy.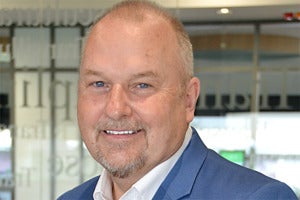 It's a big remit for any tech leader, and Thatcher's appointment comes as DHA faces arguably its greatest test.
"Clearly the government has had to scramble in order to respond to the pandemic to keep Australia safe," he tells CIO Australia in an exclusive interview.
In March, the agency declared it mandatory for all immunisations to be uploaded to the Australian Immunisation Register.
"This meant we needed a solution while the industry caught up," Thatcher says.
Thatcher and his team quickly developed the Clinical Vaccine Integrated Platform (CVIP), which allows all healthcare workers administering vaccines to immediately upload patient information via an app on a tablet or other mobile device.
"In parallel, we made changes to the My Health [Record] platform to make that information easier to see," Thatcher adds.
This work was done in partnership with Services Australia.
It was a critical test for My Health Record, DHA's flagship initiative, which has drawn a good deal of criticism over the years.
Designed as a national digital platform that would ultimately manage every aspect of Australians' healthcare, including storing every type of health record from MRIs to x-rays, pathology and more recently immunisation history, while having every public and private sector healthcare organisation onboard, it was never going to be easy.
First envisaged as an opt-in platform, MHR shifted to opt-out after too few Australians signed on. Even so, MHR still has a long way to go before becoming the pervasive digital health system it was always meant to be, with reports of people's records containing no information while the broader health sector has been slower than hoped to fully embrace it.
The first challenge still remains arguably its greatest, being the fact healthcare in Australia – like every other country – has deeply entrenched manual and paper-based processes, along with very old-fashioned thinking.
Further complicating things is the fact there are several state-based digital health systems that need to be brought together.
"Well over 10 years since the platform was envisaged, the objective is [still] how do we connect healthcare providers and consumers to bring information to a place and time where it creates the greatest value," Thatcher says.
Budget splurge
Just like so many organisations grappling with the pandemic, DHA also brought forward several years of digital projects as it sought to support WFH and more recently the vaccine rollout.
A whopping $503 million was allocated to digital health in this year's federal budget, $301.8 million of which is earmarked for MHR.
Much of that money is likely to be spent on reimagining and partially rebuilding MHR, which Thatcher says will see the agency broaden its stable of technology suppliers beyond Accenture, which has done most of the work to date.
"[We have] a program of work that will see My Health re-platformed into something quite different," he says.
Thatcher also anticipates his team of 125 staff will grow significantly over the next few years to help, not just with the transformation of MHR, but also more broadly across the entire DHA.
High on the agenda is building an API ecosystem that would make it easier to connect all healthcare organisations across Australia, and the many repositories of digital health data in every state and territory, across mental health, aged care and other health areas.
"Separating our gateway from the current Oracle stack we'll be able to build and deploy APIs that will support more than My Health Data," Thatcher explains. "It could be any data but it will also support data exchange."
"We'll see in future if a patient in a Queensland hospital wants to access health information because they transferred from Victoria our middleware will provide information to be shared between systems. As a federal government agency we have an important role to play in terms of tech standards interoperating."
This has seen DHA help several public and private health organisations connect with MHR. The agency has also launched a number of training programs, including helping nurses and midwives to improve their digital literacy.
Nothing about me without me
Data privacy and security is a tricky business for any organisation, but nowhere more so than in healthcare which harvests some of the most sensitive personal information.
Thatcher stresses the importance of people having complete control over their health information, quoting renowned healthcare expert and former advisor on health to the Obama Administration, Professor Donald Berwick: "Nothing about me without me".
"It's absolutely their [customers'] right to decide who sees their health information," Thatcher says, even if that means patients withholding health data from their GP or other provider.
He adds that DHA is striving to help Australians become their own "case managers", while also admitting that most people don't care or think that much about their health until they're ill.
"Our role is to put the customer at the centre, empowering them to make choices; if they want to opt out they can."
The intensely sensitive nature of health data was brought into sharp relief in February last year when the federal Department of Health (DoH) announced it would delay by a year the controversial 'Framework to guide the secondary use of My Health Record system data', which was intended to share de-identified data with research and public healthcare providers.
It's believed the delay related to problems establishing the critical governance and privacy principles required by the 'Framework to guide the secondary use of My Health Record system data'. Also, despite assurances data would be 'de-identified', the plan triggered an angry backlash, with numerous examples cited of how data can easily be 're-identified'.
A spokesperson for DoH told CIO Australia the department continues to work with DHA and the Australian Institute of Health and Welfare (AIHW) to implement the framework.
This is aided by $9.9 million in federal funding pledged in the 2021-22 federal budget to establish the technical infrastructure and then conduct a two-year proof-of-concept kicking off next year.
"The proof of concept will enable testing of the environment (data flows, processes, storage, usage and infrastructure) to ensure capability and confirm protocols are appropriate to support the use of My Health Record data for public health and research purposes at scale," the spokesperson explained.
He added that the department is looking to appoint an interim Chair of The Data Governance Board who would oversee infrastructure development, the POC and support consultation with stakeholders.
Thatcher knows as well as anyone what a delicate task it is collecting and sharing personal health data, even if it's successfully de-identified.
On the one hand, personal data need to be protected and not used for any purpose other than what individuals expressly consent to. But on the other, these data might also be key to solving all manner of challenges, including those that may mean life or death.
"We definitely see opportunities for the secondary use of de-identified data," Thatcher says, while noting that he and all tech leaders need to be mindful of the current laws and harsh penalties dealt to any organisation that steps beyond the lines.
He notes DHA is starting to look at technologies like artificial intelligence and machine learning to help improve processes and extract greater intelligence from the huge lakes of healthcare data in Australia, noting that while the English language has 400,000-500,000 words, there are just as many clinical terms in medicine and health.
However, Thatcher stresses the onus for choosing the best technologies for managing and protecting data rests largely with actual healthcare providers across the public and private sector, with the DHA endeavouring to ensure they – and everyone – is better connected.
"Our thought leadership means 'joining the dots' of the healthcare system."